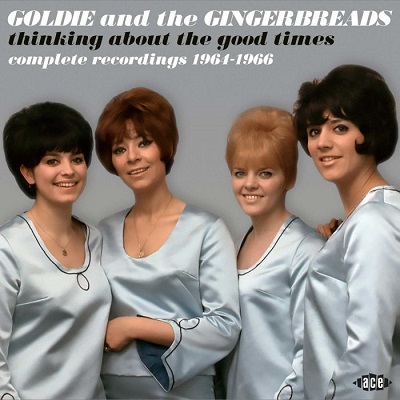 20 July 2021
Rock music's premier all-female band gets a long overdue retrospective. Thinking About the Good Times: Complete Recordings 1964–1966 is a new collection that celebrates the incendiary, and influential Goldie & The Gingerbreads. Courtesy of Ace Records, this set compiles twenty of the outfit's tracks on CD, and a slimmed down but explosive vinyl release. For those in the know, this set is a long time coming and an essential slice of sixties garage rock. To those who may only be hearing the name for the first time here, well, to put things in perspective, Goldie & The Gingerbreads paved the rock and roll road for all that came after. From Fanny to The Go-Go's, and The Bangles, there are a plethora of bands who owe a debt of gratitude to these ladies' musical advances. 

Formed in 1962 when
Genya Zelkowitz
(Genya Ravan) was introduced to drummer
Ginger Bianco
(Panabianco) in New York. Both ladies clicked, adding keyboardist
Carol O'Grady
(Margo Lewis on these tracks) and guitarist-vocalist
Carol MacDonald
. The chemistry of the four sizzled, as shown across the tracks on this album, and it was not long before
Ahmet Ertegün
signed them to his
Atlantic Records
label. Of course, this is notable as they became the first all-female rock band to land a major record deal. Not only that but the band hit Europe, and toured with
The Rolling Stones
,
The Animals
, the
Beatles
, and
The Yardbirds
. They became a force of nature in the music scene, an institution of their own creation, and the rebellious sound that was missing up until that point. With the lack of a long-player release, and only a string of singles and 'B' sides to their name,
Thinking About the Good Times: Complete Recordings 1964–1966
takes on an even greater importance. 
However, another, and perhaps not obvious reason as to the importance of these recordings is down to the production. The acclaimed
Kinks
and
Who
producer
Shel Talmy
is one of the maestros twisting the dials and placing the mics. Shel captured that sound just as he always did when everything he recorded, bringing out the best in a band, and working his magic to give fans an experience of that raw, live sound. On this set, the quality is fresh, in your face, with every nuance and snare bouncing in the mix. Songs such as "Think About The Good Times" and "The Skip" sound as energetic as ever, with organ notes searing with life and density. The drum sound again more prominent and dominant, on "Bye Bye Baby" this is exceptionally evident, and the soulful proto-Janis Joplin cracker "Sporting Life" is simply inspired. With two versions of "Please, Please" which display a difference of structure and approach, this finally is everything by the band. Ultimately this is not simply a nostalgic release, it is by all accounts an essential collection that aches for appreciation. 
Tracklist: 
01.Can't You Hear My Heartbeat
02.Think About The Good Times
03.That's Why I Love You
04.Chew Chew Fee Fi Fum
05.Sailor Boy
06.Look For Me Baby
07.Little Boy
08.The Skip
09.V.I.P.
10.What Kind Of Man Are You
11.Please, Please (version 1)
12.Skinny Vinnie
13.I See You've Come Again
14.Bye Bye Baby
15.Something Beautiful
16.Sporting Life
17.Margo's Groove
18.Take My Hand
19.Please, Please (version 2)
20.85 Westbourne Terrace
Released July 30th.
To Pre-Order: 
Website
Facebook