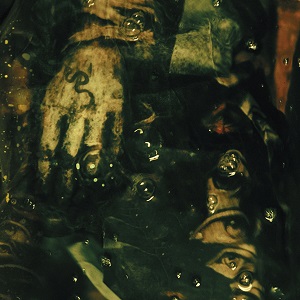 24 April 2020
Like so many forms of artistic expression, extreme metal eventually evolved into a formula – familiar elements combined in familiar ways to make familiar sounds that resounded with familiarity, but rarely the risk that should be inherent in music allegedly devoted to the fringe. But, as it should be, there's always been a batch of weirdos operating on the edges, gathering up the familiar tools and twisting their use, sometimes ever so slightly, to serve their own devious ends. So it is with Oranssi Pazuzu, a Finnish quintet of blackened metallurgists who've little interest in blast beats, lo-fi shred, Satanism, corpse paint, or any of the other trappings of their chosen genre.
Acting as signpost is "Ilmestys," the track that opens Mestarin Kynsi, the band's fifth LP (sixth if you count their side project Waste of Space Orchestra). Mysterious bass roils, tinkly synthesizers and atmospheric sheen conjure up a sense of directionless space travel; by the time guitars swirl in and frontman Jun-His lays on his conversational hell-growl, the track has already whisked us from our reality to a much more psychedelic place. "Tyhjyyden sakramentti" adds melodic, if melancholy, prog elements – a not uncommon flavor in black metal – but does so without healing the darkened flowers growing in this corrupted soil. By "Uusi teknokratia," electronic keyboards provide a motorik pulse, the distorted guitars riff on noise rock and postpunk as much as metal and prog, and Jun-His simply comes unhinged, howling like a bug-eyed madman with access to Gibby Haynes' vocal processors – at least until the thunderstorm stops and leaves a mysterious fog on the horizon that might very well conceal monsters.
On the other claw, "Kuulen ääniä maan alta" uses harsh synth sounds and a driving beat that's only a half-step away from danceable, despite the hard rocking guitars and beastly vocal expulsions. Ironically, after proving itself the non-black metalhead's black metal band, Oranssi Pazuzu closes out Mestarin Kynsi with the blast beat-ridden, tremolo guitar-driven shriek-fest "Taivan portti," a raging tornado that leaves nothing but destruction and despair in its wake. Don't worry, though – it's only clearing the decks for another round of blackened, spaced-out, psychedelic roar in the form of a repeat spin.