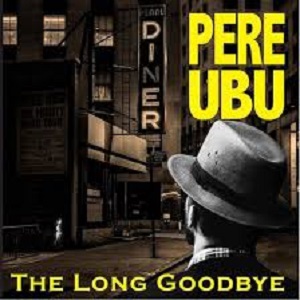 15 July 2019
Art-Rock experimental legends Pere Ubu return with a new album, The Long Goodbye a follow-up to 2017's well-received 20 Years in a Montana Missile Solo. This, Pere Ubu's eighteenth studio release, is an album born of uncertainty, a final chapter of sorts, to a band who are facing into their forty-five year existence.
Main man David Thomas unfortunately became ill in 2017, although it was touch and go, the future certainly seems brighter now. With Thomas's health improving he did what came naturally and set about putting together what he believed would be the final album by Pere Ubu, their farewell gesture to fans.
But there is that apparent grace of change driven into the soul of The Long Goodbye, a nostalgic glance backwards while still retaining a fresh push forward. Pere Ubu may never admit to being an experimental band, nevertheless this album does make for experimental listening for its audience. Opening with "What I Heard On The Pop Radio", a foreboding bass line, a beat, some ambient noise and the album lifts, balancing between playful weirdness and an arcane brilliance. Skipping into the almost Captain Beefheart phrasing of "Marlowe", the first flickers of that intense sound comes in "Flicking Cigarettes At The Sun", driving into a collage of hooks, sounds, and sonically created emotions.
Echoes of the old-school Pere Ubu surfaces in moments such as "Who Stole The Signpost?", one of the finest in this avant-grade, ethereal collection. The theatrical "Fortunate Son" is a fantastic voyage of pleasure, so to is the epic nine-minute "The Road Ahead", as if an electronic-soundscape reminiscent of Tom Waits early-eighties classic Swordfishtrambones. A heartfelt dive into social commentary, as if a reading of some Jack Kerouac novel that resonates within the modern world;"The last of the Americans, after us come barbarians".
"Skidrow-On-Sea" a minimalistic-meandering sea shanti, steadily swaying as if replicating a sailing ship, augmented by eerie shrieks of fuzz. The album's finale remains as stark as the opening. The artistic nuances of, at times, heartbreaking pain has spread across the ten-tracks, leading audiences to this final ode to happier times and pleasant memories. It is a reflective piece of work if not hard going at times, ultimately however it is worth taking time to immerse yourself within its beauty.
For buyers of the compact disc, they will be treated to a performance from Montreuil in France from December 2018. It was here Pere Ubu performed the album in full along with some back catalogue gems. Furthermore, this will hopefully not be the last Pere Ubu release, the energy is still flowing as to is the creativity, "The Long Goodbye" is a doorway to further adventures.
Disc One : The Long Goodbye
1. WHAT I HEARD ON THE POP RADIO
2. MARLOWE
3. FLICKING CIGARETTES AT THE SUN
4. ROAD IS A PREACHER
5. WHO STOLE THE SIGNPOST?
6. THE WORLD (AS WE CAN KNOW IT)
7. FORTUNATE SON
8. THE ROAD AHEAD
9. SKIDROW-ON-SEA
10. LOVELY DAY
Disc Two : Montreuil Live
1. INTRO
2. HEART OF DARKNESS
3. FLICKING CIGARETTES AT THE SUN
4. MARLOWE
5. WHAT I HEARD ON THE POP RADIO
6. ROAD IS A PREACHER
7. WHO STOLE THE SIGNPOST?
8. THE WORLD (AS WE CAN KNOW IT)
9. FORTUNATE SON
10. THE ROAD AHEAD
11. SKIDROW-ON-SEA
12. LOVELY DAY
13. ROAD TO UTAH
14. RUNNING DRY
15. HIGHWATERVILLE
CherryRedRecords
Facebook
Website