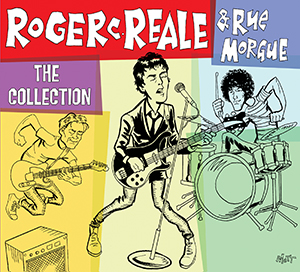 18 October 2019
Roger C. Reale is one of those strange cases where the bandleader becomes the least well-known member of his own gig. The singing, songwriting bassist fronted his band Rue Morgue in the late seventies, releasing one LP in 1978 entitled Radioactive on which he was backed by G.E. Smith, who became the lead guitarist for Hall & Oates and leader of the Saturday Night Live band, and Hilly Michaels, who went on to drum for Ian Hunter and Sparks and release a pair of well-regarded power pop albums of his own. Reale wasted no time recording another LP, Reptiles in Motion, with the mighty Mick Ronson producing and playing guitar. Unfortunately, that one stayed in the vault over record company politics.
Until now, that is. The Collection puts both Radioactive and Reptiles on one disk, reissuing the former for the first time since it was released and making the latter available for the first time ever. (Rave On is also reissuing them separately on vinyl.) Inspired as much, if not more, by early rock & roll like Chuck Berry (whose "Dear Dad" is covered here) as by the then-thriving punk and early new wave scenes, Reale and company bash out simple, melodic songs with the abandon of punk rockers. Minimally produced by Doc Cavalier, the music leans toward the clean and efficient styles of Nick Lowe and Dave Edmunds, though it gets grungy from time to time, with Smith displaying both the skill and taste that would make him king of the accompanists in the eighties and Michaels pounding his kit like the nephew of Keith Moon. Reale's gruff singing recalls the days of young white dudes trying to sound like R&B masters – imagine Dr. Feelgood's Lee Brilleaux fronting Rockpile and you're on the right track. Replacing Smith with Ronson and Sparks guitarist Jimmy McAllister on Reptile changes the sound not one iota.
Combine all that with Reale's knack for catchy tunes and there's a surfeit of gems here. Radioactive boasts the breathless "Kill Me," the sardonic "High Society," the clever and rocking "Madonna's Last Stand" (not about the singer) and a terrific cover of the Troggs' "I
Can't Control Myself." Reptiles includes the blazing "Pros and Cons," the soulful "Make It Be Over," the winsome "One More Try" and the singalong "Back It Up," not to mention the debut album's psych-tinged title track. The records fit together as if they were all recorded in the same session, making The Collection a seamless listening experience. A consistently high quality one, too – fans of the era, or even just controlled power pop explosions, should seek this out without delay.