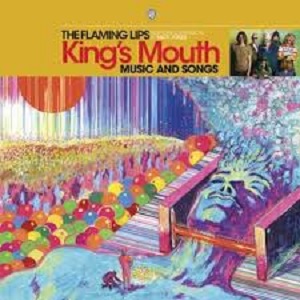 28 July 2019
The Flaming Lips return, with their fifteenth album, and perhaps most cinematic work since 2002's Yoshimi Battles The Pink Robots. This is undoubtedly a harking back to the classic sounds that the music world fell in love at the turn of the century. King's Mouth may contain the hallmarks of a Wayne Coyne solo outing, but it is epic sounding, and structured in such a nature that at times you fear it may get weighed down by excessive experimentation.
That said King's Mouth is a decent outing, a more pleasurable sounding effort than 2013's The Terror, and certainly a step in the right direction following 2017's Oczy Mlody. The King's Mouth is rooted in another conceptual project, a children's nursery rhyme, surrounded by cracking elements of psychedelic pop. An added shrewd addition comes in the form of Mick Jones from The Clash who is providing narration to the scenario Coyne has summoned. It is bizarre make no mistake, and thankfully a stretch which is typical of the band. It follows a tale of sacrifice, that of a giant 'king baby' who basically saves his people by putting himself in harm's way and stopping a devastating avalanche. His people are so enamored with this selfless act that they decide to dip his head in steel and place it proudly on display for eternity.
There is a traveling art installation to project more of the story, and in some ways there is a social commentary of sorts somewhere in the grooves of sound. That aside the music on the album is quite upbeat, a playground of experimentation, between the muddy times there is also a bit of electronic transcendence. Though not what you might want if your holding out for a masterpiece, as it does become a mammoth beast trying to stumble into the territory of brilliance. That said there are some standouts, for example "All For the Life of the City" is a classic piece of melodic, fuzzy-pop, with the ever present edge of the Flaming Lips doing what they do best. That is, simply becoming addictive and lodging effortlessly into your brain.
The tail end of the album is stronger than the start, "Mouth Of The King" and "How Can A Head" are both blistering inclusions, pulling the release back from a storyboard that tracks follow and asking some questions of us as a species. It is easily a case of less is more when it comes to Coyne and crew, an improvement nonetheless on previous offerings, King's Mouth only sparkles with genius instead of blazes. However, rumors abound to another release next year, so this release could be simply a warm up for album number sixteen and another classic adventure.
Track List;
1."We Don't Know How and We Don't Know Why" 1:10
2."The Sparrow" 5:38
3."Giant Baby" 3:51
4."Mother Universe" 1:51
5."How Many Times" 3:22
6."Electric Fire" 4:45
7."All for the Life of the City" 4:39
8."Feedaloodum Beedle Dot" 2:50
9."Funeral Parade" 2:58
10."Dipped in Steel" 1:28
11."Mouth of the King" 4:48
12."How Can a Head" 4:09