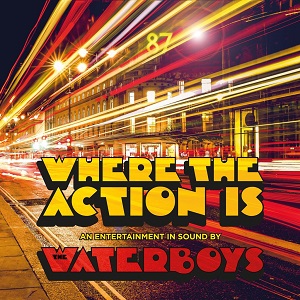 28 May 2019
It is a clear breath of fresh air in the music spectrum when there is a new release from Mike Scott and The Waterboys. Luckily album number-thirteen provides a cool breeze to the mundane which can muddle the airwaves. On the latest release, and first in two-years, Where The Action Is provides some honest good-time sounds. It is an album that swaggers with the very wit and talent of Mike Scott.
The album opens faithfully with a guitar crank as the title track erupts. "Where The Action Is" projects a celebration of life and of music, gospel tinged and glorious, with an over produced goodness which is wholly addictive. "London Mick" is a nod to the seventies punk with a injection of Glam-rock, autobiographical in nature and a foot-stomper. Name dropping The Clash in this ode to Mick Jones, along with strangely Spinal Tap. "Out Of All This Blue" reigns in the intensity to a slow organ driven ballad, beautiful and relaxed. This is only further intensified in the melodramatic "Right Side Of Heartbreak (Wrong Side Of Love)". The first single release is a track which will exist over the coming years, an instant classic which easily gets lodged in your brain.
The reflective "In My Time On Earth" has a quality of Bob Dylan, indeed, a track which would have fit in rightly on Fisherman's Blues. There is a burst again of uplifting tempos with the tongue-in-cheek "Ladbroke Grove Symphony". There is a peculiar turn on "Take Me There I Will Follow You", a rap delivery, and electronic beats, scratches an attempt at hip hop. Not fully convincing in its delivery but, it still remains within the fun element of the record. It is as if Dylan has joined The Streets, not the strongest track on the album but perhaps the most interesting.
There is more subversive pop in the beats of "There Is Love", although this is soaked with the heartbreak of Mike Scott, his brilliance soars in this half-spoken, half-sung track. Scott pulls at the threads of your emotions with an intense telling. Closing out the album is the piece "Piper At The Gates Of Dawn", a beautiful transcendent piece. Scott has reached back to his Celtic influences. There is a definite flavor of Van Morrison's "Coney Island" here, a perfect ending to a recording of such broad scope.
There is in actuality very little filler (if any) on Where The Action Is, it is a commendable piece of work that requires a repeated listen. The added remixes are not essential by any means as the ten original tracks stand up on their own. They simply give a different view and at times singers to the tracks, but for completists they might find something extra to enjoy. For now though Where The Action Is displays a definite return to form for The Waterboys
Track list;
1. Where The Action Is
2. London Mick
3. Out Of All This Blue
4. Right Side Of Heartbreak (Wrong Side of Love)
5. In My Time On Earth
6. Ladbroke Grove Symphony
7. Take Me There I Will Follow You
8. And There's Love
9. Then She Made The Lasses-O
10. Piper At The Gates Of Dawn
CD 2 – Where The Action Is – Mashed:
1. Where The Action Is (Mash)
2. London Mick (Jess'n'Zeenie Mix)
3. Out Of All This Blue (Soul Choir)
4. Right Side Of Heartbreak (Box & Vox)
5. In My Time On Earth (Scott & Wickham Mix)
6. Ladbroke Grove Coda
7. I Will Follow You Take Me There
8. And There's Love (Mashtrumental)
9. Then She Made The Lasses (Mash)
10. Where The Action Is (Reprise)
11. Piper At The Gates Of Dawn (Instrumental)