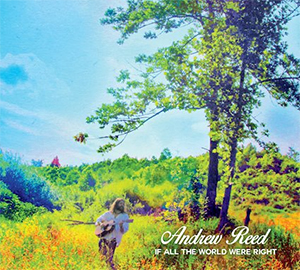 20 February 2018
A prolific musician from North Carolina, Andrew Reed has spent time around the country and Australia as well, and this quality of a wandering troubadour settling down (sightly) is ubiquitous on his new release. If All The World Were Right could have easily been released in the midst of the sunny folk and soft rock of the '70s, and Reed's own philosophy seems in line with this era as well. Positing himself as a reclusive, almost hermit-like musical figure, Reed does cast an image of new age introspection in his music, and with clear influences of Cat Stevens and Leonard Cohen, the artist's own experiences are the center of the album's lyrics.
In a way, this is a concept album about Reed's travels and his humble return home, and many of the songs put forth the central ideas of his philosophy. The title track, "If All The World Were Right," is perhaps the best representation of this, not to mention it's also just a standout track in general. Reed, in the song, is quick to point out the multiple failings of the world and the ways in which they affect him personally, but in his modesty, he is reluctant to come to any possible solutions other than those which directly deal with his own life. The album works perfectly well when the songs are separated, and "Carolina in the Morning" is a beautiful example of this.
If All The World Were Right may very well be a concept album, but if it is, then it's the most unobtrusive concept album ever made. Reed never preaches nor proselytizes, yet he's convincing through the sheer earnestness of his songwriting.
comments powered by