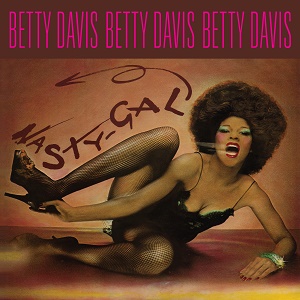 11 January 2018
By 1975, sex-funk queen Betty Davis had assembled her own band, about half of which were family, and poised to conquer the music industry with her tightest, heaviest album to date and debut for Island Records. It flopped. In fact, it did so poorly that Island shelved the recordings for the followup album and dropped her from their roster. Luckily, it's back on CD and vinyl for us to reassess and give the praise it so deserved over forty years ago.
Hearing today, Nasty Gal still remains ahead of its time. Her band's ultra-badass grooves blend Sly & the Family Stone, Jimi Hendrix, James Brown and Stevie Wonder into a singular onslaught that's more punk than soul. Betty's voice is in top form, ranging from a guttural growl to orgasmic shrieks as she celebrates her sexuality, reveres her musical idols and directly addresses her critics. Even "You and I," a ballad written with ex-husband Miles Davis, sounds more like Lou Reed than The Jackson 5. There's truly nothing else like it, and that's a good thing.
The tale of Betty Davis' sinking career consists of fingers pointing at each other, but they ignore the elephant in the room. 1975's world was just not ready for a strong black woman, or any woman for that matter, to enjoy sex and be on top. Madonna successfully built her career ten years later with the same ideas, but punk had already opened the door and her upsets were carefully calculated moves whereas this was just Betty being Betty. Hopefully, the world will listen this time.
comments powered by