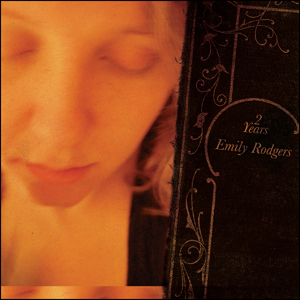 28 June 2016
From the very first note of "No Last Call", Indiana native and now Pittsburgh resident Emily Rodgers' debt to Neil Young is obvious. Of course, you could name just about anyone else who mines the rich vein of alt country and folk that Emily touches on here. But it's Neil she reminds me the most of, and she even covers one of Young's most iconic songs, "I Believe In You". Once you know this, you can kick back and enjoy this lovely, late night album for its own merits.
Rodgers is an English Professor at Duquesne University and Community College of Allegheny County. She has a menagerie of pets and is married to guitarist Erik Cirelli, who is a member of her band. Listen closely enough to the lyrics and there are sure to be literary references, but I won't attempt to cite anything here. Emily worked with well known producer Kramer (Galaxie 500, Low) not only on these cinematic tunes, but also on two videos that accompany this record. "No Last Call" steals a bit from Cowboy Junkies territory, with ghostly pedal steel and graceful violin scrapes. "Anyone" picks up the pace from slowcore to more deliberate, pedal steel strewn pop. It's a welcome change, and lifts your spirits as it unfurls. And oh, what a lovely, folk tune "Hurt" is, the very thing that Neil Young pulled off so well in his early days. The violin is especially moving, operating in stark counterpoint to Emily's mournful voice.
In fact, the whole album's emotional intensity surrounds Emily's dance with depression and dealing with her brother's overdose over a decade ago. She claims it's more upbeat than her older albums, but misery hangs overhead like a fine smoke, barely letting in the light. It's this filtered brightness and pain that make this music so compelling. Emily's beautiful voice trembles with feeling, though she keeps the listener at a distance. It's like watching life through dirty lenses, you squint to see everything, but reality is only partially revealed. It's this mystery I like so well and what makes Emily stand apart from her contemporaries. Because she's not exactly wearing her heart on her sleeve, it's left up to the listener to interpret these tone poems. Title track "Two Years" is burgeoning with bittersweet hope, buoyed up mostly by its sprightly violin. I am sort of reminded of Bob Dylan's great 1975 album Desire and the 8 minute song "Hurricane", which resonates to this day. "Right Lie" has a cool section where Emily is singing far off in the distance, like hearing the sounds of a radio in an empty building. It beckons to you, and you are soon immersed in its cool strains.
"Waiting For You" continues in vintage fashion, and the pedal steel really makes this song shine. I love the way it floats beneath and between the vocals, providing fine contrast to the simply plucked guitar. "Burn Out" is also a high point, a tune that percolates along merrily with strings and maybe a jew harp in the mix. The final song, "I Believe In You" is hardly a carbon copy of the original, it's spacey and lilting, and stands as a fine testament to Emily's talent. It is a fitting coda to this album, a recording that will have you creeping back for another listen. Recommended for fans of all the aforementioned artists as well as Cat Power and Mazzy Star.
Pick up the album at all the usual outlets, or direct from Misra Records.
Catch up with Emily on her Facebook page.
comments powered by