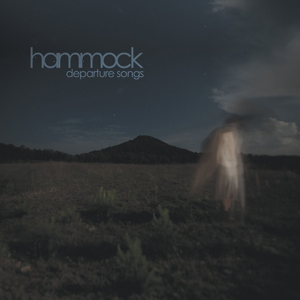 28 September 2012
Stars and star-gazing are a recurring theme in this expansive and mind-blowing double album from the beloved Hammock. I say beloved, because anyone who has encountered their almost mystical soundscapes does not emerge the same person. I recently interviewed Andrew Thompson and Marc Byrd for Big Takeover, and found them to be intriguing, mysterious, cerebral, and challenging, which also describes their music.
Mixed by their friend TimEbandit Powles (The Church) and mastered by Taylor Deupree (solo artist), the album features the amazing Keith Kenniff (Helios/Goldmund) on "Artificial Paradises". Marc's wife Christy Byrd contributes "angelic" vocals, and the gorgeous strings are courtesy of The Love Sponge Strings (they've worked with a long list of luminaries). They are in good company, for this ensemble of artists helped create what is possibly Hammock's greatest album.
It is at once accessible and distant, almost mocking you from a lit doorway at the end of a dark hall. You are teased by its gentle strains, then you are tossed against the rocks by powerful waves of sound. I can think of no other band that does this so well, or so uniquely. Hammock has put its own stamp on this particular flavor of ambient space rock, but even this description does little to prepare for how you are drawn in, spellbound and enchanted even while Departure Songs' melancholic passages make you weep.
It's almost like being in two places at once, one filled with light and happiness, and the other grave with terror and sorrow. It's an awesome dichotomy, and one that repeats itself throughout this long, thoughtful, and splendid album. The titles are the darkness: "Frailty (for the Dearly Departed)", "Ten Thousand Years Won't Save Your Life", you get the picture. But oh, the music, it's dreamy, hazy, and impossibly gorgeous from stem to stern, and there aren't enough superlatives to express my delight and wonder that music like this exists. There has never been and there may never be anything like it, and so I urge you to go out and buy this album when it lands on October 2nd. And if you are blessed enough to have Hammock visit your area on tour, then I urge you to get out and see them. They are worth all the trouble it may take to get there, and once you arrive, you may never want to leave.
comments powered by