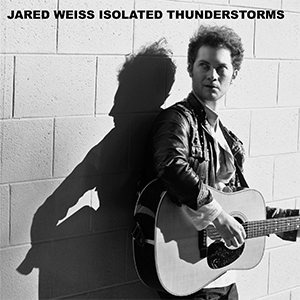 21 August 2018
Jared Weiss is a singer-songwriter who was born and raised in Manhattan, and consequently, the strutting theatricality and emotion of the city courses through his veins with a raw authenticity. As the title implies, Weiss's new full-length Isolated Thunderstorms is a turbulent record full of songs which detail the angst and grief in his own life up until this point, and in one listen it's immediately obvious that this is a deeply personal work for him. It's self-analytical soul searching of the heaviest type, influenced by the '70s rock and roll of Lou Reed and David Bowie along with the autobiographical folk of Bob Dylan.
Whether it's charged with a sparse and intimate feeling of melancholy as with "Reni," or brooding with the harder bite of "Isolated Thunderstorms," the album's key focal point is an emotional clarity and an intuitive sense of honesty. Weiss flirts briefly with music hall cabaret on two piano dominant tracks "Get Out of My Head" and "Almost All of Me." Rather than stick out like a sore thumb, they add to the inherent melodrama of the album, stressing the fact that through these songs Weiss is an exposed actor who is vunerable to interrogation via a self-directed spotlight.
With Isolated Thunderstorms a listener should come for Weiss's own takes on his New York musical idols, but stay for his sensitive and introspective lyricism.