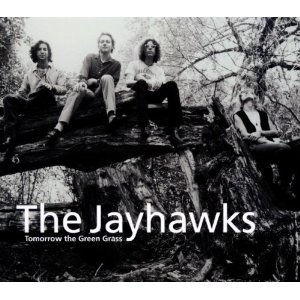 29 January 2011
It's hard for me to wrap my head around it, but the Jayhawks' Hollywood Town Hall is almost 20 years old. I remember buying the cassette when it first came out in 1992 (because I still didn't own a CD player in the early 90s). I'd fallen in love with their previous record Blue Earth, which was the only album I thought truly took Gram Parsons' "cosmic American music" forward, and was eager to hear what the Minneapolis band would do next.
Hollywood Town Hall did not disappoint. The country soul of leaders Mark Olson and Gary Louris had been brought into sharp relief by Louris' Fuzz Faced guitar tone and George Drakoulias' rock & roll-edged production. The contrast of Louris' searing solos with the pair's lived-in harmonies and the band's midtempo country rock seemed a match made in some sort of music heaven, with Parsons as the Almighty. This cassette lived in my home and car stereos for months.
Listening to Hollywood Town Hall now, in its remastered form, is like renewing an old love affair and wondering why you let it end in the first place. "Wichita," "Crowded in the Wings," "Settled Down Like Rain," "Take Me With You (When You Go)," "Two Angels" (remade from Blue Earth) – these are great songs that still hold up as well as any other rock classic you'd care to name. Louris' guitar still sounds great weaving in and out of the Louris/Olson melodies, the production still sounds perfectly stripped down (imagine my surprise to read about the record's difficult recording process in Drakoulias' liner notes) and Louris and Olson still sound born to sing together. Listening to Hollywood Town Hall now is still pure, unadulterated pleasure.
This edition contains five bonus tracks, three B-sides and two unreleased cuts that, amazingly, enhance the original. Considering how blatantly some of these tunes draw from the band's American roots influences (particularly Olson's), it's understandable why they were cut from the LP proper. The basic C&W of "Keith and Quentin" and the overt gospel of "Up Above My Head" might have sounded out of place (despite the typically fine Louris solo on the latter) had they been included in the original track list, but they're definitely worthy of attention now. The country rocking "Warm River" sounds like a Blue Earth outtake, living up to the images conjured by its name, while "Mother Trust You to Walk to the Shore" puts a lovely folk rock tune through what sounds like Muscle Shoals production . Best of all is "Leave No Gold," as fine an example of what the Jayhawks do as any of their better known cuts, with a catchy melody and an extended Louris coda – it's so good it's mystifying why it was shunted off to B-side status. Just as warm, melodic and soulful as I remember it being, Hollywood Town Hall is a classic of American music.
Three years after Hall's release, I could barely wait to get my hands on the follow-up, 1995's Tomorrow the Green Grass. I have to admit I was disappointed. I found a few of the songs to be immediately striking – particularly the soaring pop tune "I'd Run Away," the near-perfect country rock of "Bad Time" (borrowed from the catalog of Grand Funk Railroad, of all people) and the rapturously melancholy anthem "Blue." But I just wasn't as taken with Grass as I had been with Hall. Why? Who knows? Even though 1995 was the height of the great alt.country scare (a mini-movement the Jayhawks anticipated and mostly surpassed), perhaps I just wasn't into their sound as much anymore. Regardless, I never accepted the widely held notion that the record was the band's masterpiece, as I simply never listened to Grass as much as I did Hall.
In retrospect, I was unduly harsh. Listening to the remaster (a two-disk set, about which more anon) with the fresh ears of almost 15 years of distance, I realize why the album is such a lauded entry in the band's catalog. Picking up where Hall left off, the record builds on the previous LP's country rock foundation, adding more ambitious song structures, more textured melodies and more lush and intricate production. Admittedly, the tracks can occasionally sound a bit overcooked – cf. "Nothing Left to Borrow" or "Over My Shoulder." But when this record is good, it's very, very good, and that's most of the time. Loaded with the likes of the gorgeous "Two Hearts" and "Ann Jane," the shockingly grungy "Real Light," the countrified "See Him On the Street," the loose and rollicking "Ten Little Kids" and the anthemic "Miss Williams' Guitar" and "Pray For Me," it's nearly Hall's equal, and I have to wonder what the hell I was thinking when I dismissed it all those years ago.
As with Hall, this edition of Grass boasts a handful of bonus tracks from the same sessions. An argument could be made these songs were worthy of being cut, especially the gimmicky cover of Harlan Howard's "Last Cigarette" (sung by pianist Karen Grotberg), but that's only in comparison to the official track listing. On any other roots rock combo's album, the hard rocking "Sleep While You Can," the shimmering "You and I (Ba-Ba-Ba)," the folky "Sweet Hobo Self" and the garage rocking title track would be highlights. There's also a hidden bonus: a badly recorded but spirited acoustic take on "Blue."
But the bonus riches don't end there. The new edition of Grass comes with an extra disk of tracks drawn from the so-called "Mystery Demos." Long circulated through Jayhawks fan groups, the tunes come from a batch of 44 songs recorded by Olson and Louris and their acoustic guitars, some in Minneapolis in early 1992 (with Mike "Razz" Russell, Olson's future partner in the Original Harmony Creek Dippers, sitting in), the rest in Los Angeles later that year. It's a mix of songs that would end up on future projects (not only Jayhawks records, but also Olson's solo disks and the Louris/Olson duo LP), given a living room ambiance that makes the 18 selections found here sound like the best house concert ever. "Nothing Left to Borrow" and especially "Over My Shoulder" are much more effective in this context; "Pray For Me" and "Blue From Now On (take 2)" (the working version of "Blue") nearly equal the full band versions. The excellent "Cotton Dress," "Precious Time" and "Turn Your Pretty Name Around" were justifiably revived on the Olson/Louris record Ready For the Flood in 2008. Other cool tunes like "White Shell Road," "No Place" and "She Picks the Violets" make me yearn for another set – surely there are more diamonds to be plucked from this mine.
In summary: Hollywood Town Hall holds up as well as I'd hoped and Tomorrow the Green Grass even better than I remembered. Both of these versions count as definitive. If you're a fan, these are essential. If you're a newcomer, start here.
http://www.jayhawksofficial.com
http://www.americanrecordings.com
comments powered by