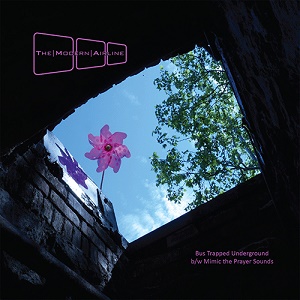 21 December 2016
After five years of flying under the radar, Brooklyn's The Modern Airline finally follow their eponymous 2011 debut full-length with a strong 7" that shows where they've been and where they're going.
"Bus Trapped Underground" kicks the vinyl off with an infectious fuzzy synth lead that builds to an exquisitely crafted pop song that blends The Cars and Devo with Servotron and Stereolab. Everything gels perfectly as the driving rhythm section propels a tale of urban alienation through a Gary Numan-like landscape that ultimately ends on an uplifting note. "Mimic the Prayer Sounds" shows the heavier side of the band, pushing the Servotron element more into Brainiac territory with a prog quasi-instrumental echoing Magazine, early Ultravox! and Ohio-era Devo. It's a strong statement from a band that's been quiet for far too long.
Buckle your seat belts, lift the tray in the eat in front of you to locking position and prepare for takeoff. The Modern Airline will get you there safely.
comments powered by