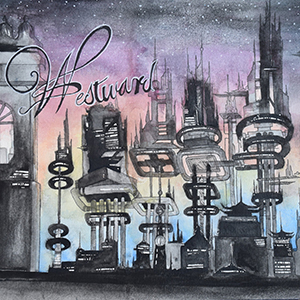 8 November 2017
The term "power trio" rarely seems to apply to bands anymore, not because of its literal definition but because it represents a style that was, for the most part, left behind in the 70s. Bands making the most out of a limited personnel, dripping in volume and excess, like Cream or Motörhead. But the style has reemerged from time to time, and carrying on with a tip or two from Muse, Salt Lake City's Westward seem keen to carry on this namesake with their latest album, The Empire of Deception.
Self-described as "Cowboy Space Rock," their sound is really a combination of prog and guitar pop elements resulting in a bombastic, lushly-produced style reminiscent of bands like Queen and the aforementioned Muse. It's theatrical, operatic, and, consequently, at times kitschy in a way that seems purposeful. Guitarist and singer Andrew C. Marshall's vocals are at once dynamic and nuanced, elevating the dramatics even further.
The band divides the album evenly with songs that unfold and grow slowly with intensity, as on the opener "Empire of Deception," and those which are more all-out scorchers, like "Enchantment" and the distinctly Spaghetti Western-esque "Force and Matter". The Empire of Deception builds significantly on Westward's debut album, and sets them up to be the latest torchbearers of the power trio tradition.
comments powered by