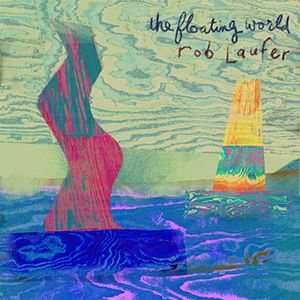 9 October 2019
Singer/songwriter Rob Laufer isn't a household name, but he has a resumé to die for: sideman to Frank Black, Katell Keinig, Fiona Apple and Brian Wilson; producer for Dirk Hamilton, Melissa Ferrick and OK Go; performer at the Hollywood Bowl Beatles tributes, including one curated by Sir George Martin; adjunct member of Cheap Trick for their Sgt. Pepper's Lonely Hearts Club Band performances; author of "Reactionary Girl" on Robin Zander's first solo album; member of Beatlemania! (as George); current musical director for the Wild Honey Orchestra tribute concerts to benefit autism research. (The latest was a highly acclaimed tribute to the Kinks' Village Green Preservation Society.) With a CV like that, the dude doesn't even need to make music of his own.
Fortunately, though, he does. Laufer's fifth full-length (and first in almost a decade), The Floating World is full of the kind of lush, bittersweet pop that makes music nerds nod in appreciation of its intricacies and more casual listeners sigh with pleasure. One-man-band Laufer tends to lean more towards the medium tempo side of things, from ornate ballads like "Avalanche" and the title track to shimmering pop tunes like "Highway Machine" and "This River." But he can kick out the jams when he wants to – "Space and Time" builds up a nice head of steam, and the sardonic "Hippie Love" moves at a jaunty clip. Playing nearly everything himself, Laufer also knows exactly how to arrange the tracks for maximum melodic effect – the evident craft is indeed impressive, and it never becomes dexterity for its own sake. In addition to his songwriting and instrumental gifts, he also has a knack for adding just the right sound to a track to make it sparkle – the mandolin that opens rocker "As Long As You Belong," the pedal steel that underscores "Avalanche" without making it into a country rock track, the strings supporting the raucous "Space and Time."
It seems like old-fashioned pop auteurs are in short supply in these modern times, so it's always a pleasure to find someone who still subscribes to the values of folks like Todd Rundgren, Emitt Rhodes and the Zombies. The Floating World is a gem.