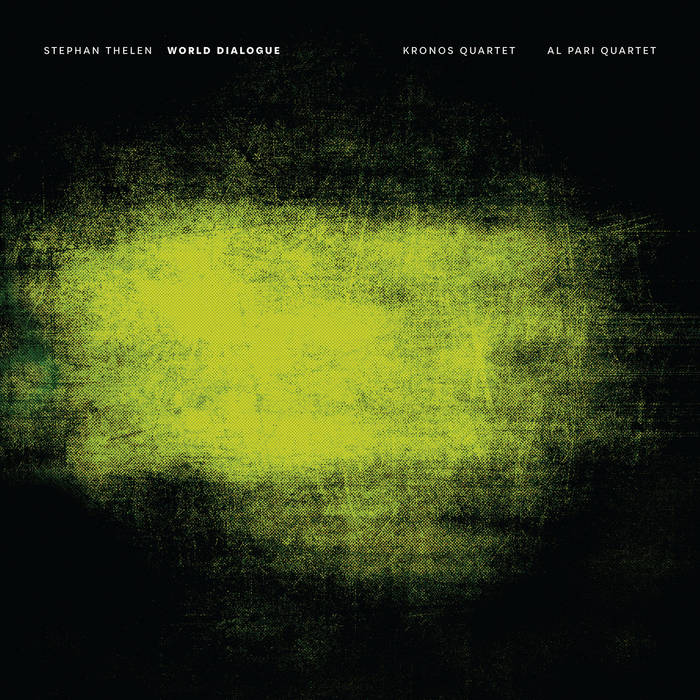 10 November 2020
Swiss guitarist Stephan Thelen leads the remarkable minimalist jazz/rock band Sonar, whose experiments with tritone tunings and polyrhythmic complexity have made the quartet a singular force in instrumental music. Given Thelen's fondness for smacking different time signatures together (with standard 4/4, 3/4 and 2/4 not allowed), you'd think string quartet music wouldn't be a natural home for his compositional style. As World Dialogue proves, though, you'd be wrong.
Commissioned and performed by the Kronos Quartet for their project 50 For the Future: The Kronos Learning Repertoire, "Circular Lines," the piece that leads off the album, puts the string mastery of David Harrington and crew to the service of a 3-against-4-against-5 polyrhythm. That means three of the instruments are weaving themselves together in 3/8, 4/8 and 5/8, while the fourth overlays melodies on top. The result is a track practically vibrating with tension, three strings sawing away on the jagged edge while the fourth rides the turbulence. Despite that description, there's little discordance here – emergent melodies challenge, but still maintain easy appeal. It's a deft highwire act that bristles with energy and tunefulness.
The Polish foursome Al Pari Quartet performs the other three pieces here, and prove themselves Kronos' equal in handling this challenging material. Topping off at over fifteen minutes, the title track ascends and descends its scales over rhythms that might well pound if performed by a rock band, but insistently urge here. "Silesia" feels the most like traditional string quartet music, with sweeping cello, swirling scales and symphonic dynamics, but it too works its time signatures with polyrhythmic precision. By far the shortest track here, "Chaconne" sounds like a Sonar cut translated for chamber music, coming off as a succinct introduction to the vision Thelen and the players actualize on the record. Brilliant players plus a distinctive compositional take make World Dialogue a marvelous experience.