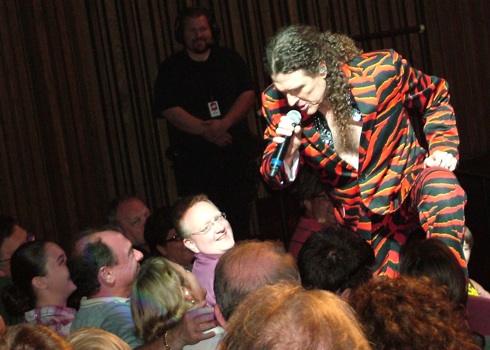 30 August 2010
So well chosen have "Weird Al" Yankovic's targets been throughout his career that my eleven year old apprentice reviewer (my daughter Meg) recognized monstrous smashes including Michael Jackson's "Bad" and Nirvana's "Smells Like Teen Spirit" not for their original versions, but soley as Yankovic's enduring parody counterparts. Judged based upon his performance at College of DuPage's McAnnich Arts Center, that trend is likely to continue. Having made his livelihood exploiting pop culture excesses as they appear, Yankovic's work has long been considered a sign of the times. "White and Nerdy," a top ten hit in 2006, appeared to be the most universally recognized song across all generations in attendance. Although the lot of us could probably sing "Beat It," it seemed unlikely that we could quote Chamillionaire's "Ridin'" in unison. "You've never had a date that you couldn't inflate," jeered Yankovic during "You're Pitiful," as he stripped to a pink tutu and polka-dot boxer shorts. The overall presentation was certainly a memorable upgrade to James Blunt's maudlin "You're Beautiful."
"You Make Me" from 1988's Even Worse was an original song rendered in the style of the late, great Oingo Boingo, with note-perfect caricature all the way down to a Danny Elfman-styled yelp introducing the last verse. Though my daughter missed that subtext, she howled with recognition at snatches of Ke$ha's "Tik Tok," Justin Bieber's "Baby," and "Fireflies" by Owl City during the band's latest polka medley. The cherry on top is that she'll forever refer to my least favorite Lady Gaga hit as "Polka Face."
Costume changes for almost every song were masked by archival video footage, including chat show introductions by a string of TV hosts reaching back to Johnny Carson. For "Wanna B Ur Lovr," Yankovic donned a hideous tiger-striped leisure suit and strutted into the audience as a lecherous lounge singer. "Do you believe in love at first sight, or should I walk by again," he crooned, in a string of shudderingly awful pickup lines. Ladies in the crowd played along, swooning and squealing in mock response. Yankovic got uncomfortably up close and personal more than once, to the delight of everyone but his hapless victim. "There aren't enough o's in 'smooth' to describe how smooth I am," he sang, doing a pelvic thrust at close range to a woman who appeared both giddy and galled.
Though ample nostalgia was on display during favorites like "Another One Rides the Bus," Yankovic wisely made a point of keeping things current with a fresh batch of funny material. "Skipper Dan" was sung from the perspective of a failed thespian, doomed to a soul-destroying life of corny jokes as a riverboat guide on Disneyland's Jungle Cruise attraction. The buzz and stomp of the White Stripes echoed through "CNR," as Yankovic built the myth of campy Match Game TV icon Charles Nelson Reilly to superhuman proportions, a la Chuck Norris' impossibly mighty feats. For "Craigslist," Yankovic donned silky black curls, leather pants and a billowing white shirt to raise the ghost of the Doors' Jim Morrison.
At every turn, Yankovic's veteran band of unsung heroes had his back musically and comically. They wore flowerpot hats and yellow jumpsuits for the Devo-styled "Dare to Be Stupid." Guitarist Jim West raged through the short, cathartic blast of "Let Me Be Your Hog" from the UHF soundtrack. Ace bassist Steve Jay anchored the weighty groove to "Fat," bounding into the air as Al shook the stage in his super-sized body suit. Dressed as a Sith lord from the Star Wars films, keyboardist Rubén Valtierra snuck in a few bars of The Addams Family theme amid the dramatic flourishes introducing "American Pie" parody "The Saga Begins." Even stagehands got into the act, as one became Yankovic's harmonica roadie during Billy Joel parody "Spiderman." And versatile percussionist Jon "Bermuda" Schwartz performed the world's most mercifully brief drum solo.
It is often repeated that "Weird Al" Yankovic has survived multiple trends in music, as well as the careers of many artists he has lampooned. Time will tell whether he outlasts the music industry itself – consider that his latest collection is called Internet Leaks. After nearly three decades of evolution, a Weird Al show is a master class in pop musicology, with Yankovic as its nutty professor.
"I'll be playing this part 'til I'm old and gray," sang Yankovic during "Yoda," to the tune of the Kinks' "Lola." It's one of the rare lines he ever got wrong in a cultural parody. Following the song's release, Mark Hamill only got one more shot at blockbuster movie stardom with Return of the Jedi. Turn the line back on Prof. Yankovic himself, however, reflecting his own tenure and enduring energy – and keep your fingers crossed. Since 1982, there's never been room in pop music for another like him. Weird Al continues to provide lighthearted, family-friendly escapism which manages to display whip-smart sensibility, mingled with occasionally subversive or even twisted roots. We'll be lucky to have him until he actually needs that Segway prop from "White and Nerdy" to get around onstage.
[Photo by Jeff Elbel]