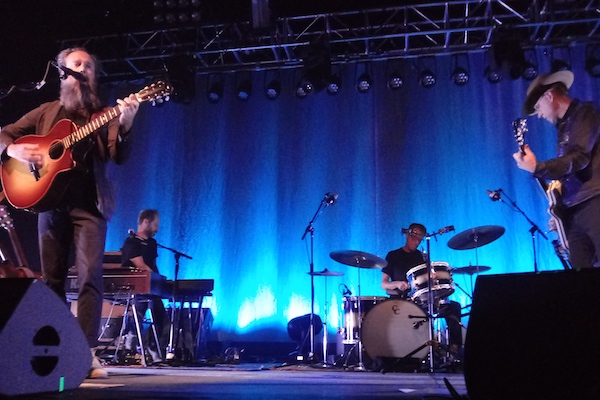 23 August 2019
Photo: Kurt Orzeck
"Joe writes some fucked-up songs," Sam Beam told concertgoers at the Knitting Factory on Thursday night. "They're so sad and touch on the dark side of the universe."
It was in 2005 that singer/guitarist Joey Burns and his band Calexico first explored that dark side of the universe together with Iron & Wine — a.k.a. Beam — on a seven-song collaboration called In the Reins. Nearly 15 years later, they are on tour playing the entirety of that record — along with a slew of cuts from their recently released Years to Burn, some of their own songs and an Echo and the Bunnymen cover for good measure.
The musicians revealed during their slow-burning set that a follow-up record was planned after the release of In the Reins, and how grateful they were to be tapping into both recordings in a live setting. Chemistry between Iron & Wine and Calexico was natural throughout the performance, with nary a pregnant pause or misstep between them. It was enough to make one believe the two acts could join forces for the duration of their careers.
The highlight of the evening was "Bitter Suite," an explorative folk-rock opera that lasted more than eight minutes and featured the musicians changing tempos multiple times. Beam's and Burns' mesmerizingly matched harmonies peaked during their cover of Echo and the Bunnymen's "Bring on the Dancing Horses."
They filled the 1,000-capacity venue with about 650 attendees, which wasn't shabby for the hard-to-crack city of Boise on a Thursday night. With minimal purple and pink hues lighting the stage, the camp fire-esque performance was all about the music (well, and Beam's award-worthy beard) and the gentle sparks that crackle and pop between mutually admiring musicians.
Iron & Wine and Calexico's introverted set stood in sharp contrast to that of outrageous opening act Orville Peck, a 2019 debuting artist whose only commonality with the headliners seemed to be their shared record label, Sub Pop. Theatrical, rollicking and teeming with youthful energy, the Canadian outlaw-country singer/guitarist blew off the barn doors with a floor-stomping, heart-racing set.
Donning a Lone Ranger-style mask with fringes that draped in front of his face, the flamboyant Peck crooned in a fluttering baritone over scorching songs and penetrating ballads. His first time playing in Idaho, Peck had the amped-up crowd in the palm of his hand, successfully coercing them to whistle along to his song "Take You Back (The Iron Hoof Cattle Call)" at the end of his set.
Along with "Dead of Night," "Kansas (Remembers Me Now)" and a cover of Gram Parsons and Emmylou Harris' "Ooh, Las Vegas," Peck's vibrant alt-country sound suited the Boise crowd as well as the multicolored hats worn by his backing band.
Iron & Wine and Calexico setlist:
• "Follow the Water"
• "He Lay in the Ruins"
• "Father Mountain"
• "Red Dust"
• "Midnight Sun"
• "Dead Man's Will"
• "Years to Burn"
• "What Heaven's Left"
• "Flores y Tamales" (Calexico cover)
• "What Hurts Worse" (Iron & Wine cover)
• "Prison on Route 41"
• "On Your Wings" (Iron & Wine cover)
• "Bisbee Blue" (Calexico cover)
Encore:
• "Bitter Suite"
• "Bring on the Dancing Horses" (Echo and the Bunnymen cover)
• "Burn That Broke Bed"
• "Glimpse" (Calexico cover)
• "History of Lovers"