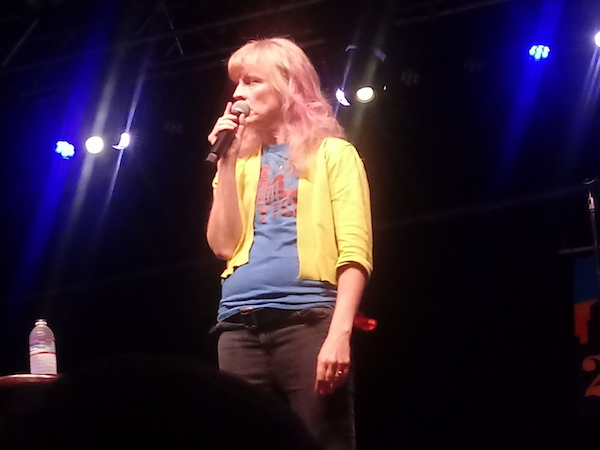 8 September 2019
Maria Bamford – live – Photo Credit: Kurt Orzeck
Maria Bamford is and will always be a comedian out of place and time. Fears about the state of stand-up comedy, and outcries about so-called "p.c. culture" and shock comedy will come and go, but transcendently original comics like Bamford (and Andy Kaufman and Steven Wright) remain — to the collective relief of comedy purists — above such banal and tired debates.
The adoringly neurotic Bamford is also a perfect fit for Boise, Idaho, which is generally regarded as the most territorially isolated city in the U.S. and thus out of place and time in its own right. When Lady Dynamite (she had a short-lived Netflix series, co-created by Mitch Hurwitz, of the same name) set foot here for the first time on Saturday night, it was as if she were making a grand hometown return.
Healthy applause padded Bamford throughout the duration of her performance, which doubled up as the marquee show in Boise's three-day, still-trying-to-find-its-feet 208 Comedy Fest. Crowdgoers ate up the endearingly disheveled comic's signature impersonations of her judgmental mother, quiet-as-a-pin-drop vocalizing of her otherwise interior monologues, and occasionally sharp but spot-on jabs at the crowd ("Boise, have you ever looked at your life and thought, 'Uh-oh, this isn't temporary?'").
While not a topical comedian per se, Bamford did crack wise about 23andMe, remarking how she and her husband of nine years discovered they have a 0.11 percent genetic commonality. Her fraternal twin sister's crowdfunding campaign for a doomsday shelter was ripe for ridicule, as was her desire to file a restraining order against Donald Trump for ensnaring her in an "abusive relationship" with him.
The most shocking moment in Bamford's 75-minute set actually came early on, when she revealed that she was recently diagnosed with multiple sclerosis. While the comic didn't dwell as much on the topic as her friend Patton Oswalt did with his own devastating personal struggles in his 2018 comedy special "Annihilation," Bamford expertly made light of the disease when she glibly remarked, "People say, 'You're gonna beat this.' But they don't know it's incurable."
Bamford's unabashed honesty continued both when she admitted her status as a millionaire — and also that handed over a $10,000 honorarium she received to speak at the University of Minnesota (her native state) to help young adults pay off their student loans.
Bamford got bonus kudos from the crowd when she delivered a drop-dead, Idaho-specific joke: While many might think her husband calls her vagina the Treasure Valley, he actually refers to it as the Idaho Statesman. It only takes a flourish or two like that to get a city like Boise in the palm of a comic's hand. But Bamford was in good company even before she began her set.