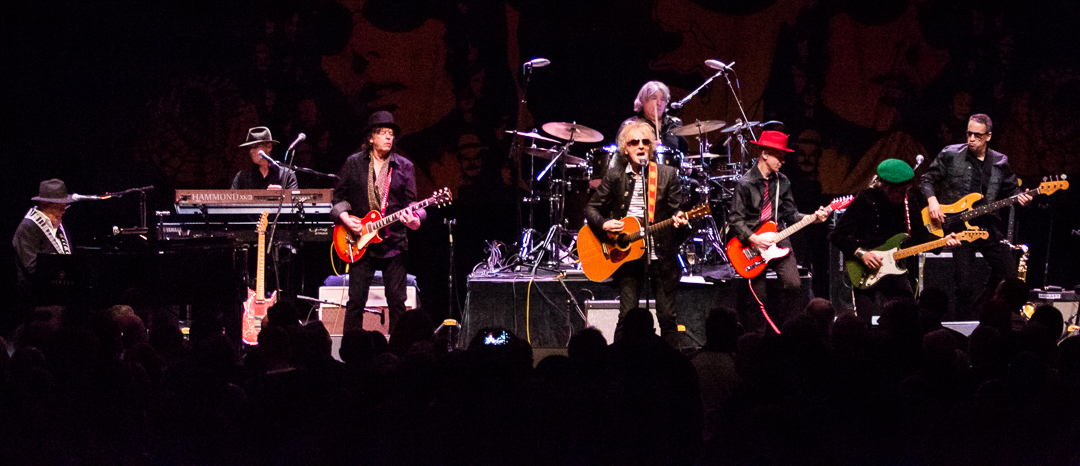 6 April 2019
Photos by Philamonjaro
Ian Hunter is a hard-working road dog and true rock-and-roller. He's no stranger to Chicago with his fabulous Rant Band at venues like City Winery and Park West. It was a rare opportunity, however, to see Hunter flanked by pianist Morgan Fisher and guitarist Luther "Ariel Bender" Grosvenor and billed as Mott the Hoople '74. Those players stood together during the heyday leading toward the 1974 albums The Hoople and Live. At the stately Chicago Theatre, the Rant crew and Hoople veterans blended seamlessly with the power of a well-seasoned, bona fide band. The octet did the Mott legacy very proud indeed on the first Chicago date under that illustrious name in 45 years. The late Pete Overend Watts and Dale "Buffin" Griffin were surely smiling from the Great Beyond.
Hunter has earned high marks as a productive artist and committed performer. It really is impossible to believe that he turns 80 this year, although he was the one cracking age-related jokes during the massive singalong encore of "All the Young Dudes." "Don't wanna stay alive when you're 95," he quipped, ratcheting the lyric's original age forward by 70 years. He even tossed a cheeky come-on as the chorus shook the rafters. "Hey you! You in the glasses!" he called, echoing the original recorded coda. Hunter teasingly suggested an after-show liaison. "I can still do it!"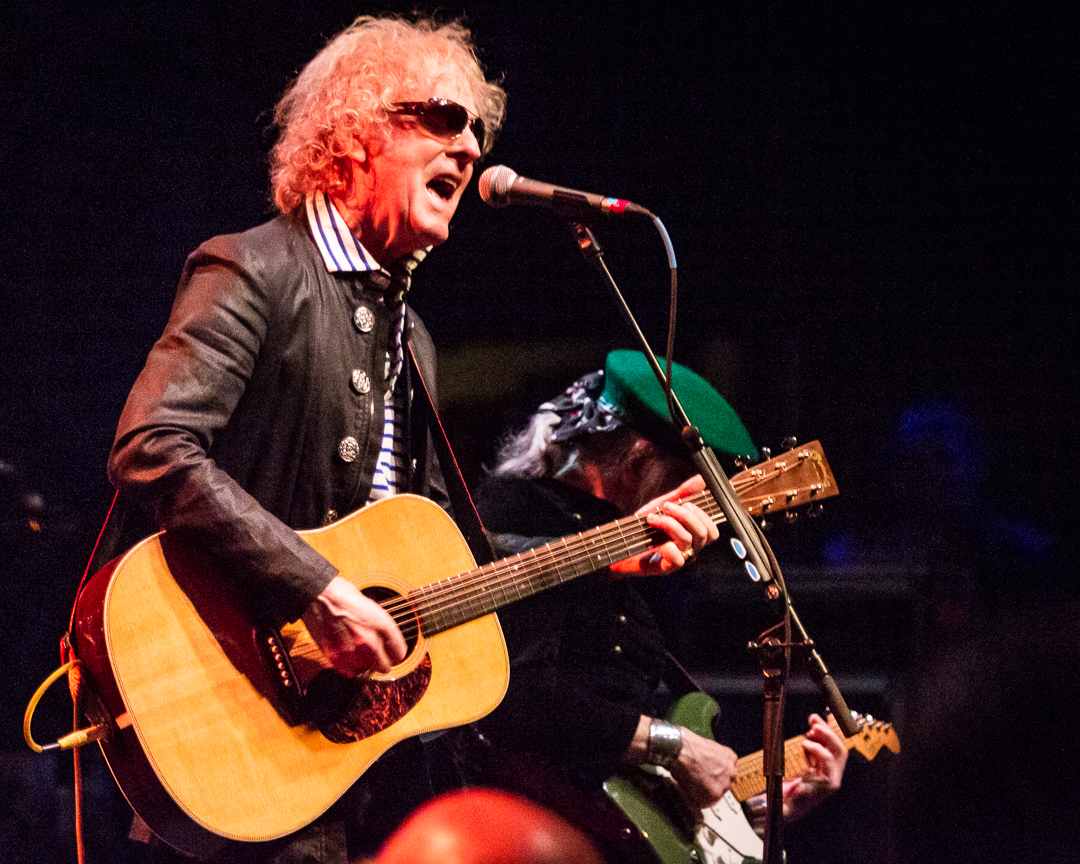 One thing Hunter can certainly still do is lead a riotous rock show. His voice proved rich, full of bite and attitude on rockers like "Walkin' with a Mountain" and its one-two punch paired with the irrepressible "All the Way from Memphis." He looked fit and enviably sharp in his black jacket, striped shirt, trademark sunglasses and unruly mop of curly hair. And he wasn't alone. If Fisher and Bender haven't discovered the fountain of youth itself, they've created their own wellspring of youthful vitality. Fisher was an enthusiastic co-host, clearly reveling in the evening. He sprinted onto the stage as if he couldn't wait to tackle his piano, bringing camp intensity to glam-stompers like "Roll Away the Stone" and "Lounge Lizard." He swung grandly through the buoyant underdog's tale "Pearl 'N' Roy (England). Fisher's fine chops shone during an extended, elegant intro to ballad "Rest in Peace." The set was a fitting showcase for Fisher's playing, which shaped the sound of the 1974 albums featured.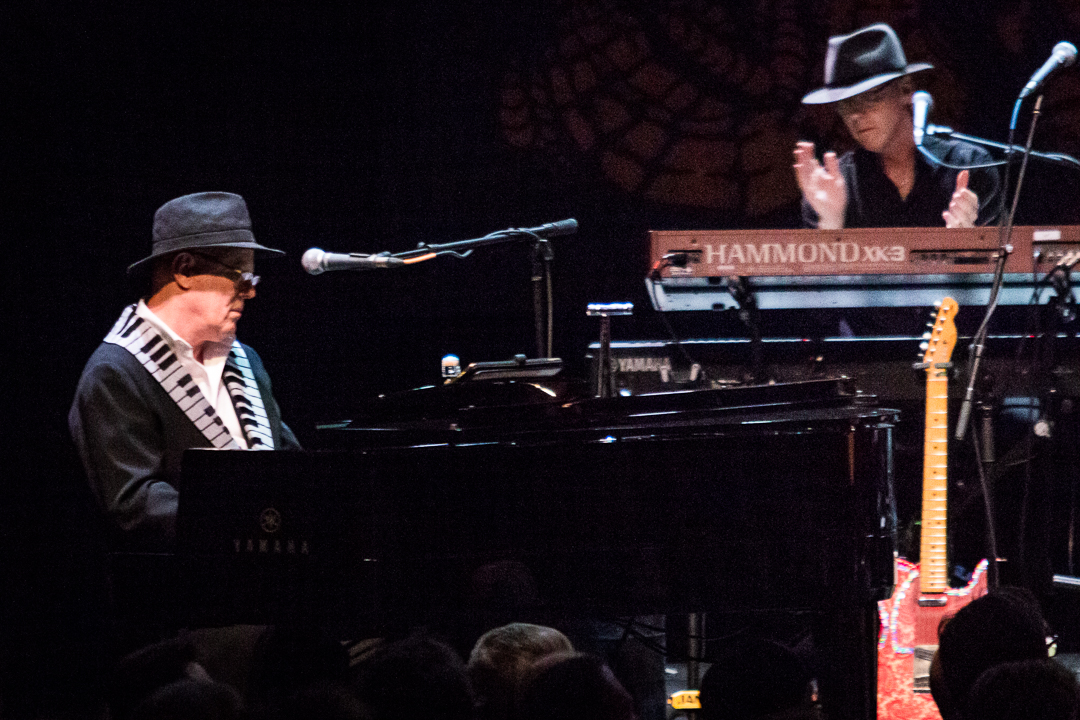 Hunter's banter was disarming and funny, and usually at his own expense. "All right, so I wrote this," he said, unceremoniously introducing what would be a carefree time warp through "Honaloochie Boogie," abetted by Bongos veteran James Mastro on saxophone. "It's pretty stupid," Hunter added. "Check it out."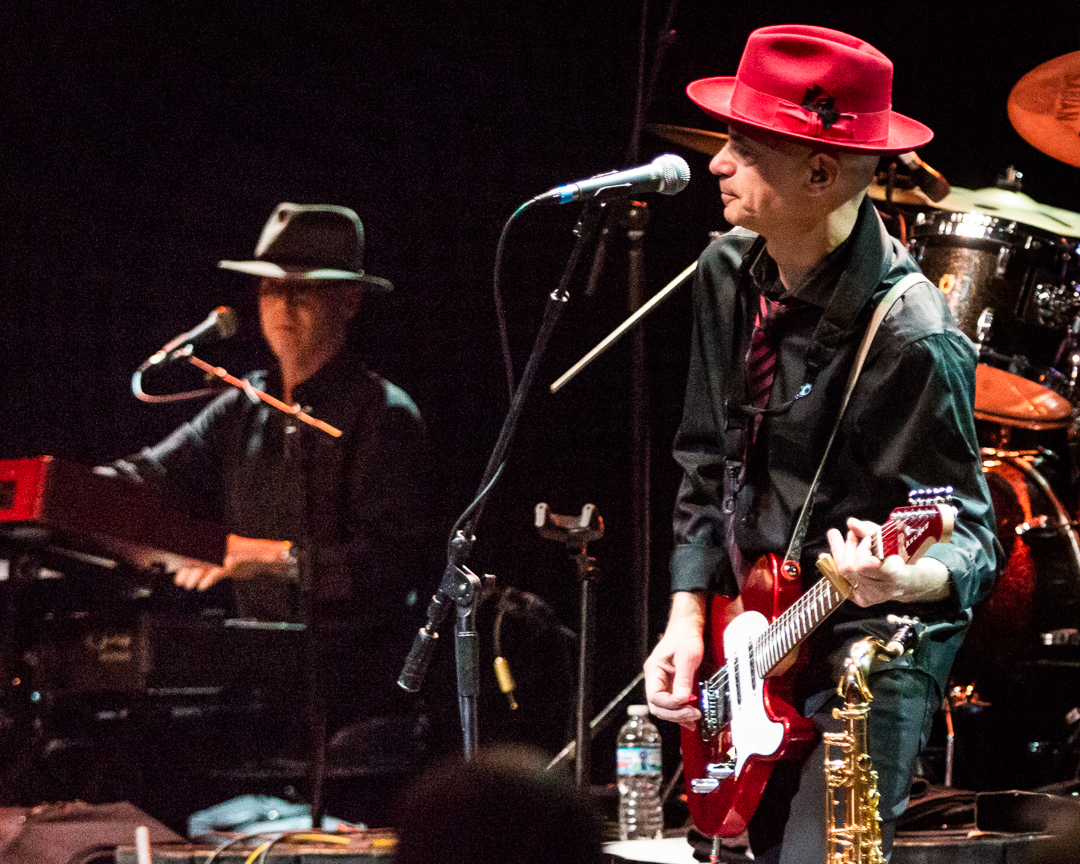 For his part, Bender accomplished the impossible by seemingly doubling the intensity of everyone else on stage. He may have appeared to be the bandmate most weathered by time, but Bender was a live wire with absolutely explosive and unflagging stage presence. The guitarist sported striped cadet pants and a green beret over a shock of white hair that was tied with a big polka-dot bow. Bender played fingerstyle, uncorking sinewy, tumbling guitar solos that blew songs like a cover of the Velvet Underground's "Sweet Jane" sky high (as Fisher deftly quoted Tchaikovsky's "March of the Wooden Soldiers" in response to Hunter's vocal). "TOO KIND!" Bender bellowed enthusiastically to the room's raucous reaction after most songs. "Hey, up! How ya doing?" he asked, checking in before digging into the winsome and rollicking jangle of the Faces-like "I Wish I Was Your Mother." The best collective answer was likely, "Very well, sir, but not quite as well as you!"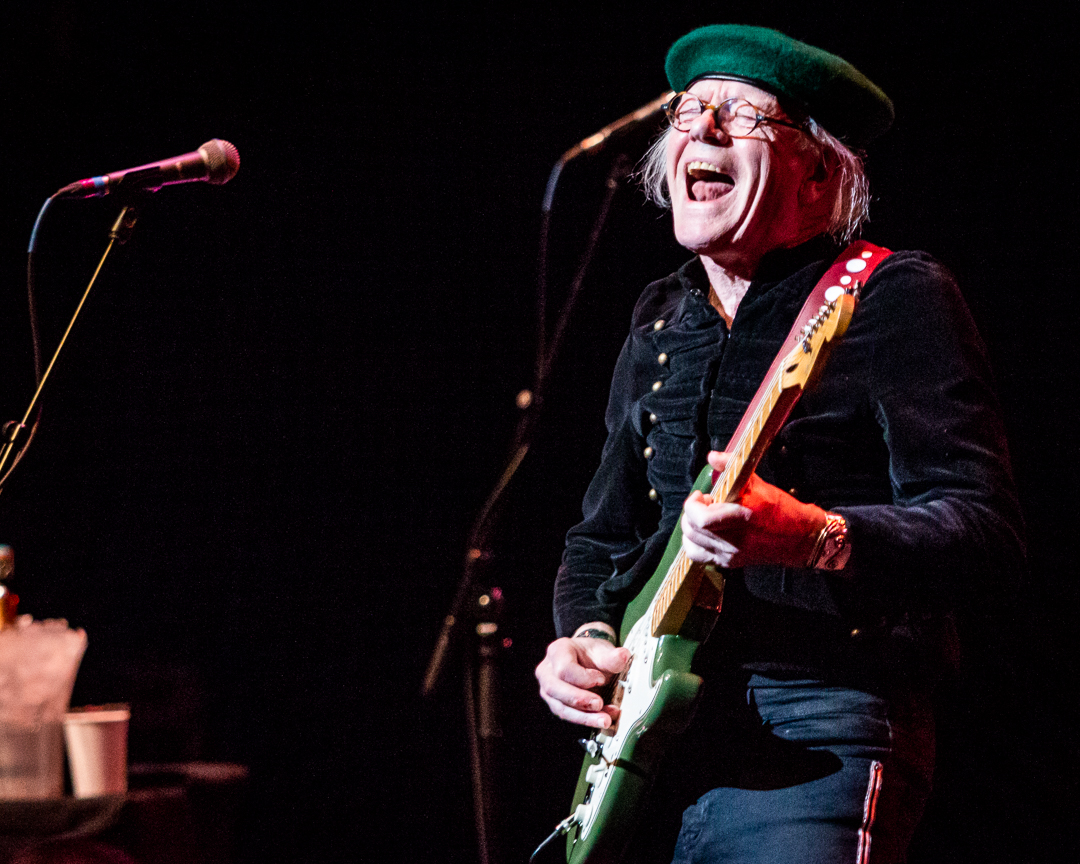 Following the tender ballad "Rose," Bender bellowed again, "HAVE WE PASSED THE AUDITION?"
Bender was so indefatigable that he sliced his hand during the frenetic and sneering "Marionette," and just kept going. Whether he even noticed, who knows? Blood covered the white pickguard on his Fender Stratocaster all the way through the lengthy medley that concluded the show. He appeared for the encore of "(Do You Remember) The Saturday Gigs?" unbandaged, and continued to play at 12 on a 10 scale. In the end, it's anyone's guess how somebody managed to make him leave the stage.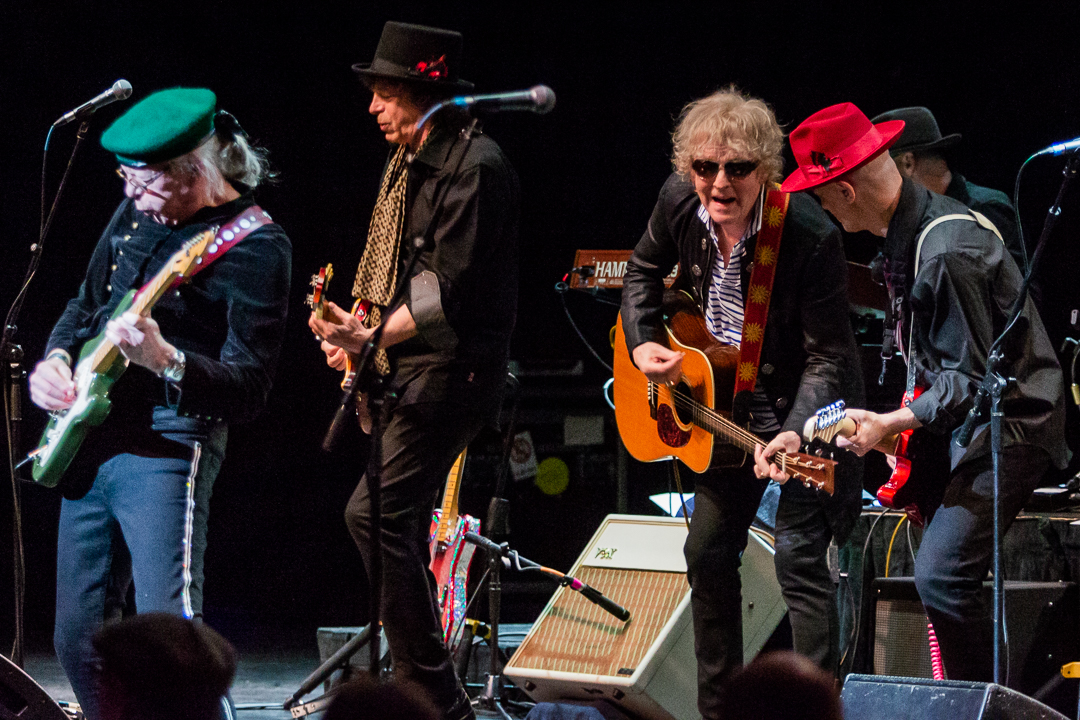 The set-closing encore was modeled after the familiar prototype from the 1974 Live album. Drummer and Wings veteran Steve Holley led the fray as the band plowed through fifteen minutes of bristling rockers. Included were the naughty "Jerkin' Crocus," rowdy "One of the Boys" and its counterpart "Rock and Roll Queen." Before lashing into "Violence," Hunter gave a caveat. "I wrote this song 45 years ago, and it proves what an asshole you can be when you write songs," he said. Hunter changed the chorus lyrics in disapproval of the boorish Droogie upstart originally portrayed in the song. The medley finished with the chorus of "Cleveland Rocks" repurposed for the fans in Chicago.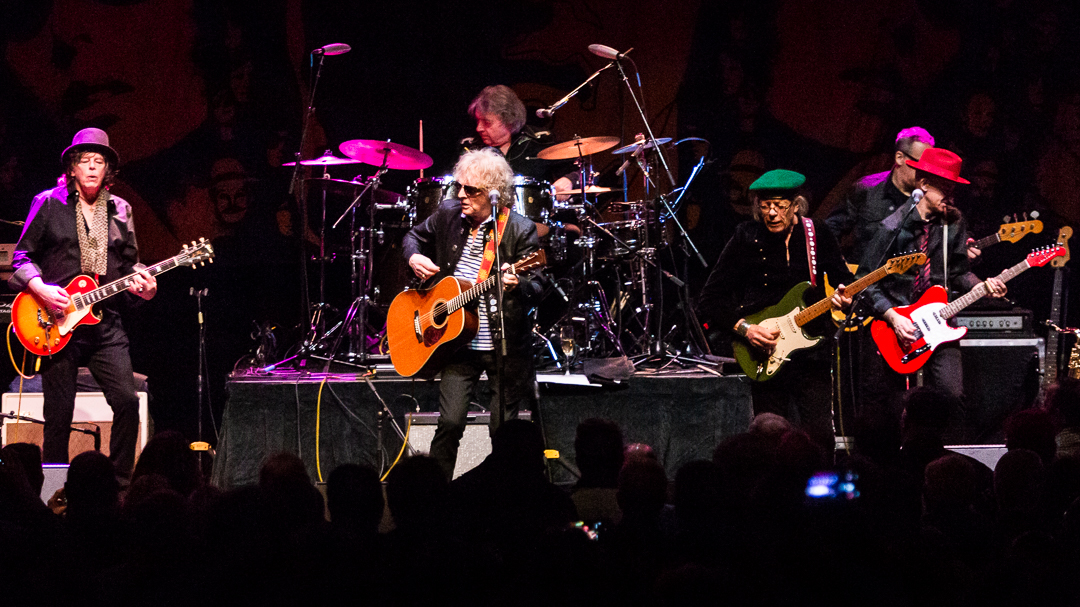 As the band re-emerged for the spirited encore, Hunter made one last joke. "Sorry to hold you up," he said. "We were talking about prostate." Truly, no one but Hunter himself was joking about the old farts onstage. If there's anyone still insisting that rock is a young person's game that belongs to no one over 30, they clearly haven't had their eyelids peeled back by Mott the Hoople '74. We should all be so lucky as to rock this hard when approaching senior status. It may be an unlikely goal for mere mortals, but this crew are role models for vitality, showmanship and great music at any age. May they live forever. I've got to see them again.