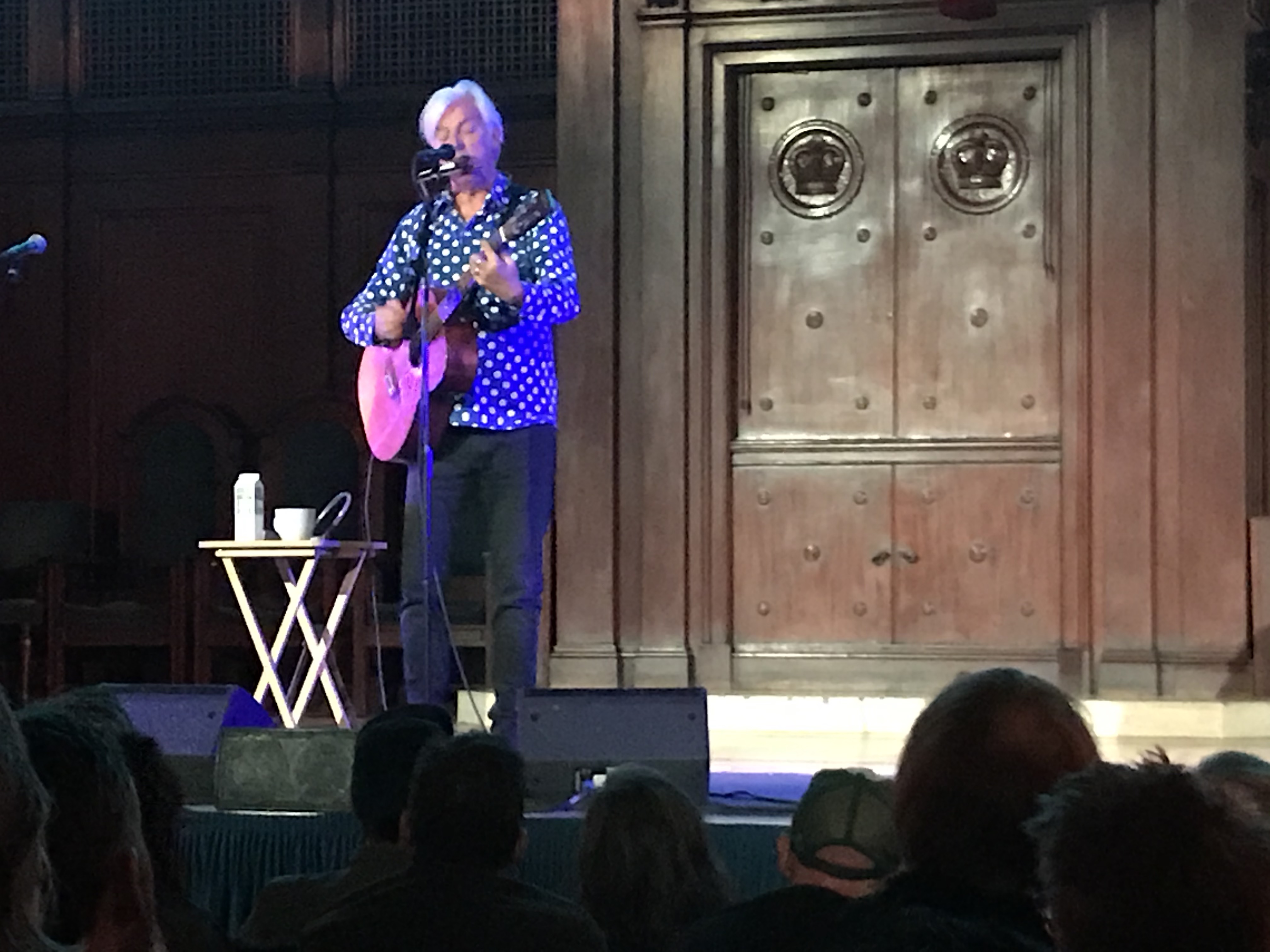 27 November 2019
A Robyn Hitchcock show is always an enjoyable experience whether he's with a band or playing solo (with occasional accompaniment by Emma Swift, who also handled the merch table; more on that later) and this night was no exception. It was initially slated to be Hitchcock playing a headlining set with Tanya Donnelly opening. However, since Donnelly was unable to sing or talk due to a bout with laryngitis, Hitchcock pulled double duty by playing two sets of about equal length along with an encore.
Opening with "Only the Stones Remain," an outtake from The Soft Boys' 1980 masterpiece Underwater Moonlight, the first set also included still indelible 30 year old material from albums like 1988's Globe of Frogs ("Balloon Man," "Chinese Bones") and 1989's Queen Elvis ("Madonna of the Wasps" and "One Long Pair of Eyes"). The 2nd set also included other older numbers like "The Man Who Invented Himself" (from his very first solo album Black Snake Diamond Role) and "She Doesn't Exist" from 1991's Perspex Island (along with another Soft Boys classic "Queen of Eyes"). If I have one very minor quibble, it's that Swift should've come out to sing the memorable backing vocals in "She Doesn't Exist" (which on record were sung by R.E.M.'s Michael Stipe, an avowed Hitchcock fan who also sang backups on "Dark Green Energy," an outtake from that time period).
The sets also included excellent newer material, particularly several numbers ("1970 in Aspic" and "Virginia Woolf") from his last album, 2017's self-titled Lp, so this was far from a nostalgia-minded evening, not to mention that his older material has aged very well. Hitchcock is one of the world's finest singer-songwriters and his newest material is as good as he's ever been. On "Virginia Woolf" and 3 other songs towards the end of side two, the aforementioned Swift came out to sing backup vocals. This mini-set also included "Trams of Old London" (from 1984's I Often Dream of Trains) and the title track of Queen Elvis (which was not on the album of the same name but rather on 1990's live solo album Eye along with "Cynthia Mask," yet another selection performed earlier in the evening).
For the encore, Hitchcock (with Swift backing him on "Just Like a Woman") performed two Bob Dylan covers found on his 2002 live Dylan covers album Robyn Sings. As the night closed with a stunning "Visions of Johanna," we were transported back out into the Brooklyn night knowing that we'd once again witnessed an absolute master of his craft.
As a side note, Murmrr is a functioning synagogue and thus it's a beautiful place to see a show, particularly a quieter, seated event like this one.