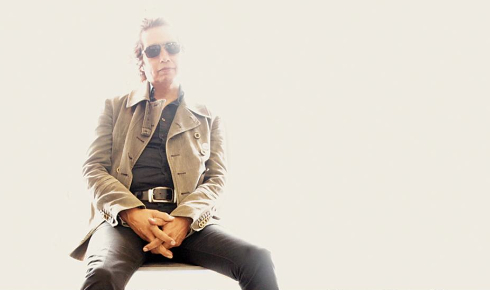 23 April 2014
It felt right to hang over the balcony rail like a child and watch Alejandro Escovedo play. "Stand up, your father's passing," someone might have said. The man and his band emerged as George Jones's "He Stopped Loving Her Today" played, and though Escovedo has quite a few wrenching songs of his own on that subject, he opened with the one that interprets the unlikely lesson of their heartbreak: "Don't give up on love," he sang, then whispered, then breathed, absorbing enough potential energy to make "Can't Make Me Run" worthy of a James Brown finale.
It played like the encore to a set of love songs we never got, freeing Escovedo to pursue, with songs pulled from his 21st century output, other topics: geography, personal history, rock 'n' roll. So, from 2001's enduring A Man Under the Influence, he passed over "Rosalie" and "Don't Need You" for "Castanets," which turns the part where she walks away into an occasion for lust, and "Wave," a song about a "perilous journey," his father's, to the U.S. nearly a hundred years ago, told in his introduction, powerfully suggested in the lyrics. The words narrow human experience down to a set of cardinal directions and passersby (the listener might discern a universal condition, or a specific one), while the music grounds the prose. A section of wordless harmonizing describes a train journey the same way Mike Mills might do for R.E.M. Earlier, "San Antonio Rain" had suggested the way Escovedo lets narrative features of the music contribute to his storytelling: a small tension builds like a storm cloud and then the sigh of the word "rain" dashes its hope, like when CCR hollows out the energy of "Someday Never Comes" before delivering its title.
Undercutting the art of these types of songs, Escovedo self-deprecatingly remarked that the transition from "Wave" to "Castanets" marked the end of the "adult alternative" portion and began the rock 'n' roll portion of the set. Via a series of reminiscences about his own punk rock past, he gave away, if the music didn't already make it obvious, that he intended to put on a real show, regardless the nature of the venue, the dinner tables at his feet. Oh oh oh big station. I was reminded of seeing Bob Mould at the Dakota and thinking that a lot of people who'd find the show useful (all the more so then, because Mould had shown up with his autobiography, and stories and lessons from his youth were an advertised feature of the event) would never find themselves here. So Escovedo dedicated "Sister Lost Soul" to Scott Asheton and said he discovered his path by listening to The Stooges and Velvet Underground; he played "Sensitive Boys," about his younger days in bands, and talked about playing First Avenue one Cinco de Mayo with his True Believers, getting something less than high praise from Los Lobos. He talked about playing the Entry, staying in a seedy downtown motel. We should've all picked up our things and followed him over to 1st and 7th, but Perfect Pussy was in the Entry and Escovedo is probably too accomplished now to have displaced them.
Still, his energy would rip apart a small room, and rivets attention to the stage in a larger one, thanks in part to his crackerjack band. Perhaps seeing his younger self in them, he calls them the Sensitive Boys: Jon Sanchez on guitar, Bobby Daniel on bass, and Matt Strmiska on drums. The lineup may change but he'll assign the name to anyone who'll risk the necessary feeling to play the songs he writes and the songs he loves, and to this current trio he can entrust, among other things, a finale rendition of "Like A Hurricane" (at the other end of a set in which "Bottom of the World" recalled "Powderfinger" with jangly guitars). "Everybody Loves Me" had already broken a guitar string and seemed like the logical endpoint of the evening's soloing, but "Hurricane" took it a few steps further, first with Sanchez reworking and resolving the melody in thrilling, expected ways until Escovedo, not exactly criticizing such work but deconstructing it, found new mangled shapes and silences beyond the key. He risked stranding the listener, and didn't care. The chorus—you know: "I wanna love you but I'm getting blown away"—returned us to the night's original premise, love as something essential and impossible, and also served as a nice metaphor for a tough, sensitive man, just out of reach.
Can't Make Me Run
Tender Heart
Bottom of the World
San Antonio Rain
Sensitive Boys
Wave
Castanets
Big Station
Everybody Loves Me
Arizona
Like A Hurricane (Neil Young)
Sister Lost Soul (Encore)
Going Out West (Tom Waits) (Encore)