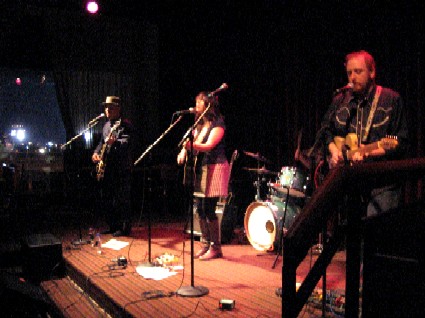 22 November 2006
10 years ago, singer-songwriter AMY RIGBY released her debut album Diary of a Mod Housewife, one of the finest releases of that year. What made it unique wasn't just that it was an album full of terrific, hook-filled, catchy songs with witty lyrics. Instead, what made it unique was its point of view.
Recorded and released when Rigby was already in her mid-thirties, the album's point of view was from someone "stuck somewhere between bohemia and suburbia," to paraphrase the original album's liner notes. She expertly chronicled the travails of a single mother trying to support herself and her child while living in the pre-gentrified Williamsburg section of Brooklyn and still trying to live some semblance of a rock and roll lifestyle at night by playing music and going to see bands.
In the process, she wrote moving songs like "Knapsack and "The Good Girls," along with more romantically-inclined songs like the country-flavored "Beer and Kisses" and "20 Questions." Anyone who lives in New York (or any other urban area) and struggles with the concept of balancing responsibility, work and parenting with fun and fulfillment can relate to her songs and stories. Since that time, Rigby moved to Nashville in 1999 and recorded four more albums, the most recent being last year's Little Fugitive.
This show, however, was different from a typical Rigby show where she plays material from all of her records. Instead, this was a special show in which she payed tribute to herself and specifcally her debut album, by playing all of its songs in order. Of course, it was fabulous, despite the fact that this show (at the smaller upstairs level of World Cafe Live, which was perfect for this type of singer-songwriter show with its tables and comfy feel) was vastly underattended and witnessed by only 20 people or so.
After she finished playing the songs from her first album in order, she played a few from her subsequent records, like the hilarious "Are We Ever Going to Have Have Sex Again?" and Little Fugitive's "Dancing with Joey Ramone." She also played "All I Want," a song written for, and covered by, RONNIE SPECTOR. After the show, she sold copies of the 10th anniversary reissue (with five bonus tracks) of Diary of a Mod Housewife (which you can get here) and a 45 which features a great live cover of WIRE's "Mannequin" on the B-side.
On a few of the songs, SUE GARNER and ANGEL DEAN (both Rigby's former bandmates) helped out with backing vocals. They also opened the show with a short, 30-minute set.
comments powered by