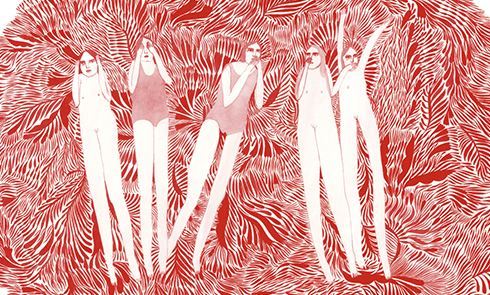 25 May 2014
If Ingmar Bergman thought the human face was the proper subject of cinema, he might have found good work making concert documentaries. I can think of one moment during Angel Olsen's show at the Cedar, when with an immovable face she sang the words "I am a lover," that would fill a screen nicely. Well, her radiant stare deserved some kind of capture more substantial than I could give it by looking really hard and trying to make the moment last. It didn't (last) and not even the infinity flirtations of her highly personal Leonard Cohen homage "White Fire" brought back in quite the same way the slow seep of a particular gaze. What I mean to say is that she's a pretty serious performer, and yet, her seriousness is matched by an equal degree of unseriousness as soon as the performance starts to fade. Everything profound she follows with a laugh, sometimes in the middle of a song if she can break its spell. Halfway through "White Fire," after one of the momentous visions of its internal apocalypse—"the tears blew up my eyes"—she paused, returned for a casual remark: "Did I get that right?" Maybe she meant: Is it too much? She'd probably be the first to admit that the effectiveness of her music depends entirely on the listener's orientation. I'm never more in awe of an artist than when there's such a clean separation of her attitudes inside the world of her art and outside of it, and such invisible, mysterious transitions between the two.
Inside the world of her art: Her voice has about a hundred registers, way beyond smoldering and words like that, and though I didn't take extensive enough notes to enumerate them all, I'd simply say that her range puts her in the eventual company of Roy Orbison and that her resonance would make for a thrilling imitation of Belafonte's "Day-O." But, no, she sings originals, and on "High and Wild" she's terranean and homesick as the syllables start to pile up with unusual speed and she has to almost talk to keep up, expressing a rhythm and melody previously latent in the guitars. And the thing she does on "Forgiven/Forgotten," when she sings "yes I do" (love you, that is) and inflects the last word even as she's already pinching it off, placeholder for more ordinary vocal contortions, is entirely her own, I think.
At the same time, her lyrics are sometimes so plainly allusive that she seems already a master of her craft. On "Miranda," she sets the Miranda rights to song, an idea that's only as good as its execution (impeccable, Merritt-worthy; it might've been a country song, "Papa Was A Rodeo," the last time he inhabited a character with as little irony as she brings to the wounded end of a pair of Badlands/Thieves Like Us-type lovers), and when on "Hi-Five" she sings, "I feel so lonely I could cry," not "so lonesome," it's clear she knows and means the difference, but likes the congruence. Her best words are based on pretty simple ideas, and that's true of "Iota," an "if only" formula song that looks upon eternity with each line but comes closest to a definitive theme with its opening one: "If only all our memories were one / We only had to blink and it was done." Elsewhere on the album, she hears "my mother thinking me right back into my birth," wants to "scream it all back into nothingness." I'm reminded of a poem I loved once, in another life, about shrinking back into the shiver of the orgasm that created you, and I remember that the anxieties that attend such an imagination aren't nihilistic or even depressed, but confused, overwhelmed, wanting-it-all. Olsen, like that poem, translates the anxieties into art of impossible ease and clarity.
Cued by the words, the music is best when it reverses time and returns as many junk sounds as possible to the soil. During "Hi-Five," the first full-band electric song of her set, lead guitar was out of commission (until it roared back to life just in time for the song's final chord, a sort of Spinal Tap moment simulated by professionals), but I hardly missed the great things it should've added. I'd been waiting for such a clean, unobstructed presentation of songs from the new Burn Your Fire For No Witness, a very fine record a little bit offset, upon first listen, by unnecessary instances of reverb, vocal distortion and vaguely antique production. John Congleton's technique of "pouring his trademark electronic glaze over guitar tracks has outlived its novelty," indeed, Olsen's music in particular requiring no more gloom or authenticity than what she puts into it. My relationship with her songs was never meant to be confusing, and so, not long after I'd learned them and they'd burned through the glaze, it was great to hear them fully reclaim the crackle of real live music.
To help achieve this, her live band consists of an agile, thoughtful bassist, and, on drums and guitar, two beautiful, bored-looking boys, the type who don't look old or experienced enough to give themselves to anonymity but who end up playing on other people's songs with the most exceptional feeling and modesty and lack of extraneous detail (so unfair). The drummer, softly riding the cymbals throughout, lent an airiness, and thus the kind of spacious, quietly noisy atmosphere these songs truly deserve. It sustained during the guitar solos, even the beautiful one that's ostensibly the star attraction of "Lights Out," but, ultimately, an isolated channel, small billows of noise held gracefully by the guitarist's melody as the rest of the song shuffles along calmly underneath, or somewhere to the left. As with Waxahatchee, Olsen's rock 'n' roll is awesome but sometimes faintly incidental, or accidental. She's playing her songs as essential versions, for now, but after a dozen or so with her band, she stayed for another four on her own, to remind that even as the lineup and arrangements evolve, she's the constant. It's worth paying attention to, when an artist so early stills your fear of change.