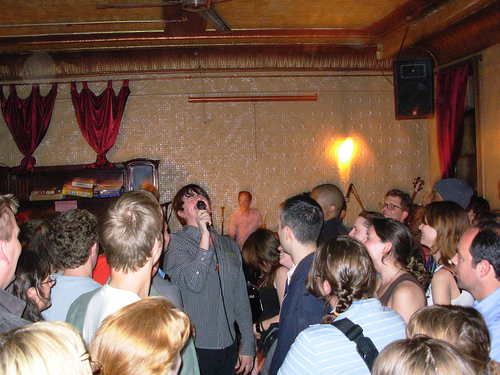 2 June 2006
Although they were playing an in-store in Sound Fix's cafe, and singer EDDIE ARGOS's vocal mic didn't work during the first song, the lesson learned here was that nothing can stop ART BRUT from delivering a less than awe-inspiring performance. The place was full well beyond capacity, and it was almost impossible to move, let alone dance, but it didn't matter. Eddie and the rest of Art Brut (guitarists JASPER FUTURE and IAN CATSKILKIN, bassist FEDERICA FEEDBACK and drummer MIKEY B) blasted through a 45-minute set that included most of their excellent debut album Bang Bang Rock and Roll (one of the best debut albums I've heard in years), along with a few new songs and the B-side "These Animal Menswear."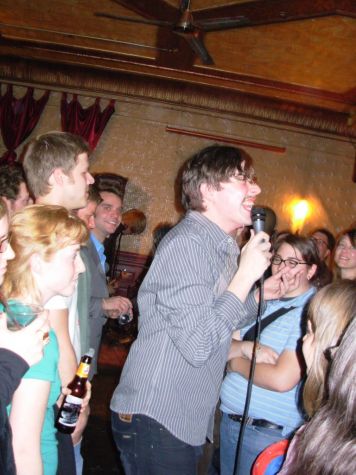 For me, the absolute highlight was the end of "Moving to L.A.," where Eddie added a line about wanting to drink "vino with BRIAN ENO." In direct opposition to many bands who don't show emotion or encourage the audience to participate, Art Brut willfully interacted with their audience in a variety of ways. First off, their songs are already structured almost like football chants, to entice the crowd to sing along. Second, Eddie's between and during song rants addressed issues pertinent to his own heart, as well as those of the audience. For instance, during "Emily Kane," he dedicated the song to letting go of the past, wisely saying that if you're not with your ex-girlfriend or boyfriend that it probably wasn't meant to be.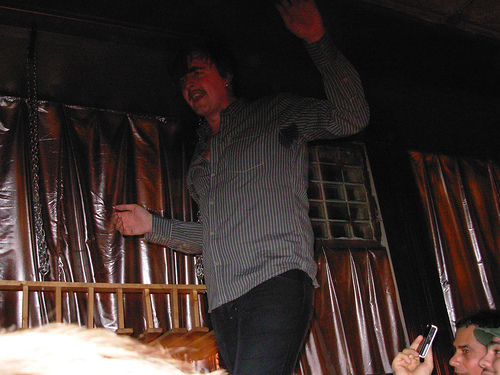 Furthermore, he modified his rant about wanting everyone in the audience to form a band to include other creative endeavors like fanzines (since I'm a blogger, do I count, Eddie?), movies, TV shows, and books. I couldn't agree with him more. Beyond their quirky, often laugh-out-loud funny songs lies the heart of true punk rockers in the best possible sense of that term. Plus, you don't get to see too many singers try to shout the lyrics of a song (the opener "Formed A Band," this time with a "Back in Black" intro) after the vocal mic has gone out, and then later climb the bar/cafe counter. All in all, though I've seen Art Brut three times now in support of Bang Bang Rock and Roll, they're never boring, as they manage to entertain the audience each time.
All of the photos above are from the blog A New Nuance.
Discuss this review in The Big Takeover Forum
comments powered by