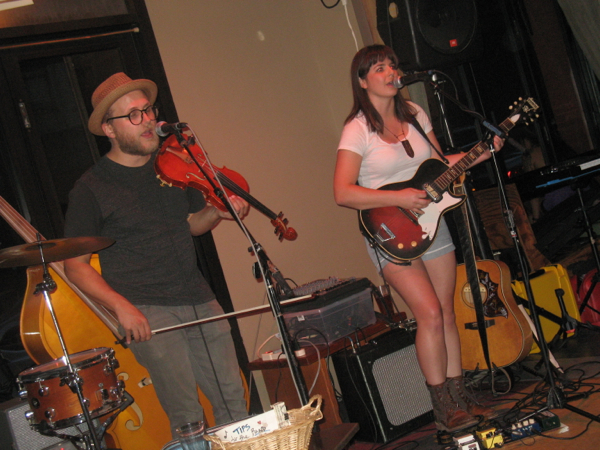 7 September 2015
Photos by Mark Suppanz
St. Louis Americana artist Bombara has released three solo LPs and two EPs since 2007, while collaborating on a few others with fellow Missourians Cassie Morgan and Old Lights, and Oklahoma's Samantha Crain (I remember liking Crain's supporting set for Swedish sisters First Aid Kit at NYC's Mercury Lounge in 2010). But I had only heard of Bombara the week before this show, her second of three scheduled in NYC on this weekend. Still, her 2015 self-titled third album held me so spellbound, it took no persuasion to get me to cross two rivers from New Jersey to see her at this cozy, decade-old corner tavern in Brooklyn's formerly industrial DUMBO neighborhood.
Kit Hamon, Beth Bombara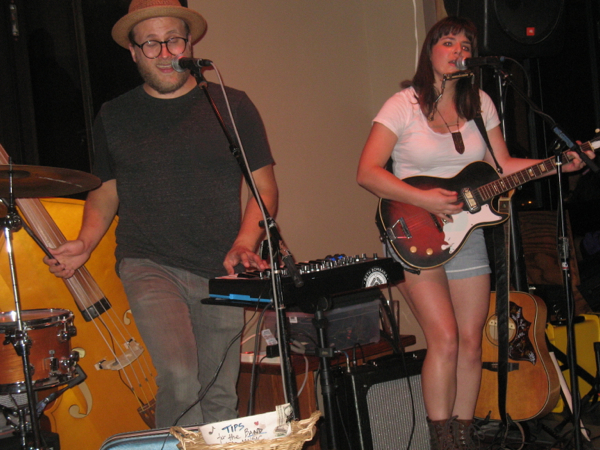 And for us bushed bridge 'n' tunnelers, Bombara made the trip worth our whiles. Accompanied on all but two tunes by her multi-instrumentalist husband Kit Hamon, she delivered a copious 17-song early evening opening set that not only showcased the bulk of Beth Bombara, but plenty more from 2013's Raise Your Flag EP and 2010's Wish I Were You. Those earlier records dominated the early part of her set, which included the sunny solo opener "Rainbow," the more upbeat, upright bass-fueled "Can't Win," and quieter, violin-shaded beauties "Not Fair" and "Long Dark Hallelujah."
But beginning with the clomping "Found Your Way," which featured Bombara's resonant guitar and Hamon's burly bass, it was the new album songs that impressed most. Unfortunately, some of them fell on deaf ears; while the audience had been listening in absorbed attention for the first third of the set, the bar chatter grew louder as more regulars filed in, and second rounds of swills were swigged. Thus, Bombara's alluring singing on the brisk "Greet the Day" and the twangy "Thunder and Rain," and her other unaccompanied number, "Direction," was progressively pitted against prattling patrons.
Bombara and Hamon weren't deterred, however. They notched up the volume levels for two of the new LP's (and the set's) stirring standouts, "Promised Land" and "In My Head," with Bombara supplementing her electric with bluesy harmonica, and Hamon simultaneously playing drums and keyboards like a supple street performer. Bombara and Hamon then put their stamp on the evening by leaving their makeshift stage near the front entrance and situating themselves along the narrow bar's side wall, amidst the audience and sans amplification, for the final two songs: the wistful "It Slips Away," and a rousing cover of Nada Surf's wondrous 2005 Weight is a Gift gem "Always Love." With the won-over crowd duly pacified, the delightful duo left to a discharge of well-deserved plaudits.
Brooklyn's ETTC features guitarist brothers Bryan and Kyle Weber, formerly of Philadelphia's grungy, hard-rocking Zelazowa, whose 2009 Elephants on a Mousehunt I called a "grueling knockout of an LP" in issue 64. However, along with velvety-voiced Neha Jiwrajka (also of bolero group La Vitrola), their new group bears no resemblance whatsoever to that band. Instead, they employ a soft, sensual throwback style that blends vocal jazz/torch songs, Tin Pan Alley and '60s folk pop, with mild Latin and Caribbean flavorings. Perhaps a boisterous bar wasn't the ideal place to appreciate their tranquil tunes. But even beneath the buzzing din, lovely lullabies like "Individuality" and "Somebody Loves You," and a serene cover of The Beatles' 1963 "All My Loving," went down as smooth as a cup of chamomile on a peaceful summer night. ✪
A.J. Jump, Bryan Weber, Neha Jiwrajka, Kyle Weber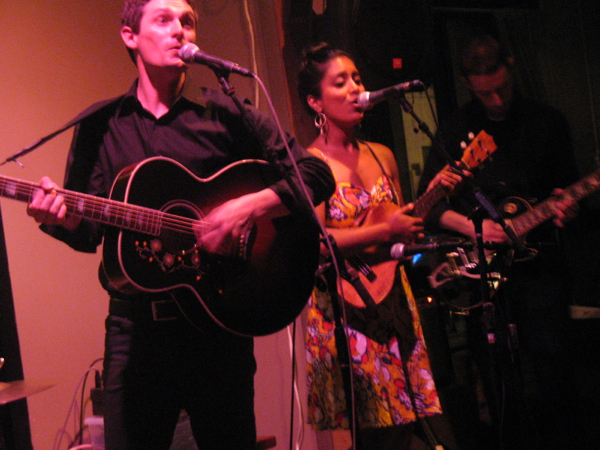 comments powered by