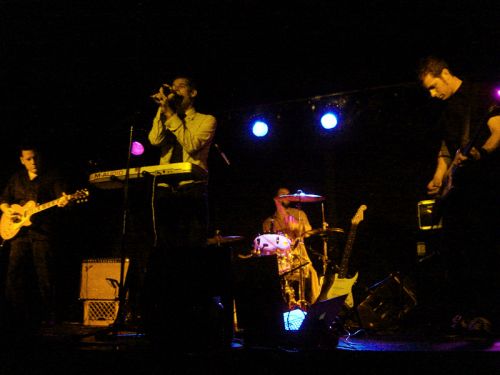 21 August 2006
The most vital show I've seen recently was not a long-awaited re-appearance of yet another 1980's luminary, but an evening with two local bands, BELL HOLLOW and BLACKLIST, who conjured up the shadow-laced post-punk of the past with a forward-thinking freshness devoid of retro cliché. Each group had its own unique take on the genre, but complimented each other so well it was like two distinct movements from the same brooding, twilight symphony.
Sunday can be a tough night for a show, but the empty spaces in the club were made up for when the swells of Bell Hollow's "Bodies, Rest and Motion" overtook the room. NICK NILES's haunting, diaphanous vocal melodies were underscored by the utter heaviness of bassist CHRISTOPHER BOLLMAN and drummer HAYDEN MILLSTEED's rhythm section. I was quickly reminded how ballsy Bell Hollow's sound is live—a fact that I won't be able to shake now. The band played songs off their demo as well as their new EP on Five03 Records, Sons of the Burgess Shale. "Peru" and "Shukriya Moon" were fantastic, as was "Lowlights," where one-time Big Takeover contributor GREG FASOLINO's guitar solo was pure distorted psych magic.
While I've posted a few things on Bell Hollow before, they just continue to impress (and entrance) me, especially with their final song of the night, "Secret Key"—a pounding and thrilling way to end their short set. It's rare to find new music so heavy and yet so heavenly and light at the same time. And while I could have ended the evening on a high note there, I decided to stick around for the next group, Blacklist, who I had not heard of. I'm quite pleased that I stayed; the matching of the two groups couldn't have worked better. If Bell Hollow was tantalizing foreplay, then Blacklist was unabashed, down and dirty sex.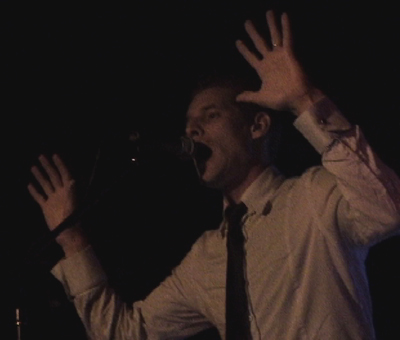 Recalling bands like THE SISTERS OF MERCY and THE CHAMELEONS, Blacklist's music is witty and biting, with powerful washes of reverb and echo-laden guitar, propulsive basslines, and strident, baritone vocals. Without being too cute, let's just say that while the stage was smoke-free that night, the figurative fog machines were turned up to eleven.
Although completely unfamiliar with the band's music, I was nevertheless riveted from start to finish. Within the first few bars of "Julie Speaks," the tension built earlier by Bell Hollow's swirling soundscapes was shattered and released by Blacklist's heavy grind. Songs such as "Ghost Ritual," "When Worlds Collide," and the incredibly catchy "Language of the Living Dead" (whose lyrics, I've read, are inspired by French psychoanalyst/philosopher JACQUES LACAN, and one of his disciples, SLAVOJ ZIZEK) were wholly memorable, and have been on repeat in my car ever since. Even better, they actually have sartorial style: singer JOSH STRAWN, bassist RYAN RAYHILL, guitarist JAMES MINOR, and drummer GLENN MARYANSKY wore all-black with understated panache.
Before the final song, Strawn used his stage-as-soapbox to criticize the mass media's unfavorable representation of Palestine, which was an unexpected change from the ever-so-boring soft relativism rife in today's dark rock 'n' roll. I was enjoying the show so much I was sad to have it end so soon, but as any good musician knows, the best way to keep a fan is to keep them wanting more.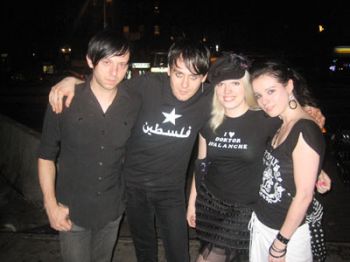 While neither Bell Hollow nor Blacklist is re-inventing the black-spoked wheel here, they are highly compelling nonetheless. They both create sounds that reference the past with an inventive twist, evoking the best dark post-punk without sounding like cover bands. In short, they make their musical citations, and move on from there.
Check out Bell Hollow live this Thursday at Southpaw!
Bell Hollow photo courtesy of HEATHER RAMEY
Nick Niles photo courtesy of HILLARY JOHNSON
Blacklist candid courtesy of SANDRA X.
comments powered by