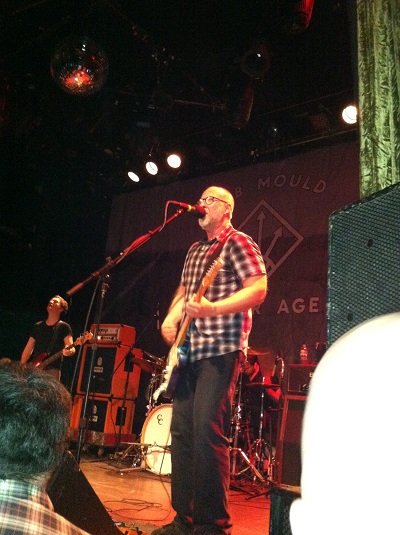 2 March 2013
Oh, what a night! While Frankie Valli and the Four Seasons may have taken a song with that title to the top of the charts in 1975, I think that statement could apply to this evening. Since my friend (and fellow Big Takeover contributor) Greg Polard won a contest via Kickstarter and was nice enough to invite me along, we got to meet Bob Mould (who I interviewed with my wife Anne Leavitt-Gruberger back in 2009 for issue #64) as well as band mates (and stunning rhythm section) Jason Narducy on bass and Jon Wurster on drums. For the show itself, we were seated in the balcony right by tables reserved for Fred Armisen, Steve Earle and Craig Finn of The Hold Steady. While Earle and Finn didn't show up, Armisen did and he would come into play later. If it sounds like I'm bragging, I'm really not. I felt privileged to be there and more over, it felt surreal!
First, though, I'll start by saying that though these shows are a victory lap for 2012's amazing Silver Age, the intensity hasn't lost a step even on the second night of this tour. In fact, I would argue that this show was even better than last year's amazing performance at Union Transfer where he played all of Sugar's 1992 classic Copper Blue from start to finish.
Why? Well, the setlist included even more Husker Du material, but didn't skimp on the best of both Silver Age (including "Star Machine," "The Descent" and "Round the City Square") and Copper Blue (we got not only the first five songs from it to open the show, but the amazing "Fortune Teller" later in the set as well). Furthermore, Mould dipped further into the Sugar catalog with "Your Favorite Thing" from 1994's File Under: Easy Listening) and "Come Around" from 1993's Beaster.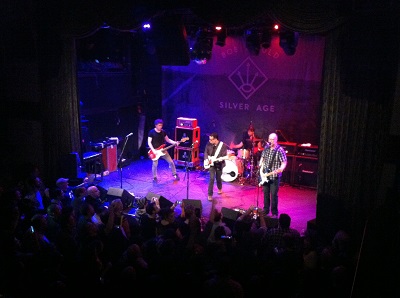 The real jaw-dropping moments came later, though, as the aforementioned Armisen came in to play guitar on a mini-set of Husker Du classics during the first encore. We got the almost NEVER played "Flip Your Wig" (with Armisen on Husker Du drummer Grant Hart's vocal parts) as well as "Hate Paper Doll" in addition to "Divide and Conquer" (all from 1985's Flip Your Wig). If that wasn't enough, we got "Something I Learned Today" and "In a Free Land" (!) during the second encore before sending everyone shaking (and ears bleeding) with finale "Makes No Sense at All" into the New York night.
What a show, what a night and what a testament to Mould and his band that they still kick so much butt after all these years!
The setlist can be found here.
The above photos were taken by Greg Polard and are used with permission.