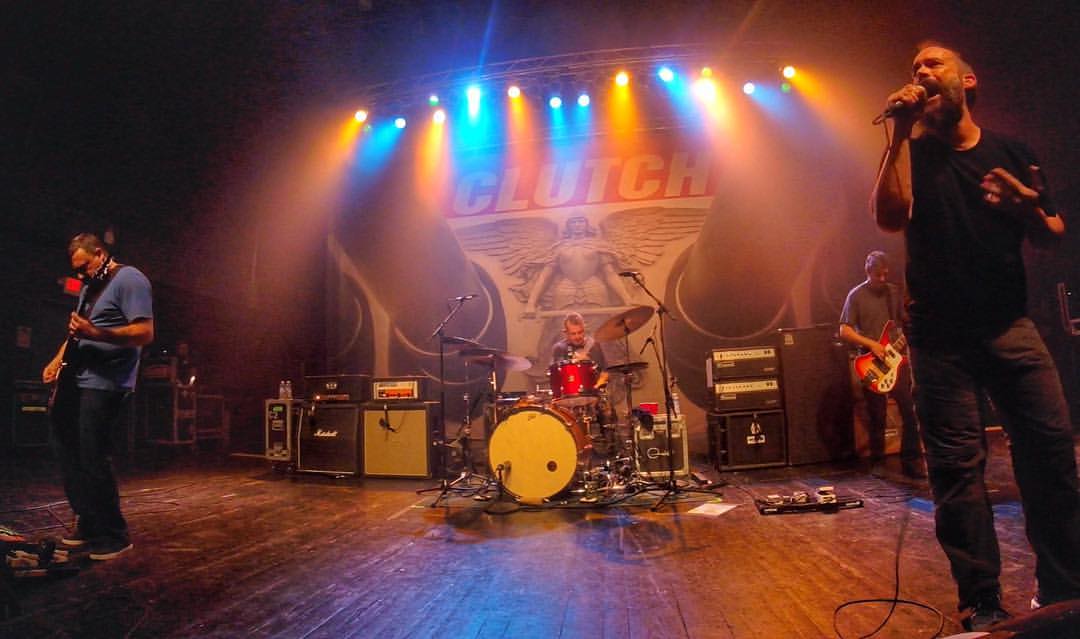 31 May 2017
Walking into the Capitol Theatre in Portchester, NY, there were signs that warned NO SURFING and NO MOSHING. Clutch were in town on their East Coast leg of their Summer 2017 tour supporting Psychic Warfare (Weathermaker). These signs made it seem that the crew running the theater have not seen Clutch since the early to mid '90s. True enough, the band were part of the 90's punk and hardcore scene but over the past 15 years or so they have evolved into a hard-working no BS kick-ass rock band. If you have not had the chance to see Clutch live, they are highly recommended and certainly know how to bring down the house. Neil Fallon (Vocals/ Guitar), Jean-Paul Gaster (Drums), Dan Maines (Bass), and Tim Sult (Guitar), get tighter year after year.
They ripped right through "X-Ray Visions", "Firebirds!", and "Decapitation Blues" off the aforementioned 2015 album. The packed Capitol Theatre was indeed ready to rock and classics "Burning Beard" and "A Shogun Named Marcus" left smiles throughout the crowd. They continued through tracks off of nearly all 10 studio albums. Fittingly, they played "The Mob Goes Wild" right after a three song sequence off of their 1995 self-titled second full-length Clutch (Eastwest Records), "The House That Peterbilt", "Escape from the Prison Planet", and "Spacegrass" as indeed a small pit did form along with one thrasher being escorted out.
It was a truly powerful and exhausting set for audience and band, they closed with a song Neil described as "the first song we wrote together, 855 years ago": "Passive Restraints" from their 3 song E.P. by the same name, released on Earache Records in 1992. The single encore was an extended, dueling cowbell jam, "D.C Sound Attack!" off of Earth Rocker (Weathermaker), a new classic from a band with about 50 others in their catalog.
The good news for all Clutch fans is they consistently put out albums every couple of years and seem to always be on the road. It was great to see such a dedicated band happy to please the just as dedicated fans who always leave the venue a bit more sweaty and a lot more happier.
Lucero, and the Sword opened.
Stay in touch with Clutch releases and tour dates at their web site