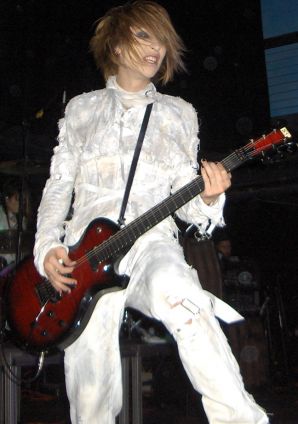 17 March 2006
For the second part of their first ever American tour, Japanese Visual Kei band D'ESPAIRSRAY returned to New York City to play an exhilarating show at Avalon. To put it simply, they made their openers (the so-so SUICIDE CITY and the solid TRASHLIGHT VISION) seem uninspired and forgettable. D'espairsRay's technical virtuosity, gorgeous stage clothes, and powerful performance confirmed my theory that more often than not, the Japanese just do things better.
D'espairsRay began their set with a dramatic version of "Dears" from their new album, Coll:Set, amidst ecstatic shrieking from the foaming fans squeezed up against the stage. But it wasn't just the dark, grinding electro-metal with OTT operatic vocals or the stark, shredded white muslin and fishnet of their outfits that made such an impression.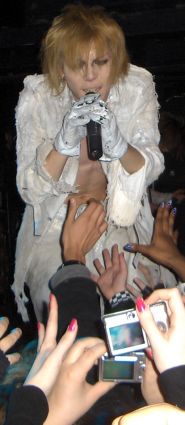 The audience, which consisted of mainly 13-and-14-year-old girls going ballistic throughout the show, is what really made the experience so unique. It seemed like what I've read Beatlemania to be like, and it all came to quite an interesting climax at the end of the evening.
But more on that later. D'espairsRay kept me entranced for the first hour of their set, playing some of my favorites, like the evil "Marry of the Blood," "Infection," "In Vain," and the uber-gothy "Garnet." Singer HIZUMI sounded as clear and pitch-perfect as he does on record, guitarist KARYU kept the chunky riffs roaring, drummer TSUKASA was pretty much a machine, and bassist ZERO played his parts effortlessly while keeping the most serene, super cool look on his face.
After the set ended and the audience wailed and pouted for what seemed like forever, yelling "Ahn Core Ei" ('encore' in Japanese), D'espairsRay returned for a few more intense songs. But when the music stopped the show wasn't quite over, because Karyu came over to my side of the stage, (as Zero had done before the encore), took a large gulp of water, and proceeded to spit it in streams, then in dribbles, and then in sprays into the audience.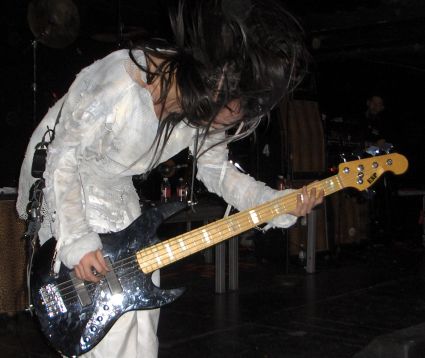 In a very porno way, some of the young girls ran forward, mouths open in a pleading fashion, to catch the water droplets in their mouths (with some of their fathers looking on no less!). While this behavior could be psychoanalyzed for hours, what's really interesting is that dozens of American teens are infatuated in the extreme with a Japanese band that has virtually no press in this country whatsoever. Call it the power of the music, the clothes, or the hot bodies—just remember, as a young fan's jacket at the show spelled out, "It's not goth or emo, its Visual Kei!"
comments powered by