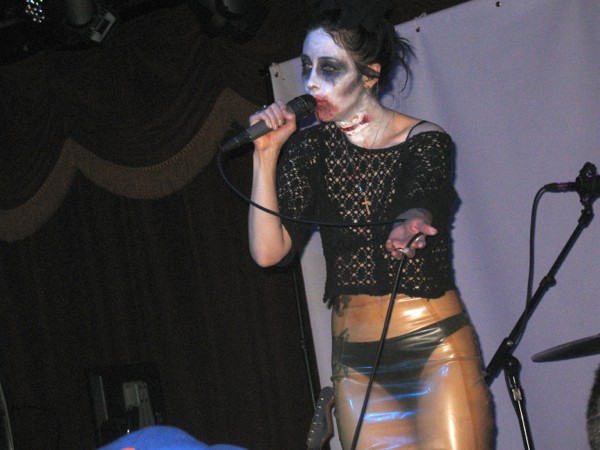 17 February 2015
Photos by Mark Suppanz
Compared to their triumphant free show at Brooklyn's Prospect Park the previous June (see my review here), the Dum Dums' follow-up NYC gig at this spacious Williamsburg venue/restaurant/bowling alley was a more low-key affair. But it was still heaps of fun, not least because it took place on the night before Halloween. To get into the holiday spirit, each Dum Dum Girl (and one Dum Dum Guy) was gussied up in gruesome zombie makeup, to go with their typical black garb. And singer Dee Dee – who's no stranger to provocative presentation – even went so far as to cloak herself in a see-through Saran Wrap skirt, revealing a tantalizing thong that had more than a few crowd members unclasping their collars and chugging down their craft beers to cool down.
"Dee Dee-Monic"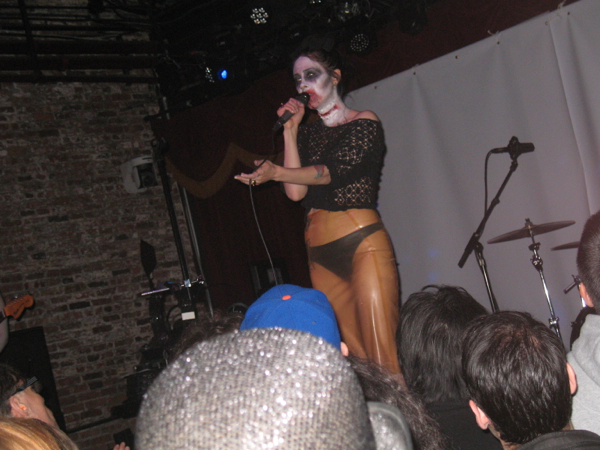 "Ghouls"

"San-Dracula" & "Maul-Lia"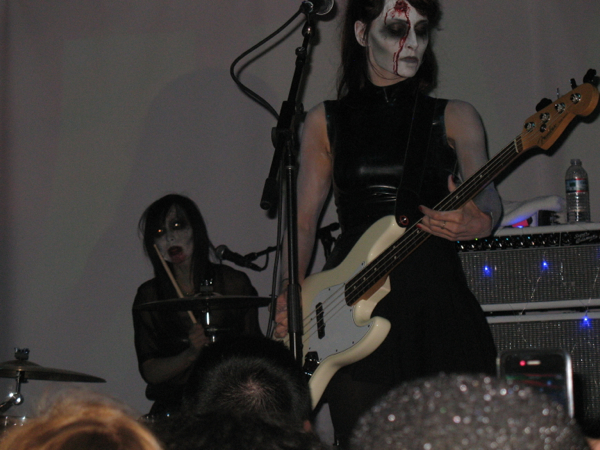 Thankfully, the band's terrifying transmogrifications had no effect on their tune-making talents. And those attendees who chose not to spend this Mischief Night (it's a New Jersey thing) egging cars or tissue-papering neighborhood homes were richly rewarded, as the band stormed through their newest and best album Too True from beginning to end! Thus, after a few shows in NYC last year supporting that terrific LP, it was fantastic to finally hear some of its rarely-played gems, like the chugging "Evil Blooms," the thumping "Little Minx," and the drifting "Trouble is My Name." For good measure, the band even tacked on the seductive "Girls Intuition," the non-LP B-side to the album's "Rimbaud Eyes" single. Talk about a Halloween treat!
"Andrew Chiller"

Following a brief intermission – perhaps to scour the streets of Williamsburg to feed on some savory hipster flesh? – the frightful five-piece returned for another set of nine nourishing nuggets. First came a couple more seldom-played deep cuts: the dreamy and beautifully-sung "Trees and Flowers" (a cover of Scottish duo Strawberry Switchblade's 1983 first single) from their 2012 End of Daze EP, and 2011's He Gets Me High EP's battering "Wrong Means Right." The rest of the set focused on their more standard show staples, such as I Will Be's sizzling "It Only Takes One Night" and Only in Dreams' succulent "Bedroom Eyes."
Although competing with the venue's capacious confines and the clamor of constantly crashing pins, Dee Dee once again "bowled" us over with her bodacious belting and rafter-reverberating high notes on deliberate, dignified doozies "Lord Knows" and "Coming Down." Rather than leaving us content with the latter, she continued her throaty theatrics on a show-closing, crunching cover of Irish rockers The Cranberries' 1994 #22 smash "Zombie" (despite its apparent occasion-appropriate title, the song is not about fearsome flesh eaters; it addresses the IRA's 1993 bombings in Warrington, England, the second of which killed two children). Notwithstanding the fantastic free show by Colin Blunstone's and Rod Argent's legendary 1960s band at Massapequa, NY's John J. Burns Park in August, this was the best concert performance by a group of zombies I'd seen all year!
Brooklyn-based (by way of Denmark and North Carolina) Ex Cops also got into the Halloween spirit; black-gowned singer Amalie Bruun had a zombie/witch hybrid happening, while her guitarist/singer cohort Brian Harding looked to be some sort of pink-haired bag lady. Along with a costume-less drummer, they opened with a short six-song set, five coming from their new Billy Corgan-produced second LP Daggers (the Harding-sung "Separator" was the only selection from their 2013 debut True Hallucinations).
"Amalie Bruun-Hilda"

Though Daggers has a much slicker synth-pop sound than the shoegaze and ethereal rock-mining True, live they preferred a stripped-to-the-basics guitar and drum approach. Multi-tasker Harding even appeared to be handling the LP's keyboard and bass parts via foot pedals, leaving Bruun – swaying and sidling around the mic like a siren casting spells – to focus on her sumptuous singing. (The also costume-less Greenpoint, Brooklyn all-male Christines got the night started with a convincing set of blasting and billowy dreampop.) ✪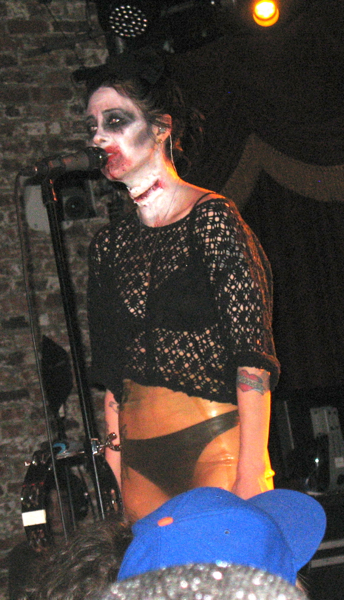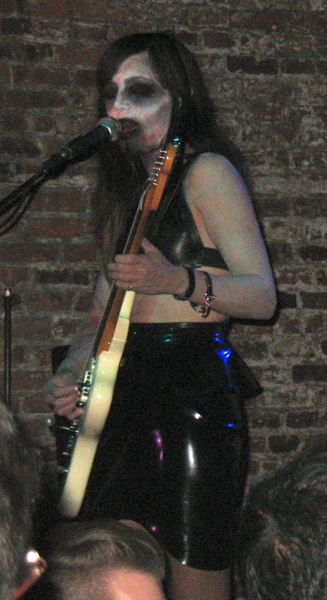 comments powered by