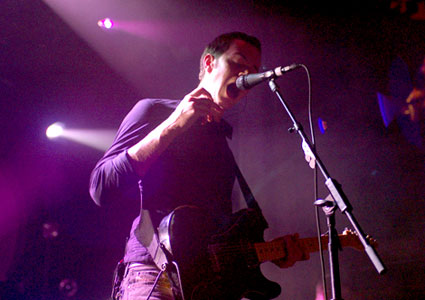 22 April 2006
After missing their previous New York appearances in January at the much smaller Mercury Lounge and Rothko, I was really looking forward to seeing EDITORS, despite the fact that this show was at one of my perennial least favorite venues, Webster Hall.
On record, Editors display songwriting chops out the wazoo, despite drawing inevitable comparisons to INTERPOL. These comparisons are lazy. While the two bands certainly share similar influences (not so much JOY DIVISION as early '80s bands inspired by them, like ECHO AND THE BUNNYMEN, THE SOUND and THE CHAMELEONS), Editors' songs are much more sweeping and cinematic and, dare I say, arena-ready than those of most of their contemporaries.
Anthems like "Lights," "Munich," "Blood," "All Sparks," and "Bullets" are all catchy and memorable enough to stand out on their own. And live, Editors simply overpowered the audience with an attack that dwarfed most of their contemporaries as well. Seriously, they're a band that you have to see live, as cliched as that sounds. They're about five thousand times heavier live, but fortunately on this night the sound at Webster Hall was fine and the bigger space accommodated the songs as well.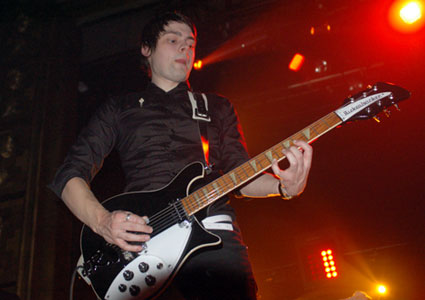 Led by singer/guitarist TOM SMITH, the chiming post-punk guitar riffs of CHRIS URBANOWICZ (at times reminiscent of THE EDGE on early U2 songs like "I Will Follow" and "Gloria" and what not) are augmented by the tight and powerful rhythm section of RUSSELL LEETCH and the humorously named ED LAY. They played most of their album as well as a few B-sides and new songs.
If I have one very minor complaint, it's that much like on their album, slower songs like "Camera" didn't work as well as their faster, catchier material. In fact, on one song where Smith was on the piano, it reminded me of a COLDPLAY ballad.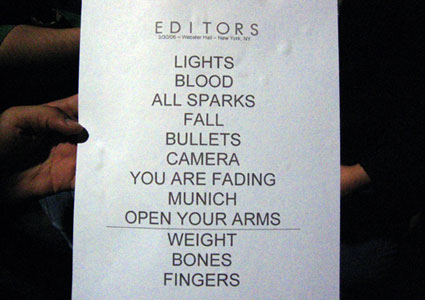 When JACK RABID, the editor and publisher of the print version of The Big Takeover, went to see them in January at Mercury Lounge, he was so taken by the performance that he compared them to early incarnations of THE CLASH. I don't know if I'd go that far (then again, I wasn't lucky enough to ever see The Clash play live), but then again, seeing their intense performance in a place as tiny as that could have made me that much of a believer as well. That said, they played a terrific show and I was very impressed.
The above pictures are taken from Stereogum.
comments powered by