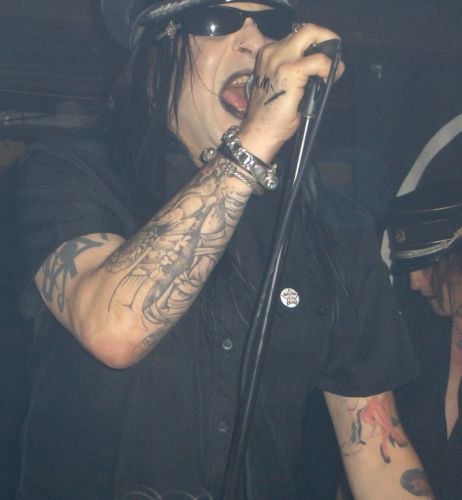 1 September 2006
While FASTER PUSSYCAT emerged from the much-maligned Los Angeles hair/sleaze/pop metal scene of the mid-1980s, a lot has changed since then. After their initial breakup in 1992, lead singer TAIME DOWNE moved to Chicago to record and tour with MARTIN ATKINS's PIGFACE. During that time, the so-called "industrial collective" included SKINNY PUPPY's NIVEK OGRE, CHARLES LEVI from MY LIFE WITH THE THRILL KILL KULT, MEG LEE CHIN, and GENESIS P. ORRIDGE. Following his Pigface stint, Downe created THE NEWLYDEADS in 1996—a dark, electro project with a rotating cast of characters such as TIM SKOLD, (formerly of SHOTGUN MESSIAH, currently of MARILYN MANSON) and KYLE KYLE of BANG TANGO fame. Five years later, Faster Pussycat finally re-formed, and Downe brought his decade of goth/industrial decadence to the table.
The group's current tour is in support of their first new album in 14 years, The Power and the Glory Hole. To make it a real party, other rockers from the same scene that spawned FP opened the evening's festivities: Bang Tango and ADLER'S APETITE. I missed STEVEN ADLER's project, but I did luck out and arrive in time for Bang Tango, fronted by the sandpaper-voiced JOE LESTE. (He also has another heavier, darker project, BEAUTIFUL CREATURES.) Along with pants so tight they left nothing to the imagination, I loved hearing him belt out goth glam BT classics like "Dancin' On Coals" and "Someone Like You."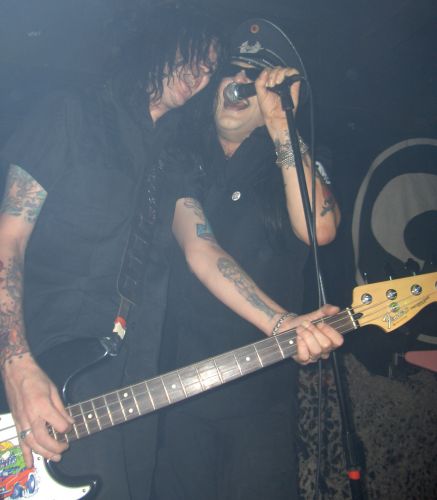 Minutes before Faster Pussycat began playing, clouds of white smoke wafted out from behind the curtain that covered the stage. The opening strains of "The Power and the Glory Hole" could be heard as the sheet fell away, revealing Downe in all black with a military hat and black sunglasses obscuring his face. Guitarist XRISTIAN SIMON (dressed in his usual black skirt) and bassist DANNY NORDAHL stood on each side of him with CHAD STEWART pouding the skins behind. Next was "Slip of the Tongue," from 1989's Wake Me When It's Over, which elicited much singing along from the crowd. (The number remains the only catchy song on the subject of analingus I've ever heard.)
After a while Taime decided to slow things down a bit. He sat on the drum riser with the rest of the band and rocked from side to side as he enumerated his childhood woes in the hit ballad, "House of Pain." When the moment was over, they resumed their positions and played their cover of CARLY SIMON's "You're So Vain." "Gang bang and everyone's invited!" announced the notoriously libidinous Downe, before they segued into "Bathroom Wall." Although it was meant to be the last song before the encore, Downe explained that they were all too drunk and having too much fun to stop, so he started singing "Babylon" while ejaculating foamy sprays of beer onto the crowd. Finally, Downe introduced the last song, a cover of BETTY BLOWTORCH's "Shut Up and F***." He swore that he would end every show with the song until the age of 80, in honor of his close friend, Betty Blowtorch's bassist and lead singer BIANCA BUTTHOLE, who was killed in a car crash in 2001. "For BB!" he exclaimed, as Faster Pussycat tore into the track and proceeded to go out with a bang.
comments powered by