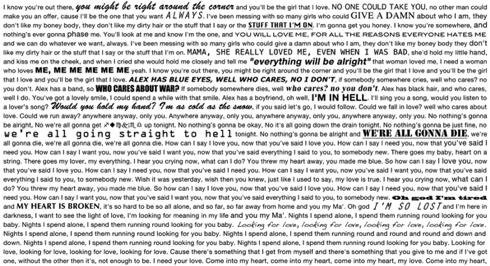 22 March 2012
While Bradford Cox was busy sodomizing mediocrity in Minneapolis, one night in early March, his contemporaries in Girls transcended it by somewhat more conventional means at Albuquerque's Launchpad. That is to say, they rocked. And yet, neither Cox nor Girls' Christopher Owens need bother trying to squash mediocrity; in their simple presence, pre-action, they're already beyond any knowledge of it. These are the men you never expect to see live, and when you do, they're hard to reconcile with the space they inhabit. They make themselves so available on record, sending songs from a private place to an equally private place, that subsequent corporeality seems not only irrelevant but sort of surprising.
As for Owens, live and real, he plays his music on a stage full of flowers, recalling Dean Stockwell in The Secret Garden after he's rescued from his sickbed by Margaret O'Brien, the moment he enters the glorious Technicolor garden for the first time. If I also conjured Owens as a sort of diminished Kurt Cobain, so thin he appears to be just the front half of that already stringy man peeled off, maybe it was just an afterimage of the bedridden Stockwell, who needs no backside if he spends his whole life staring upward. Well, those are some of the private images I brought to the show, and I have no idea how embedded in the real Owens they are; what matters is that for all his seeming fragility, Owens appears enlivened on stage, whether by the flowers or some less tangible force. The band opened spectacularly with Father, Son, Holy Ghost's "Alex," their finest, fullest chord churner, which when I first heard it last year immediately led me to silently declare it one of the most perfect rock songs I've ever heard. I'd even thought that a proper analysis might be undertaken by importing the song into some musical software and dragging the tempo bar up and down, from shrill blitz to bleary crawl, thus demonstrating its solidity and structural perfection. So how appropriate that the live version was slowed very slightly, and yet remained so stable, the tempo equal to the weight of the music.
That song's steady, very intentional momentum was the first sign of the band's workmanlike attention to detail and unwillingness to let their album's best moments get washed out for the sake of a looser, more enveloping noise. John Anderson on lead guitar played with particular nuance. Owens would look to him with a certain intensity every time Anderson launched into a solo, as if forging a telepathic link, probably because Anderson's sweet licks are the wordless resolutions to a lot of Owens's best songs, the sublime "Laura" a prime example. Some of the sonic details the band so effectively rescued from their studio recordings are nameless, and some spring from the great register of fair use rock 'n' roll gestures. A brief catalog: "Vomit" begins with a line from The Cure's "Lovesong" and ends near the celestial coda of (to grab a contemporaneous example, though there's a whole history of rock heavens that predate it) Teenage Fanclub's "The Concept"; "Morning Light" rearranges the chords of Hüsker Dü's "Don't Want To Know If You Are Lonely"; self-referentially, "Carolina" borrows the opening melody of the band's own "Hellhole Ratrace" (also the central melody of "Ghost Mouth") and resolves it differently. But Owens knows these codes and melodies are the mere primal matter of emotion, and has greater claim on them than their earliest originators, almost.
Most touching, archetypal yet heretofore unheard, was "My Ma," a ballad of dry, nauseous beauty on record and a slightly more vivid rock music in concert. I've long thought that every songwriter should have to write at least one song about his or her mother, to prove they can do it and because music in general would benefit. Dum Dum Girls made a great album last year about losing a mother, and Owens wrote this great song about the fear of losing himself. "Oh God, I'm so lost," he sings, far from the light of Ma. I guess it makes sense that a guy who makes music of such remarkable descent would want to hang on to his original.
Is it weird that opening act Unknown Mortal Orchestra primarily reminded me of Kula Shaker, the British group whose greatest imprint on the cultural memory was a cover of Deep Purple's "Hush" in the mid-90s? I admired the musicianship of these most recent inheritors of somewhat uneventful psychedelia, and how it proved itself on guitar, bass and drum by sticking to pattern and repetition and never exploding outward wildly, but too often the jams didn't land me in any more interesting place than where they picked me up. The vibes were too consistently positive.
Girls:
Alex
Laura
My Ma
Love Like A River
Heartbreaker
Saying I Love You
Honey Bunny
Darling
Hellhole Ratrace
Vomit
Carolina
Morning Light
Lust For Life
Die (Encore)
Substance (Encore)
comments powered by