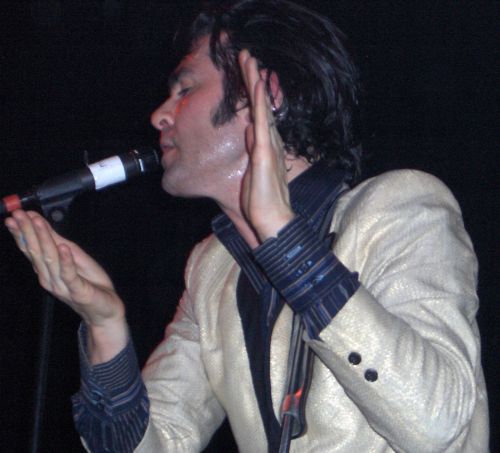 5 June 2006
It was a rockabilly revival of religious proportions as the hip-swiveling prophet of HEAVY TRASH, JON SPENCER, testified his way to sweet salvation for the Dutch crowd. Few performers warrant comparisons to men of the cloth, but after witnessing Spencer in action, you'd be hard pressed to find a better descriptor for the way he works a room. At times coy and pleading, yet dominant and demanding, Spencer strutted across the stage and made true believers out of the audience with his scuzzy, souped-up rock 'n' soul sound.
Heavy Trash was formed a few years back by the man behind PUSSY GALORE, JON SPENCER BLUES EXPLOSION, and BOSS HOG along with former SPEEDBALL BABY guitarist MATT VERTA-RAY. [Verta-Ray was also bassist for underrated NYC shoegaze band MADDER ROSE in the mid-'90s. -ed.] As a fan of Spencer's other work, I decided to take Amsterdam Weekly's advice and check 'em out live before listening to a single note of their music.
The show took place at Paradiso, one of Amsterdam's most venerable venues, which is housed within the walls of an old church. The crowd was far more laid back in image and behavior than your typical New York City audience, but that just seems to be a general cultural difference overall between The Netherlands and the United States. This didn't stop Dutch fans, however, from flipping out for Spencer and Verta-Ray when they took the stage in the small upstairs theatre in Paradiso. Armed with a guitar each and backed by JESPER REGINAL on drums and KIM JEPPESEN on upright bass, Heavy Trash played a set packed with songs from their 2005 self-titled debut.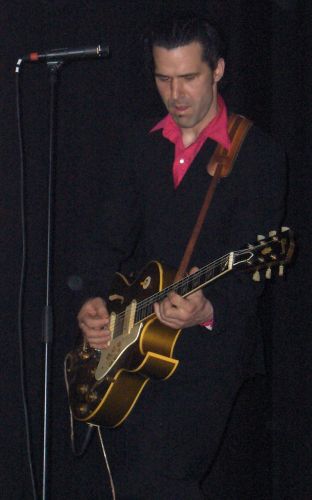 While the tunes often invoked classics by the likes of ELVIS PRESLEY, GENE VINCENT, and JOHNNY CASH, Verta-Ray's injection of a bit of punk raucousness into his twangy licks and Spencer's non-verbal pops and squeaks and growls amplified by his deep throat microphone skills somehow made the familiar sound fresh. While songs like "Justine Alright," "The Loveless," and "Dark Hair'd Rider" are great footstompers, the real rockabilly riot was brought on by a combination of Heavy Trash's music and Spencer's electric stage presence. Displaying touches of dramatic flair such as slowly running a comb through his inky black hair, Spencer ruled the packed room, leading the band through tight transitions between sections and songs.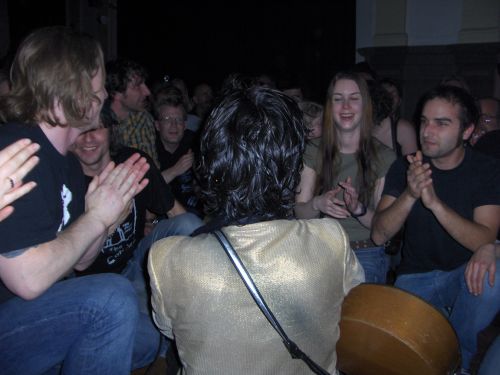 After a long set and an even longer encore, the show seemed to be nearing its end. The crowd was quite surprised, then, when Spencer jumped into the audience and continued to sing, with Jeppesen and his massive upright bass following quickly on his heels. Once on the floor amidst the crowd, Spencer was hoisted onto the shoulders of a large, tattooed man and paraded around the room. After dismounting his indelibly-inked ride, Spencer continued with his bravura performance, entreating us to crouch real low to the ground as he crooned his heart out. Then, the band finally returned to the stage, took a few brief, sweaty bows, and exited the theatre leaving behind some very satisfied fans.
Discuss this review in The Big Takeover Forum
comments powered by