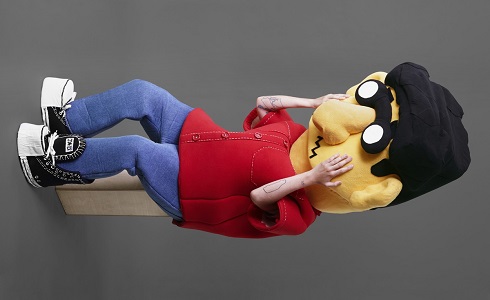 12 February 2014
The cover of MEN's new album Labor shows JD Samson concealed in a fabric prototype of herself, holding her oversized head as she thinks about, what, her Sesame Street debut? I can see it. She has the right kind of immediate, big-hearted engagement with her audience, and I bet she could find a compelling way to modify her art and politics for kids. At her hugely appealing sold-out show at the Entry, she wore the perfect blue pants of her fabric persona, and, in isolation, they recalled David Byrne's big suit from Stop Making Sense, emphasizing and also encumbering the parts of the body that Samson's dance pop compels to movement. But, no, she danced, she jumped, she landed, the hoop of her comically wide waistline an improbable extension of herself. In addition, on set opener "Credit Card Babies" (a strong argument against the proposed Sesame Street appearance), there was funny-unexpected sloganeering ("Wanna talk / wanna talk about / talk about body / bodybuilding," somewhat in the meter of Talking Heads' "Heaven"), explicit advice (to solve the problem of creation, "borrow someone's cock") and bold pantomime (just guess), so the wardrobe was hardly essential, but those pants were in my sightline and turned a thrilling opening number into a big moment. Musically, her band—electric guitar, synths, computers—is a few times removed from early 80s Heads but seems to borrow from them as a baseline influence; here's the slickest, spikiest, most electronic-based endpoint imaginable for a certain kind of white body music.
I would've liked the pants to remain for the entire set, to be only the beginning of the music's eye-grabbing visual components, but soon they were removed, more close-fitting clothes were revealed, and leaner times began. Samson joked with her keyboardist/self-professed "experimental synthesist" Lorna Dune (alas, not Germs' Lorna Doom) about playing a "two orgasm set," and though I hate to belabor the point, that would also explain the partly vacant mid-point lull. So, if torpor prevailed, it was at least structurally useful, but I would've liked to see the band dig into a song like the dense but sort of flat "Simultaneously" with a little more enthusiasm, or, inversely, play it in a more spare version, cut the drawn out synth backing and make the song quietly seductive in the manner of The Blow's new album. Instead, Michael O'Neill's guitar lines, usually so scratchy and exciting, started to sound like latter-day The Edge's, weightless and open-ended, and Samson wasn't really selling the mellower grooves. Considering that the band's live presentation outsources a lot of the labor to machines, she's the body, the show, but I can't blame her for turning off or losing herself for a bit. It's what I do, listening to "Simultaneously" on record, but the uniform, artificial soft-loudness of recorded music is more forgiving.
That's the beginning and end of my caveats, as orgasm #2 followed soon and the band returned to dynamic efficiency. For someone whose music is partly a tool for political engagement, Samson's lyrics are refreshingly streamlined. "I'll never buy a house"—this line constitutes half of the lyrics to one song. Others effectively set up their arguments with titles alone: "Let Them Out Or Let Me In" (a song for Pussy Riot, making its clear demand and also suggesting a little of the helplessness of the outraged spectator); "Who Am I To Feel So Free?" (a question that takes its meaning primarily from the venue and context of its utterance, hence Samson forcefully directing it toward the audience). Without doing a precise count, I'd guess that either of MEN's albums contains half as many words as, say, Gang of Four's Solid Gold or Heaven 17's Penthouse and Pavement, albums that predict Samson's musical and extra-musical ambitions, but the shift of balance shouldn't mean a sacrifice of politics for music or music for politics. Instead, she always has her eye on both, and thus on economy and synergy, words that are best when applied to art.
Local openers Kitten Forever were awesome. It's imperative to call them that, not just because it's apt but because it suggests the parameters of an audience's response to their music: immediate and visceral, non-critical, experienced as a kind of gift. Here's a power trio with some interesting self-imposed limitations to their sound (all three women sing and play drums and bass, but just one thing at a time, so there's only one stringed instrument on the stage and it's tasked with a lot of melodic and rhythmic work) that don't lessen its noise or force one bit. Also, whoever sings, she sings through a plugged in telephone receiver, which goes a long way toward explaining the impetus for this music, or the way the players think about its role, i.e. it starts at home (and, in a club as intimate as the Entry, mostly stays there).