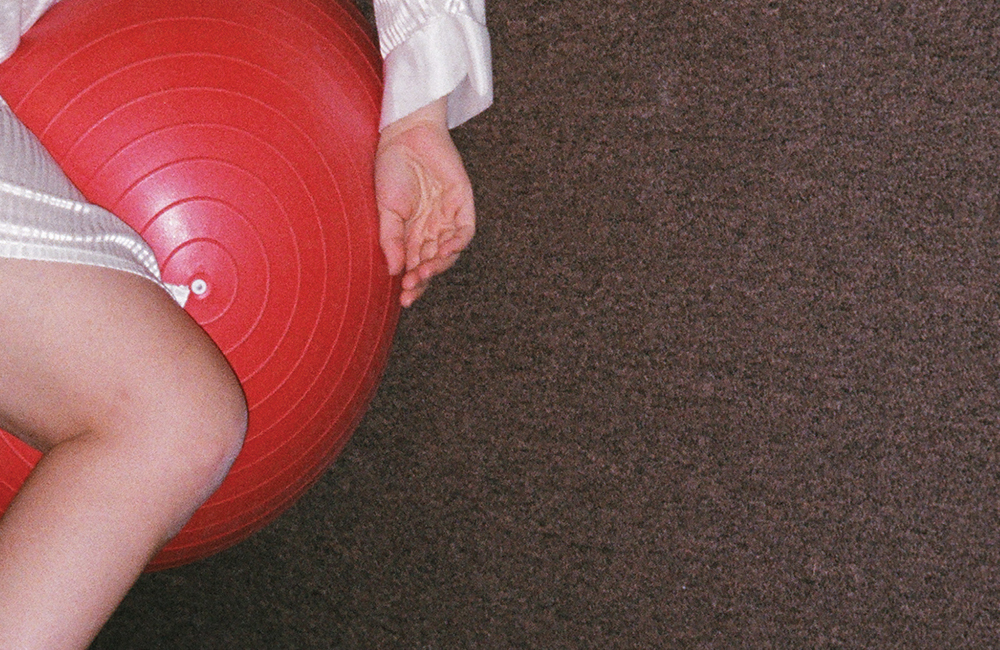 16 September 2015
I remarked to an acquaintance that the Entry's stage hardly looked concert-ready: on one side, a table piled with equipment and tangled cables, on the other a microphone stand. Nothing else. Someone brought out a large exercise ball (as seen on the cover of the artist's new Apocalypse, girl) and that improved matters only slightly, but as soon as Jenny Hval walked out, in a red wig and oversized beige sportswear (a tribute to baggy-clothed Americans, she later said, though I immediately thought of Cindy Sherman), it was clear the show had begun. She's one of those artists who's in a performance every second she's on a stage, who allows the audience no reprieve from her act no matter how little is happening, and who can use it to create great moments of discomfort. Still, she's not aiming for confrontation. When a song contained the line "all I want to do right now is make everybody cry," she repeated the last two words, everybody cry, but not as a command, more to turn them over in her mind one more time. It looks like she's still figuring out how far she can push her act, how much she can get away with.
The music alternated between live synth arrangements and prerecorded tracks, the former preferable only because the latter's untamable loudness tended to drown out Hval's vocals. "Sabbath" is her best song, the vocal creating its own narrative separate from the words as Hval navigates a dozen registers, but came off worst because the beat just played on, indifferent and smothering. The lyric contains crucial imagery along with moments that the melody alone makes plain, but the mix leveled it all as indecipherable language. But having a second party handle the electronics generally freed Hval to try out a variety of gestural styles that cohered via their weird seriousness. If she suggested David Byrne in the way her committed approach to performance preemptively shut down any notion of its inherent absurdity, then it was appropriate that her first dance moves of the night mimicked his jerky, flailing style. From there, the set's opening songs found her quickly transitioning from contemplative repose ("Take Care of Yourself") to swaying movements ("Heaven") to lyric pantomime ("Sabbath").
Her most sustained and elaborate performance came during the musically free-form stretch that followed these songs. She interlaced revised versions of the new album's text with full-on improvisations, and the music responded. Analog synths sharply punctuated the harsh open, with Hval pulling phrases from "Holy Land" and "Why This?" The spoken-word "Kingsize" was rewritten and given a hypnotic undertow, and the "I understand" formula of "Holy Land" ended the sequence in a hush ("I understand that we all want to feel unborn," etc.). Throughout, Hval slowly lost the sportswear—transforming from her "sad housewife at the gym" character to something closer to Audrey Hepburn in black at the end of Sabrina, but still with the wig—then laid the pieces carefully on the stage and made them her outline as she stretched out and assumed the pose of death. I glimpsed her face just above the monitor and marveled at its emptiness, at the amount of energy it must take the living artist to become so death-like on a stage. Not a retreat, but the height of acting.
She assessed it as "the most death anyone's ever attempted" in music, then proposed "another image of sadness": sitting on her exercise ball, she mimed perfect solitude as she pretended to watch a video of Lana Del Rey's "Summertime Sadness" on her phone (though it sounded a bit off, like a faithful but slightly chintzy cover version). She held her microphone to its speaker, but whether the sound truly originated there, or over among the gear and cables, I believed the song as a transmission from outside the club, with its wonderfully soft and faraway quality.
A few songs later (her own: "Why This?" and "That Battle is Over"), the wig finally came off, as climactically as Bradford Cox's at a Deerhunter show two years ago. The real Jenny Hval thanked the crowd, hung her wig on the microphone stand, and left the stage. I vaguely wondered if I hadn't missed some deep-seated element of humor in her performance and regretted not having laughed more.
Where a lot of electronic artists have trouble translating their carefully arranged recordings into live music (a problem Hval sidestepped by making herself the fearless, unpredictable center of attention), opening act Briana Marela flipped the script. Songs from her new All Around Us are simultaneously fragile and cluttered but her performance, complete with live drummer, streamlined and amplified her music, sold it as sturdy, spontaneous expression. "Dani" recalled another scarily pretty waltz, Perfume Genius' "Lookout, Lookout," in the way Marela isolates the chorus' final word in its own upturned melodic line: "Dani / You're not the only one lonely / Tonight." The highlight was "Take Care of Me," a synth-pop creation so buoyant and immediate that it seemed Marela was improvising her wordless vocal runs, until the song ended and resolved all its possibilities, settling as text.