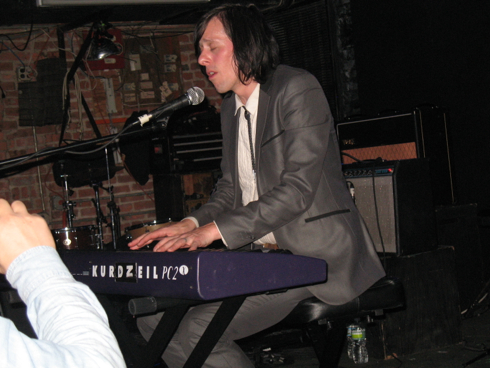 27 February 2013
Posies/Disciplines frontman and former R.E.M. and Big Star touring/recording member Stringfellow has always played memorable solo gigs around town, from his cathartic, campfire-style stunner in front of 30-40 still distraught souls at Hoboken's Maxwell's in September 2001, exactly one week after 9/11; to his banter-filled, piano-dominated performance in July 2004 at much-missed Fez; to a cabaret-style piano/acoustic set at the noisy Delancey bar in April 2009 (at which Stringfellow played a few songs sitting atop the bar, and repeatedly "disciplined" the incessant chatterboxes until they vamoosed); to a 2-1/2 hour blowout marathon at the newly-opened Gowanus art space Littlefield in June 2009 (I only caught the last half-hour of that one due to a conflicting Kristin Hersh show a few blocks away at Bell House). Though each show was unique in its own way, they were all analogous in how Stringfellow strove to achieve an intimate, one-on-one connection with the audience. This early Saturday evening show was no different.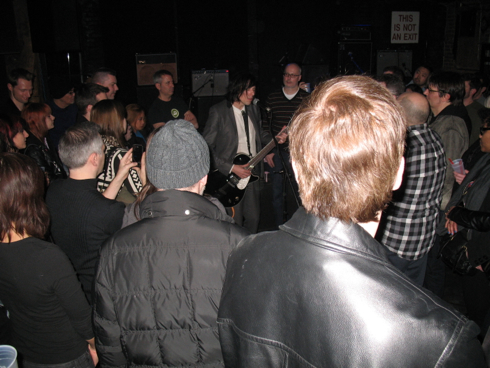 Stringfellow's 13-song set naturally focused on his new fourth LP Danzig in the Moonlight, covering eight of its 14 numbers. For most of the set's acoustic songs, he performed on the floor without a mic, the audience circling around him, while his unadorned velvety croon carried the day. On lovely, expressive older tunes like "Find Yourself Alone" (from 2001's Touched), "Any Love (Cassandra et Lune)" (from 2004's Soft Commands), and The Posies' "You're the Beautiful One" (from 1998's Success), Stringfellow slowly moved through the crowd, often serenading a line or two directly to a few. For the male/female duet "Doesn't it Remind You of Something," he was joined by local singer Darling Cait, the two passing the mic to each other before each call-and-response verse. In fact, he only returned to the stage to play keyboard on four Danzig songs, including a smashing rendition of "History Buffs," and the R&B-tinged set closer "Pray."
Perhaps the night's only quibble was the growing drone of loud conversation coming from the barflies gathering for the late show in the venue's front room, jeopardizing the convivial ambience. But Stringfellow's robust belting was often enough to drown them out. Once again his voice and songs, coupled with his inimitable showmanship, ensured this was another unforgettable night out.
comments powered by