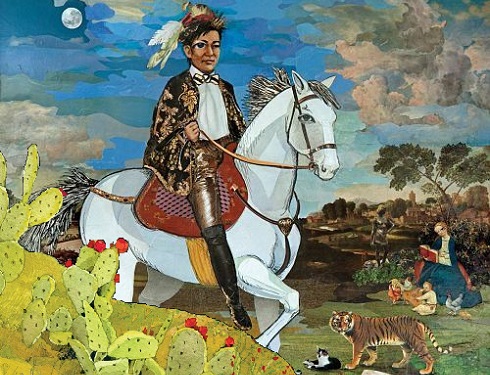 21 June 2014
An incomparable showman ready for a bigger stage, Kishi Bashi calms the violin's reign of terror over those who would try to master it, and handles it with the light and playful manner his celebration rock requires. He sings, too, beginning on this night: "And if you fly into the sky…"—emphasis mine, and ellipsis indicating a soaring vocal run. The song was "Philosophize In It! Chemicalize With It!" and its fanciful exclamations were softened by the conditional "and if," which weaves through his music as a statement of purpose. Pop music that seeks a transcendent and/or euphoric state usually ends up tyrannical at best, boring at worst, but Kishi Bashi's music is beautiful, absorbing, and sweet. He makes invitations, takes risks, and remains always a bit silly. Even so, it might not be enough, without the taming of an impossible instrument setting up the listener for continually renewed surprise. The superhuman violinist in the pop world is an irresistible idea, recently, but Kishi Bashi has a million things to offer beyond pyrotechnics and "feeling," as he alternates between irreverence and equally fun reverence.
Numerous among the million, count his various deformations of the violin that heighten rather than obscure its certain beauty. His most common strategy involves playing a short passage, often pizzicato, looping it, speeding it up and transforming it into a cartoonish blur, and then beginning a new song above the high-pitched rush of sound, in an effort to keep its music going. The approach never becomes a parlor trick, but sometimes he'll flash back to his days as of Montreal's in-house warm-up act and so, at the end of "Bright Whites," he let loose with looped/sped violin, vocals and beatboxing, and though it thoroughly entertained, he had to apologize for getting carried away: "I couldn't help myself." Later, he put it to work for more ingratiating effect, turning "Minnesota" (after "Minneapolis" proved too many syllables) into mouse chant for the opening of the appropriately definitive "It All Began With A Burst." Such flaunting of technique was inevitable, while the three quieter solo songs that ended his main set served as a reminder that his process can be as elegant as Julianna Barwick's looping. Brisk tempos allowed no lapse of musicianship during paired standouts "I Am the Antichrist to You" and "Manchester." The former was the dim, cavernous passage leading to the latter's declaration that "all the streets are warm today," and the sing-along sigh that follows ("hey"); each was a nimble, constantly shifting framework of plucked and sawed strings, supporting Kishi Bashi's voice at its best, falsetto or leaping upward to a revelation.
So far he's distilled, not flattened, his violin strategies and much else besides into two albums, 35 minutes and 37 minutes respectively. 2012's 151a and this year's Lighght (pronounced "light") somehow never feel rushed, remarkably, as they lace a variety of styles and techniques with the requisite quantity of joy and a feeling of spontaneity, songs held between pockets of improvisatory, unmotivated sound. These albums are exquisite tiny replicas of the speed of his imagination, but in concert he's truly unbounded, so that the energy and range would seem unrecordable if the listener didn't already know otherwise. He weighs every moment equally: solo impromptus; a rewrite of Hedwig & The Angry Inch's "Origin of Love" called "Bittersweet Genesis for Him and Her," kept from bombast by his conversational lower register; progressive rock. "Carry On Phenomenon" followed through on its title, for anyone who thought it promised a response to Kansas' "Carry On Wayward Son." During the encore, he introduced "The Ballad of Mr. Steak" as the #1 song in Japan at that moment, which I hardly believed until I heard the thing, so sublime and ridiculous, an old ELO mini-symphony delivered with 21st century technology and potent, meaningless lyrics that require no translation: "Mr. Steak, you were grade A!"
On the lighter side, lilting waltz "Wonder Woman, Wonder Me" was recast as a gentle soul number with the simple addition of punctuating flicks of the guitar, alternating measures with the beat of the drum. Japanese syllables, looped again, made a rare appearance as the band sang a high kin-kon-kan-kon to mimic the sound of bells. In love with the syllabary, Kishi Bashi mostly uses it for onomatopoeiac and other phonetic purposes, so that Japanese registers as music more than language (similarly, his stage name mashes K. Ishibashi into a more pleasing song). But wait, did I say something about a guitar? No, there was no guitar, only violin, banjo, and bass, in music that constantly re-imagines these instruments' versatility. Kishi Bashi has been described as a neo-folk act, but when his violin and Tall Tall Trees' banjo enjoyed a brief duet before "Bright Whites," the violin had none of the qualities of a fiddle, and the banjo had no twang. Later, after he'd left the stage, the bass player led the band into a version of "Whole Lotta Love," as exit music, but the sound became so heavy, the banjo in particular making a shuddering, electric noise, that Kishi Bashi finally returned to the stage and kept the audience for a few minutes longer.
In conclusion: This was the night Kishi Bashi became the pop (non-classical) hero to a violinist I know. I'd recently seen Jim Jarmusch's exceptional treatise on music and time, Only Lovers Left Alive, and in the one scene in which the multi-instrumentalist vampire played by Tom Hiddleston picks up a violin, he plays a furious, flawless theme and then tosses it aside, as if eternity isn't long enough to realize its full potential, or to banish the numbness that music is supposed to dispel but sometimes only enhances. Mere mortal Kishi Bashi, always decisive and with an amazing talent for whittling infinity into moments of joy, says no, the present is time enough.
I once touted him as the flagship artist of Joyful Noise Recordings, but if the label takes its name from the Newbery Award-winning book subtitled "Songs for Two Voices," then maybe Busman's Holiday deserves the honor. Brotherly harmonizing defined an opening set stripped of the subtle horn and string arrangements of the duo's excellent new album A Long Goodbye. The music was so proud and spare, they could have renamed themselves The Rogers Brothers, like The Everly Brothers, or Lewis and Addison, like Simon and Garfunkel, depending on how much they want to emphasize the fraternal bond. What the brothers sang: uncommonly strong melodies in the form of new songs like "Child Actor" and "Hoped To," Lewis' plain and piercing voice taking lead, sometimes breaking with an excess of passion in the loud room. "Child Actor" seemed to end before Lewis began the coda's perfect extension of melody and theme: "We'll always forget your name. You'll always regret your fame." Not since Sloan's "Fading Into Obscurity" has the story of a receding career lent itself to such a triumphant song. Meanwhile Lewis played guitar (he's done the same, much differently, for the band Sleeping Bag) and Addison played a drum kit modified to include a suitcase. No mere affectation, it made a mighty thump, and suggested that the touring musician is forever on a busman's holiday.