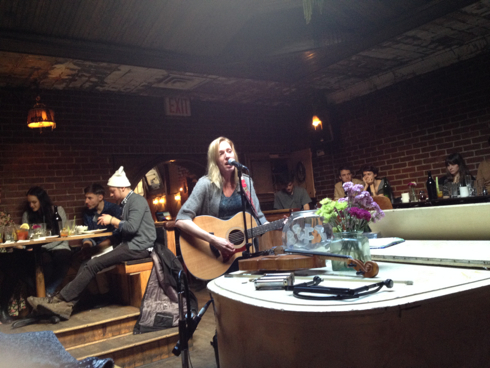 11 May 2014
Brooklyn's Draper succeeds where many similarly styled songstresses have failed: making soft, spare acoustic folk/pop that doesn't bore. This cozy mid-afternoon Greenpoint brunch gig, opening for veteran CT folkie Kath Bloom, was ideally suited to her soothing approach (moreso than, say, her January 2012 set at Tappan, NY's Liberty's American Bar & Grill, which found her situated underneath a distracting flat-screen TV playing a basketball game, preceding a hard-rocking cover band called Electric Beef!). The Manhattan Inn's set-up was awkward: with tables lined along all four walls and the mic in the middle of the room, one chunk of the audience always viewed the singer's back. But taking a cue from Ringo Starr's rotating drum platform at The Beatles' 1964 Washington Coliseum show, she solved the problem by turning the mic every couple of songs.
Tom Hanford, Kath Bloom & Linda Draper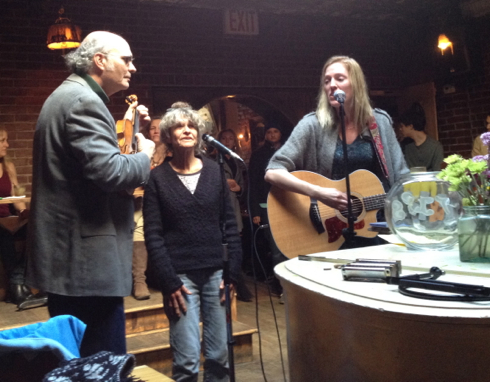 Draper made the most of her short set by spotlighting two of the best tunes from each of her last three superb LPs: "Shine" and "Traces Of" from 2007's Keepsake, "Time Will Tell" and "Broken Eggshell" from 2009's Bridge and Tunnel, and "Hollow" and "In Good Hands" from 2013's Edgewise. Even if the mimosa-sipping, egg brioche-devouring crowd didn't pay strict attention to her songs' provocative lyrics (like the devastating "Hands"'s depiction of a close friend's untimely death), their increasingly loud applause indicated that Draper's comforting voice, friendly personality and stress-reducing delivery still satisfied.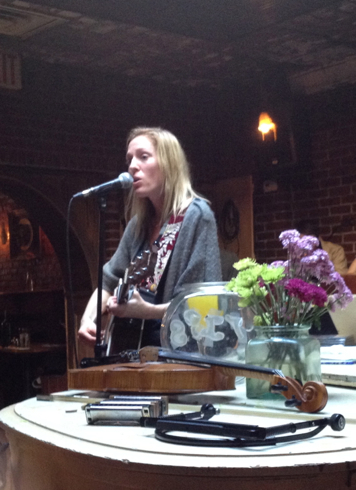 The pint-sized Bloom was accompanied by her longtime collaborator Tom Hanford on violin and backing vocals, and joined by Draper for one song. Bloom's been recording since 1976, and listening to her I felt transported to the 1970s NYC coffeehouse/folk scene where she began. Her fragile, weathered voice conveyed a gamut of emotions, with simply stated, deeply meaningful sentiments that often felt cathartic, as on the final song's moving plea "You could still save me by being young again."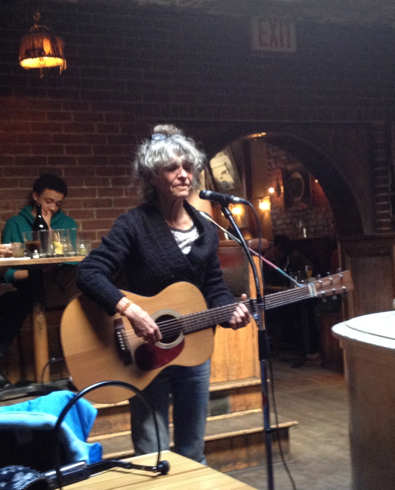 (If you're curious about what you missed, head to YouTube for this sharp sounding full show from Hudson, NY's Spotty Dog Books & Ale in May 2013. Draper's set includes more tunes from last year's excellent Edgewise, with Bloom and Hanford joining in on the LP's lovely, Simon & Garfunkel-esque closer "So Long.")
comments powered by