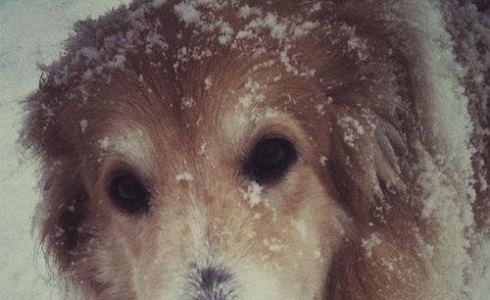 6 July 2014
"Fuck this winter," Scott Lucas said partway through a furious, moderately healing set that at times felt like his revenge, or our collective reward1, or simply an exit interview, with interviewee making no attempt to remain dispassionate. It was a long, bad season, so prophetically so that any music of the American Midwest, Northeast, etc., that ignores the weather begins to seem marked by luxury, or disconnect from reality, two qualities entirely absent in Lucas's songwriting. As his recording career approaches 20 years, his endurance as a musician is inseparable from his yearly diminishment by the elements, and if endurance sounds like triumph, it's a triumph of will, not body, the point being that you find a way to keep making music, maybe, but you don't just find a way to remain healthy. One year we'll all emerge from winter shrunken and blind, but if Lucas has managed to record an album, it'll be his best one yet. His work with Local H, the Chicago-based rock duo of which he's the sole constant member, has become increasingly winter-ravaged, whether literally or as metaphor for something else: a failed relationship (2008's 12 Angry Months); political climate (2012's Hallelujah! I'm A Bum, recorded "during a few particularly brutal weeks of winter in Chicago").
Local H's excellent post-90s albums were the revelation of my early summer; their live test and fulfillment at the Triple Rock last month was a bit less revelatory, the nuance and empathy and comfortable closeness of the recordings traded for the necessarily more oppressive dynamics of a rock 'n' roll show (as it should be). The translation of ambitious album tracks via a two-man live setup works when both are expert musicians, able to take on the work of a phantom third or fourth or nth player, Lucas playing the full range of his guitar, and new drummer Ryan Harding his entire kit, bashing the toms so loudly they began to create rudimentary bass lines. He's Local H's third drummer, after Joe Daniels in the 90s and Brian St. Clair in the 00s, and time will tell if he's a workhorse or a real creative force in the band, or whether, depending on the volume of the band's next album, there's a difference.
Let's hope for another thematically whole, if not quite conceptual, collection of finely wrought mini-epics, like 12 Angry Months opener "The One With 'Kid'." This song has it all, starting with a somber finger-picked opening that finds Lucas invisibly unraveling as he soberly, then less soberly, asks how to divide the possessions (places, people) after the break-up. The ramp-up to a teary blitz couldn't be more basic, a drum roll and a fast succession of chords, though it's the kind of primal combination of drums and guitar that the band usually eschews, especially on record. The music's too personal and too detailed for simple, iconic gestures. Similarly, Lucas's rage, once unleashed, stays grounded, never going too far the other direction, toward fantasy. I guess that leaves him stranded somewhere between punk and metal. He uncannily channels The Saints' Chris Bailey as he lists all the records he can't find and implicitly accuses her of stealing (the song is named for his missing Pretenders LP), and eventually it's hard to tell if he's naming bands or feelings—"Sensations! Frustrations!"—but it doesn't matter, because either way he's shown how his fractured record collection has become a convenient placeholder for a deeper wound.
All of this registered live, and the song ended up the high point of the night. After cutting a wide swath through their catalog in the main set, the band began the encore by debuting "One of Us" (us = the good ones? the cool ones?), the kind of song that would be unbearable if some nostalgic, self-unaware fool dedicated it to Kurt Cobain. But in Lucas's hands its maudlin quality reads as ironic commentary, and yet in a way that makes the tribute all the more sincere, not cynical. He allows himself to be the last one howling "you were one of us" into the void, realizing but refusing to outwardly admit that time flattens self-definition, and everything else, so, his theme unraveled, the song produces a latent image of the nameless dead friend, weightless and unburdened. From there, the encore became an increasingly knotty argument, first with a version of David Bowie's "Heroes," mighty and aspirational, or possibly defeatist, given the proximity of "High Fivin' MF" and "Bound for the Floor," two highlights from 1996's As Good As Dead, an album about a small town loser, from a time when the band had legitimate commercial potential. This stuff's complicated; imagine a formula, with meaning compounded at the rate of rock music's 20-year recession—yikes. The latter song bled into an anthemic take on Lorde's "Team" ("we're on each other's…"), ostensibly synonymous with "One of Us" and thus seeming to deliver a similar irony.
When Local H released their cover version as a single in April, Lucas confessed his helpless surrender to Lorde's music: "The lyrics killed me. They were everything I'd been wanting to hear someone say in a pop song." He doesn't say which part grabbed him, but certain lines become particularly straightforward when sung by an older rock dude: "I'm kind of over getting told to throw my hands up in the air / I'm kind of older than I was when I reveled without a care." He was a conflicted shepherd of the Triple Rock crowd, first warning against mock enthusiasm and reckless behavior, suggesting that slam dancing went out with the 90s, and then getting swept up by the reciprocal energy of the encore and inciting the front lines to their most explosive energy yet. He called it the best show of the tour (a common saying in Minneapolis), and surfed his way to the rail at the back of the main floor. I raised an arm out of respect and brushed the leg of a modestly ascendant human, flying slowly toward sleep.
Since long before he found Lorde, Lucas has had a pretty ambivalent attitude about artistic purity, or the way people approach his music, or any of the other things that rarely trouble musicians who write actual songs. 1996: "You've got no taste in music and you really love our band" (from "High Fivin' MF"). 1998: "I'm in love with rock 'n' roll but that'll change eventually" (from "Hit the Skids," a notable omission, though the band did well by Pack Up the Cats fans: "Deep Cut," "All-Right (Oh, Yeah)," "'Cha!' Said the Kitty"). Post-Nirvana grunge holdouts they're not, as Local H never anchored themselves to a fading market. Free from ambition and calculation and restrictive ideals, they continue to follow their own path toward fearless, emotive, song-oriented rock music, and as proof of ongoing relevance, the crowd responded to it all equally, not disproportionately to old, semi-famous songs ("Eddie Vedder," played early in the set out of no obligation, greeted with casual acceptance, its central question now a weird non-sequitur). Yesterday, as of this writing, I was listening to The Leaving Trains' 1986 anti-punk anthem "10 Generations" (there's a cover I would've liked to hear!) and finally I heard the promise of bands like Local H echoing in it. One or two generations removed from their inception, they're still a best case scenario, and if you heard them sing the song's climactic, ordinarily damning refrain and turned it around on them, they'd warrant the simplest response: Where are they now? Here.
1 Personally, it was the best gift to mark the end of the public school year since the release of Pavement's Terror Twilight.