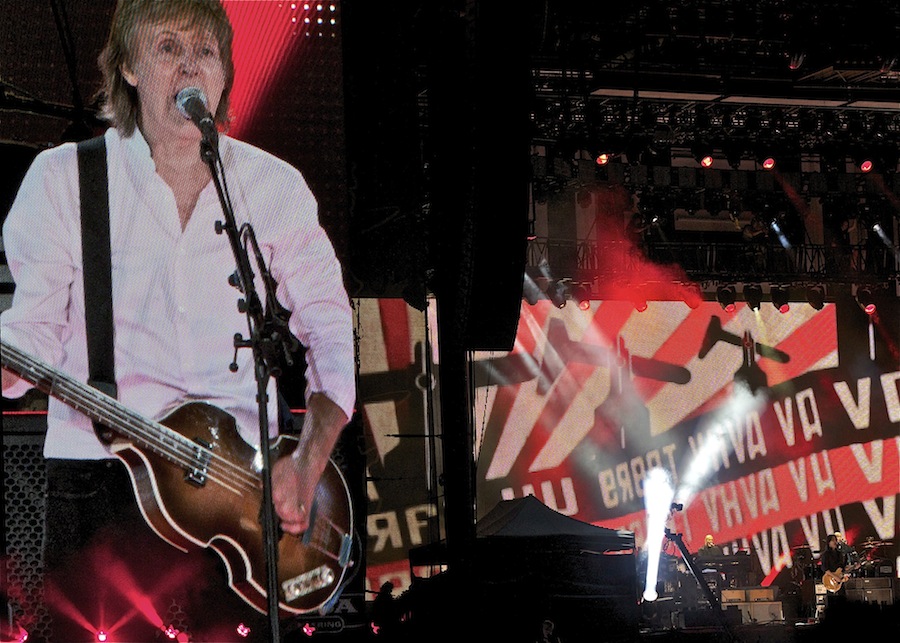 1 August 2015
On Friday evening in Chicago's Grant Park, there was no hint of the fierce, stormy weather that would force temporary evacuation of the grounds and disrupt Lollapalooza's Sunday schedule. There was only the promise of a beautiful summer evening and a landmark headlining concert for the annual music festival.
Gary Clark, Jr. had the mixed blessing of playing just across the field prior to the main event. As Clark performed songs from his Warner Brothers debut album "Blak and Blu" and forthcoming The Story of Sonny Boy Slim on the Sprint stage, tens of thousands heard him while making their way to the Samsung Galaxy stage. Clark's own crowd built steadily after beginning with the intense Texas blues of "Bright Light," peaking as he performed new song "Our Love" and favorite "When My Train Pulls In." By the time Clark launched new single "Grinder," however, many listeners had turned their attention to the south end of the park.
Dragonflies darted overhead by the hundreds as the sun set behind city skyline. As Paul McCartney's slideshow began, a sea of people packed more densely than any in Lollapalooza's history. It was easily the most diverse in age as well, with toddlers on shoulders and grandparents who remembered seeing the Beatles at the Chicago Amphitheatre and White Sox Park during the mid-60s.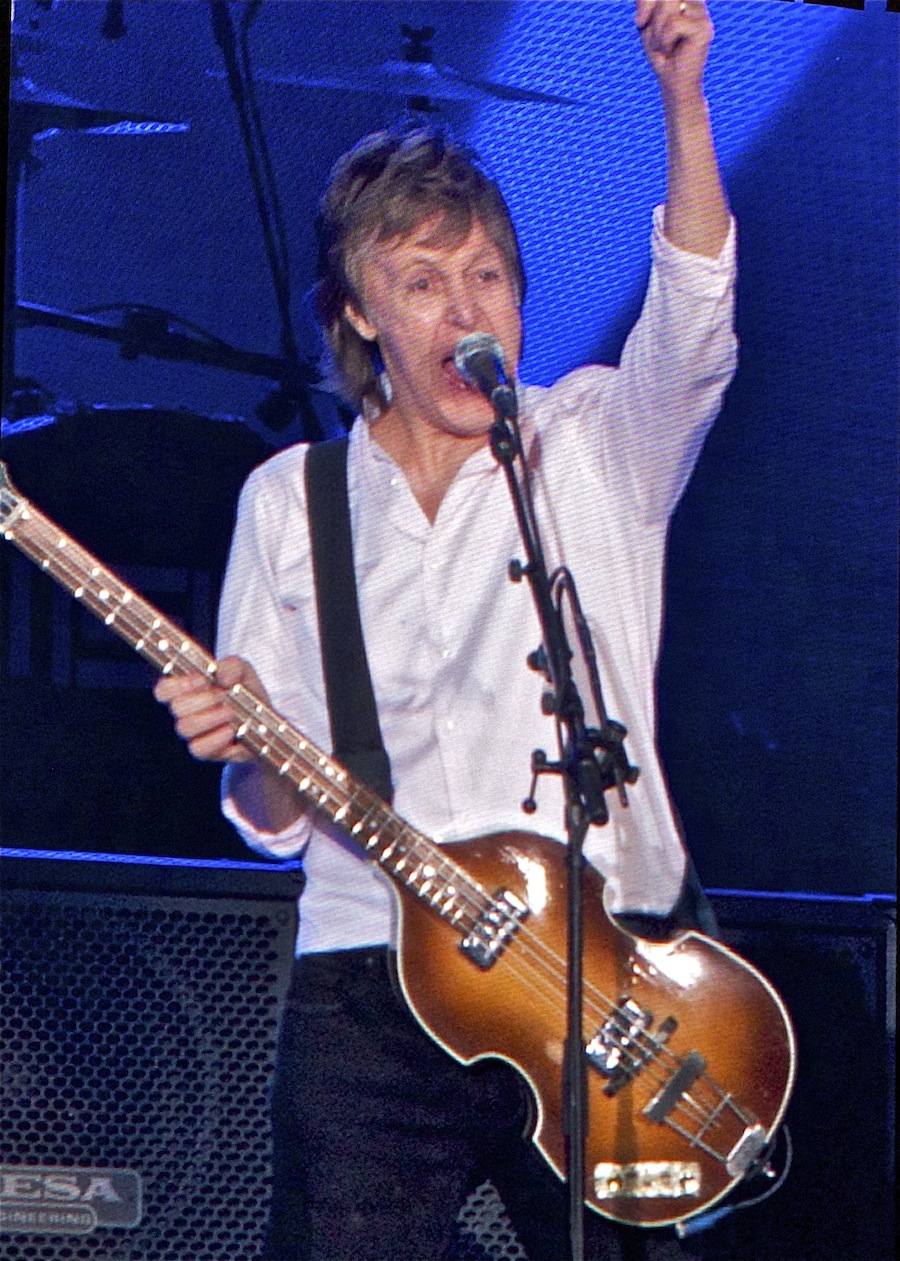 "Roll up!" McCartney sang as the band launched the show with "Magical Mystery Tour." Beatlemania may have dimmed in the ensuing fifty years since its initial flame, but only just enough that fans could now hear the music over their jubilant screaming. Macca's voice was a bit rough and reedy at the start, but his warming-up period was masked by high energy from his powerful band on songs including "Save Us" from 2013's New album, the Beatles' "Got to Get You into My Life" and Wings' "Let Me Roll It."
By the time McCartney rose above the stage on a hydraulic lift to sing civil rights lullaby "Blackbird" and John Lennon tribute "Here Today" accompanied only by his acoustic guitar, his voice was pure, ageless and magical.
It was at this point, however, that McCartney noted he wasn't performing entirely alone. Chicago-born disc jockey Kaskade was performing just around the corner on the Perry's stage, and his deep bass and EDM pulse didn't mesh well with McCartney's tender song about an imagined conversation with his bygone comrade Lennon. Still, he made the best of it. "I intended this," said McCartney. "What I'm doing – it's like a crazy mash-up of this song and whatever shit they're playing." The crowd went wild at the colorful jab.
McCartney drew in the massive crowd effortlessly. He peppered the set with stories about rubbing shoulders with Eric Clapton and Jimi Hendrix in earlier days, and later, groundbreaking visits with Russian dignitaries who learned English from Beatles records. He made tributes to loved ones past and present. George Harrison was honored with a sentimental version of his Abbey Road standout "Something," featuring a George-styled ukulele intro. Linda McCartney was remembered with "Maybe I'm Amazed." Paul sang the romantic "My Valentine" from 2012's Kisses on the Bottom for wife Nancy.
Despite the familiarity of McCartney's unmatched catalog of Beatles, Wings and solo favorites, there were pleasant surprises. A romp through Lennon's "Being for the Benefit of Mr. Kite!" was a psychedelic treat. Before settling into a jangling "We Can Work it Out" featuring keyboardist Wix Wickens on accordion, McCartney performed just over a minute of "FourFiveSeconds," his recent collaborative effort with Rihanna and Kanye West.
Brittany Howard had performed on the Samsung Galaxy stage with her band the Alabama Shakes prior to McCartney's set, but was asked to stick around. With transparent glee, she joined McCartney and the band for a rowdy version of "Get Back." Howard traded solos with guitarist Brian Ray, sang the "sweet Loretta Martin" verse, and shared the microphone with McCartney during the choruses.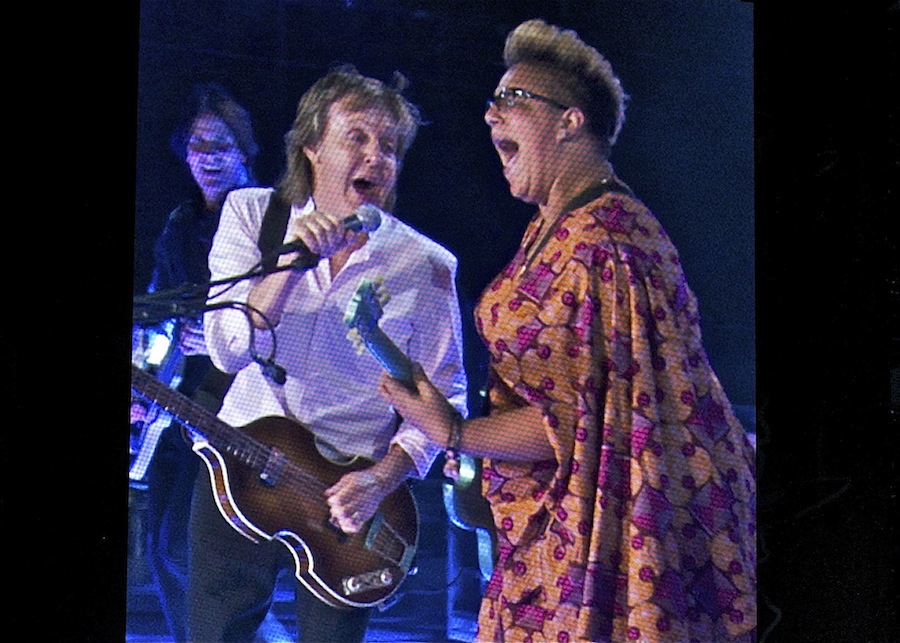 The set continued with the jagged, clarion guitars of "Helter Skelter." The audience became Chicago's largest choir while singing along to "Hey Jude" and "Carry That Weight."
After nearly 130 minutes of universally beloved pop music, the first day of Lollapalooza 2015 came to a fitting end with Abbey Road's "The End." "Lollapalooza, Chicago, we love ya," said McCartney in closing. "Tell you what, we'll see you next time!" At 73, McCartney and his crack musicians remain an unstoppable force. To borrow a title from former bandmate Harrison, may the end be a long, long, long way away indeed.
SET LIST:
Magical Mystery Tour
Save Us
Got to Get You into My Life
Let Me Roll It (with "Foxy Lady" snippet)
Paperback Writer
My Valentine
Nineteen Hundred and Eighty-Five
Maybe I'm Amazed
I've Just Seen a Face
We Can Work It Out (with "FourFiveSeconds" snippet)
And I Love Her
Blackbird
Here Today
Queenie Eye
Lady Madonna
Eleanor Rigby
Being for the Benefit of Mr. Kite!
Something
Ob-La-Di, Ob-La-Da
Band on the Run
Back in the U.S.S.R.
Let It Be
Live and Let Die
Hey Jude
[Encore:]
Hi, Hi, Hi
Can't Buy Me Love
Get Back (with Brittany Howard of Alabama Shakes)
Helter Skelter
Golden Slumbers
Carry That Weight
The End