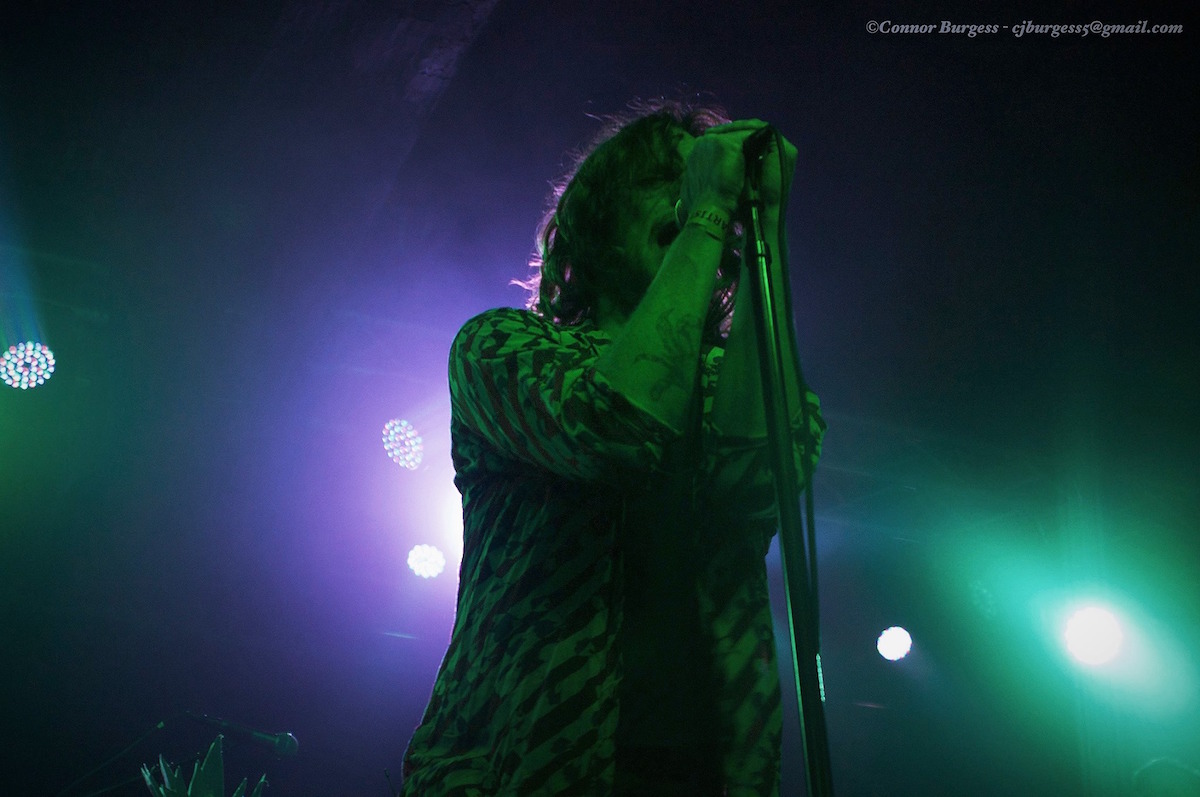 29 July 2016
Lollapalooza's 25th anniversary began a day early with a full day of music on Thursday. The Chicago-based festival got off to a soggy start with sporadic rain. Despite the mud, there was no evacuation to remind fans of last year's closing-day disruption.
Emergency preparedness was clearly on the minds of the festival organizers. Most precautions were invisible to the average festivalgoer, although it was harder not to notice the increased police presence – particularly those conspicuously equipped with rifles.
Photo of Yeasayer's Chris Keating taken by Connor Burgess at Wednesday's Concord Music Hall pre-show.
Yeasayer
Yeasayer made a welcome return to the festival. "This is our third time playing Lollapalooza," said singer/keyboardist Chris Keating. "Holy s—t! I'm starting to feel old now." The band performed several songs from their latest album Amen and Goodbye, released in April.
The stage was decorated with life-sized cutouts of classical art figures, amid which the band appeared colorful and animated. Guitarist Anand Wilder led the fray in gray mechanics overalls, which he managed to make look much less drab than one would expect. Keating bounced between his keyboard and center stage while cavorting in red, white and blue.
"Dead Sea Scrolls" fused the danceable rock of Gang of Four and INXS with the Cure's "Let's Go to Bed," offering a spoonful of sugar for a lyric about those who use religion as a tool of oppression. Wilder sang the apologetic "Madder Red" while playing an elegant guitar part, combining to suggest the influence of George Harrison and his fascination with traditional Indian music and melody.
Ira Wolf Tuton dressed for the humid weather in tank top and cutoff shorts while performing the slippery disco figures of "Henrietta" on fretless bass. "How do my chicken legs look?" asked Tuton following the song. "I never wore shorts on stage before."
"I was worried about the rain, but this is sort of perfect," added Keating.
"2080" from the band's 2007 debut All Hour Cymbals was propulsive and hypnotic, with three-part harmony and Wilder's curlicue guitar figure. "Cold Night" examined the hole left behind following a difficult relationship that ended with the untimely passing of one of the parties. The song featured Tuton's Joy Divison-styled bass line.
After performing "Tightrope," Keating declared his admiration of Chicago. "I'm in love with a special Chicago lady, and I'm going to ask her to marry me," he added. "Her name is Michelle Obama. If you're out there, I think you're so amazing."
"She got a man, dude," said Tuton.
Although he promised not to preach, White explained that despite his esteem for Bernie Sanders, he was moving on. "If you like art or music, you can't vote for f—-ing Trump," he said.
"He's going to deport this guy," White added as a wry joke, indicating his friend and bandmate Wilder.
"We're going to play a singalong song," said White. "You guys know how to sing along?" The band launched into "Ambling Alp," and confirmed that the crowd did indeed know how. Tuton played a heavily processed solo on his bass that sounded like a cross between sitar and bagpipes.
The band closed with its oldest song, "Sunrise," followed by one of its newest, "I Am Chemistry." The Amen and Goodbye material showed less of the EDM influence evident on Fragrant World and Odd Blood, but the set drawn from the band's four albums presented Yeasayer as a vibrant, passionate band with room to grow.
Other Thursday highlights included Kurt Vile and the Violators. The North stage lawn was packed well in advance of The 1975's anticipated set, with many also queued up for Lana Del Rey's headlining set on the same stage.