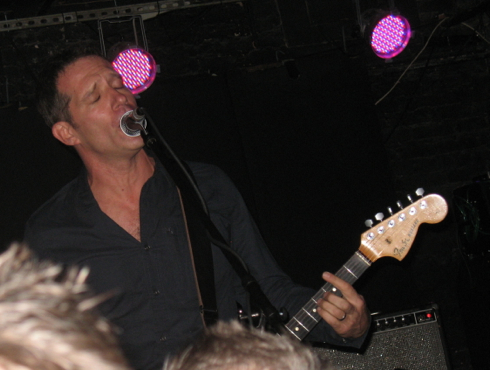 9 November 2012
Though I lived in California during NYC foursome Lotion's 1990's heyday, I became a fan of their hard-rocking, melodic guitar-pop, displayed on three superb LPs – 1994's Full Isaac, 1996's Nobody's Cool, and 1998's The Telephone Album – and various EPs like 1995's The Agnew Funeral. But I never saw them live, and kicked myself for missing their reunion gig at Brooklyn's Knitting Factory for last November's Royal Flush Festival, their first show in 12 years. So I was overjoyed when they announced this second show nearly one year later (they also played an afternoon matinee at Brooklyn's Rock Shop the following day), and they didn't disappoint.
Jim Ferguson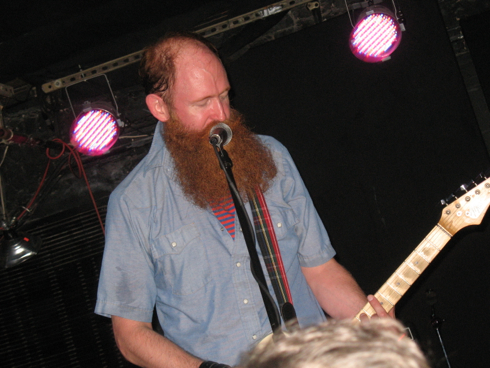 When they took the stage, my first thought was that they didn't look like a New York City band. Each member sported his own unique style: brawny, chiseled singer/guitarist Tony Zajkowski, wearing a freshly-pressed dress shirt, looked like a men's fashion magazine cover star or a stylish marketing executive; guitarist Jim Ferguson, with his long, red, ZZ Top beard, resembled a friendly Appalachian mountain man; his brother, bassist Bill Ferguson, had a brainy, bespectled Chickfactor/indie popster meets college professor vibe going; and long-haired drummer Rob Youngberg was like a laid-back, Jeff Spicoli-garbed beach bum/surfer dude. Despite such dichotomous appearances, once they started playing it was clear the quartet was completely in sync.
Bill Ferguson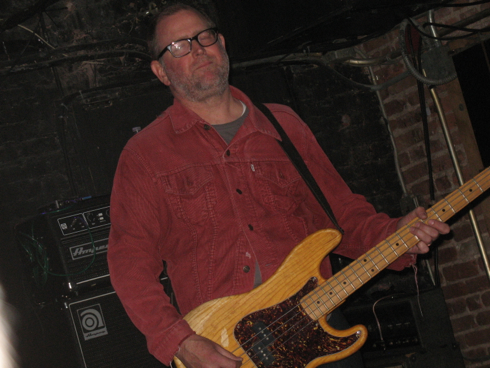 For a band that plays so infrequently, they were in no way sloppy or unrehearsed. They sounded tight and roaring from the get-go, as they ripped through Tommy Tutone's 1982 #4 "867-5309 (Jenny)." In addition to that full cover, they threw out snippets of non-Lotion tunes throughout, like Adam Ant's 1982 #1 "Goody Two Shoes," The Jam's 1981 UK #21 "That's Entertainment," New Order's 1983 "Age of Consent," Bauhaus's 1979 "Bela Legosi's Dead," a Pink Floyd intro that slips my mind, and – to show they keep up with current music trends – Carly Rae Jepsen's recent YouTube smash "Call Me Maybe."
Rob Youngberg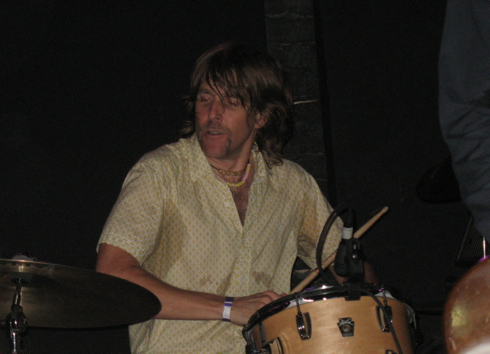 But it was their originals that we were here for, and they kept 'em coming full steam – from their first two Kokopop label singles, "Head" and "Tear," to catchy power-pop bashers "Blind for Now" and "Feedback Queen," to more varied, mid-tempo numbers like "Pajamas" and "Rock Chick." Though I would've liked to hear more than three songs from their third LP, they played a great selection from all three albums, including a new song called "Lucky Me." With Brooklyn such a hotbed of indie rock these days, it's easy to forget that there was once a relative dearth of good NYC bands in the early-to-mid '90s. But Lotion were one of the best in the city back then, and they still sound better than most current local outfits. Here's hoping they continue to play once (or more) per year, to keep reminding us of that.
Tony Zajkowski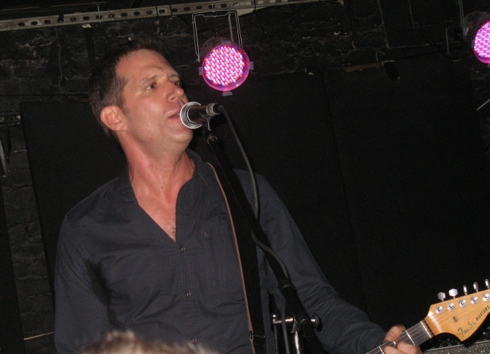 Washington, DC's Edsel was also reuniting on this night – this was their first show in 12 years. They released four LPs and a bunch of singles from 1989-1997, but I was only familiar with their final album, 1995's Techniques of Speed Hypnosis (which was reissued by Comedy Minus One in 2012). Though their songs weren't as strong as the headliner's, and Sohrab Habibion not as distinctive a vocalist as Zajkowski, they still played an enjoyable set of blasting, thick-guitared pop/rock which recalled a combination of Jawbox and Pavement.
Edsel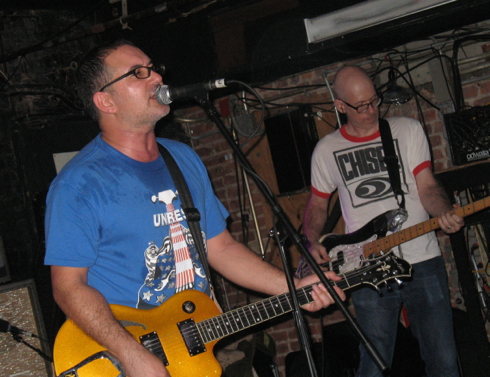 comments powered by