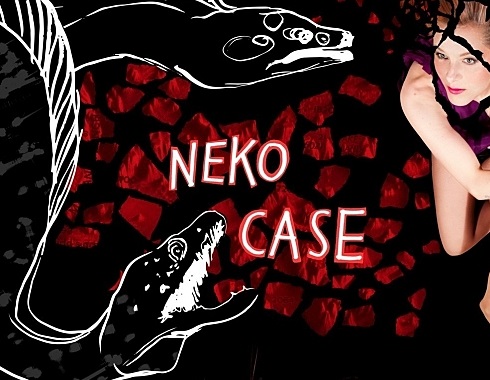 2 November 2013
"Sam Cooke. Neko Case." So began a cute little write-up I penned about a Neko Case show, also at First Avenue, some half-dozen years ago. It's still true of course, and Case's astonishing physical voice has attained, in somewhat popular conversation, almost that level of undeniability. But, more and more, bland obeisance to her great voice amounts to underestimation of a greater songwriter and musician, not much different than the opposite, i.e. calling attention to the imperfect vocals of a pop singer with a perfectly developed artistic voice. The latter's what we ought to care about; join me in never uttering another word about a human voice, except in brief and general praise. Watching Case perform, I suspect she thrills much more from her ability to lead a band than from her singing ability. During the second night of her recent two-night blowout at First Avenue, she referred to Dex Romweber as her first boyfriend ("in my mind") until the day she realized she really just wanted to be him. When she says something like that, I casually assume, despite the absence in her set of any other song as raucous and loud as great new single "Man," that she means the version of Romweber who tears it up at a house party in a clip from Athens, GA Inside/Out, the 80s doc about his Flat Duo Jets' nominal scene – though really he belongs to the blues.
Case's live show doesn't flay like that, not so violently, but true to her aspirations her music's got unpredictable energy, regardless the clarity of the vocal that guides it. In terms of her banter, a sort of funnywoman-and-sidekick comedy routine performed with the excellent Kelly Hogan, she remains irreverent and perverse, but in most other ways she's a lonelier steward of the Case enterprise than I remembered. By which I mean that professional silence, though not the only mood of the night, prevailed. So Jon Rauhouse plays the guitar solos, sometimes to the point of song-interrupting applause; Hogan is the human amplifier of Case's voice, or the voice itself when Case isn't singing. (And who was that extra guitarist at the back of the stage? Eric Bachmann? Yes.) These touring band regulars she trusts implicitly, and so freed from the burden of the audience's constant pleasure, she can attend to her songs.
To the uninitiated (myself), the new songs the band played were catchy yet remote, requiring patience on account of being lyric-driven, while many of the familiar highlights of the set recalled an earlier, more immediate and seductive mode. During the magnificent "Deep Red Bells" (brief, general praise: some of the best notes ever sung), the shift in the middle of the word "bells" becomes a long, long echo that describes any room containing it as unimaginably large. The big, weightless finale, "Star Witness," starts in a haunted place before the melody unlocks and keeps tumbling toward better and better discoveries. The song lasts until it runs out of melody, while new songs seem to last until they run out of words. This is the domain of newcomers and veterans: newcomers who want to prove themselves by making every moment count (see Waxahatchee); veterans not interested in hearing themselves utter inessential words. For Case, that would seem to ignore her new album's 17-word title (The Worse Things Get, plus 13), a little clunky, I thought, until I saw the words written on a banner behind the stage and finally considered their linear and irreducible logic. And now the songs remain latent examples of the qualities the title expresses (truth, determination) until I figure out their own processes.
Lucy Wainwright Roche carries the name of two great New York songwriting families. She belongs to both of them, it turns out. I can't help but think of her primarily in the context of The Roches (her mom and aunts' long-running trio), the content of whose songs always had a funny way of making them sound like the most ordinary people in the city even as the eccentric presentation defined them as absolutely the weirdest people there. L.W.R.'s music is kind of like that. Her intimate acoustic numbers are charming, but her personality really comes across in the way she engages the crowd between songs (fearless, especially for an opening act, in the length of her exposition) and choice of covers: "Frank Mills" (from Hair, and It's A Shame About Ray), "Call Your Girlfriend" (Robyn), and "Everywhere" (Fleetwood Mac). These last two require their original arrangements, not just acoustic guitar, I think, to keep the simple, repeating melodies and lyrics interesting, but then again, the way she stripped them of everything that makes them current (indeed, the production of Tango in the Night has turned a strong album into an unbelievably influential one, recently), and left only what makes them timeless, was pretty captivating.
Neko Case:
Where Did I Leave That Fire
This Tornado Loves You
Bracing for Sunday
Lion's Jaws
The Tigers Have Spoken
Deep Red Bells
Set Out Running
The Pharaohs
City Swans
Favorite
Red Tide
That Teenage Feeling
Nothing to Remember
Wild Creatures
Calling Card
Hold On, Hold On
Night Still Comes
Man
Don't Forget Me (Harry Nilsson) (Encore)
Local Girl (Encore)
Ragtime (Encore)
Star Witness (Second Encore)