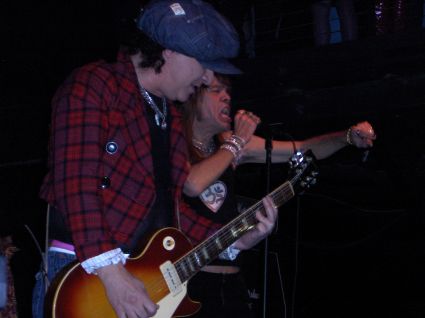 8 March 2006
The President's Day Motherf*cker bash, featuring a phenomenal performance by the NEW YORK DOLLS, was a total glam rock O.D. For the week following, I was coughing up glitter and finding fake eyelashes in the strangest of places. It was way more of an experience than just a concert, with hundreds of devotees gathered together for a long evening of dancing, drinking, and the Dolls in the holiest of nightclubs: NYC's favorite 19th Century church-cum-dance club, Avalon.
The show began with THEO KOGAN (host of the evening and now singer of the fabulous THEO AND THE SKYSCRAPERS) introducing the greatest, trashiest glam rockers that New York has ever produced. After quite an uproar from the impatient crowd, the remaining Two York Dolls, DAVID JOHANSEN and SYLVAIN SYLVAIN, took the stage around midnight in a burst of fanfare and glitz. "When I say I'm in love, you best believe I'm in love l-u-v," Johansen quipped, and proceeded to set the place on fire.

First off, "Lookin' For a Kiss" was a sugary confection as always, with David Jo making little shooting up gestures dressed in a glittery jacket made of what looked like large pieces of Xmas tree tinsel. Then there was "Puss in Boots," "Trash," a furious, extended version of "Jet Boy," and a soulful cover of "Piece of My Heart." Jo wasn't the only band member giving his all—former HANOI ROCKS bassist SAMI YAFFA and Sylvain were also going at it, roaming the stage, reveling in the glam rock glory of the moment. After a while, the band brought it down for the "You Can't Put Your Arms Around A Memory/"Lonely Planet Boy" medley, which they always dedicate to the late, great JOHNNY THUNDERS by changing the lyrics to "I can't put my arms around Johnny…"
This would be the only slow part of the set, as the lithe and slinky Johansen, bangle bracelets clinking, brought the fervor with foot-stomping renditions of "Private World, "Pills," and my fave, "Who Are the Mystery Girls," from Too Much Too Soon. The Dolls also played one of their new songs, "We're All In Love," during which Syl tried to give some physical love to David and was rebuffed with a snarky quip. Nonetheless, the song is pretty cool, and I look forward to a new NY Dolls release, whenever that may happen. The set sadly ended somewhat soon after with a high energy (is there ever anything else from these guys?) "Personality Crisis" as the encore.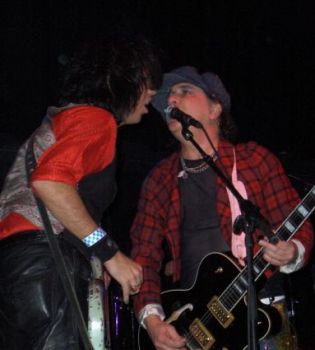 Once the house lights came back on, I realized that I had enjoyed the Dolls so much more than when I saw one of their early reunion shows. Back then I was still stuck in the whole "I'm seeing legends, so I'll stare at the stage in awe until they're gone" mind set. This time I kinda forgot about the fact that I was watching Rock and Roll Innovators, and instead just danced and screamed along and had a kickass time, as if the Dolls were just one of my favorite bands playing a killer show. And when a band can keep you so singularly entertained with their music that you forgot who they are (and maybe who you are) for an hour or two, that is what it's all about. To quote a line from JACK RABID's review of the show: Raunch and roll never got/gets any better than this!
comments powered by