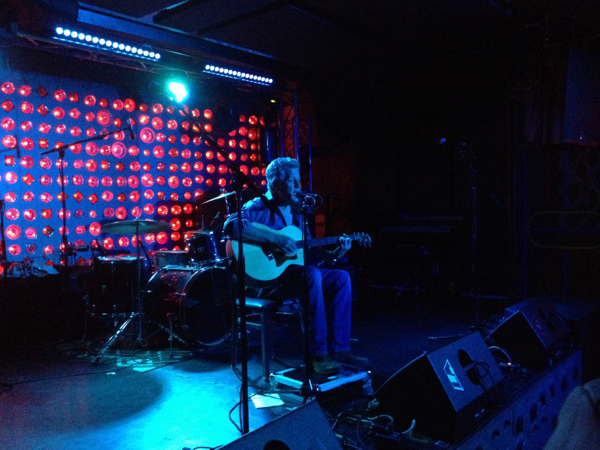 5 September 2014
Photo by Mark Suppanz
Ever since Garrie's "lost classic" 1968 LP The Nightmare of J.B. Stanislas was reissued by Rev-Ola in 2005, lucky New Yorkers have been graced by the revitalized 65-year-old British folkie's sporadic local appearances, going back to Manhattan's now-defunct Tonic in June 2006. This second of three NYC weekend shows found him opening for Dutch baroque popster/psych rocker Gardner at South Williamsburg's comfy Baby's, one day after Gardner's free outdoor gig at South Street Seaport. (Garrie's other two shows were at Brooklyn's tiny, intimate Pete's Candy Store and Manhattan's Joe's Pub; the latter was opening for NYC by-way-of Birmingham, UK's Edward Rogers, who played a nice set in May supporting The Zombies' Colin Blunstone at City Winery.)
Since Garrie was only allotted 30 minutes, this couldn't match his hour-plus long headlining show last year at Joe's Pub, one of my favorite gigs of 2013. For starters, I missed all of the delightful life stories and amusing anecdotes he weaves into his set when he has more time to play. (At Joe's, my Big Takeover colleague John Everhart and I were seated with a female friend of Garrie's he hadn't seen in years, and his tales brought back many fond memories for her.) But this was still worth venturing across two rivers from New Jersey, especially with the added bonus of getting to see Gardner for the first time!
With truncated time, Garrie wisely focused on the aforementioned J.B. Stanislas, which constituted the first six of eight songs he played. Even without the album's sweeping, 56-piece orchestra's instrumental flourishes – which Garrie surprisingly hated – tunes like "Ink Pot Eyes," "Wheel of Fortune," and the title track sounded lovely and affecting, accompanied by his softly strummed acoustic and lightly tapping foot. (Garrie joked about "J.B. Stanislas"'s 5-1/2 minute length, recalling how he didn't think he'd have time to end with it a few years ago when he opened for Camera Obscura in London. This prompted a woman to yell, "Then play half of it!")
Quieter J.B. Stanislas tracks like "Deeper Tones of Blue," "Stephanie Lady" (about a woman he met in Paris), and "Can I Stay with You" more naturally benefited from his still comforting, compassionate croon. He closed with two later songs, "Lone Ranger in the Sky" (from 1984's Suitcase Man, released under the surname Hamilton, his Mom's maiden name) and "Lovers" (co-written with longtime friend Francis Lai while in France, from 2009's comeback 49 Arlington Gardens), that left the captivated audience wishing for another half-hour.
Though not well-versed with Gardner's music before the show, I enjoyed the few songs I'd sampled. The long-haired, hat-donning frontman revamped the live lineup for this tour, replacing his guitarist and drummer, and adding keyboardist Frank Maston, thus freeing him to focus on acoustic/vocal duties. The quintet adds a heftier, convincing modern crunch to their '60s-steeped melodies, without sacrificing the trippy, kaleidoscopic vibe – as evidenced on set standouts "Chameleon" and the brand-new "Find Yourself." Every so often, they made Baby's back room feel like it could've been the East Village's fabled Electric Circus, circa late '60s! (Garrie and Gardner were sandwiched around Brooklyn trio EZTV, whose opening set of Teenage Fanclub-inspired rock was solid.)
comments powered by