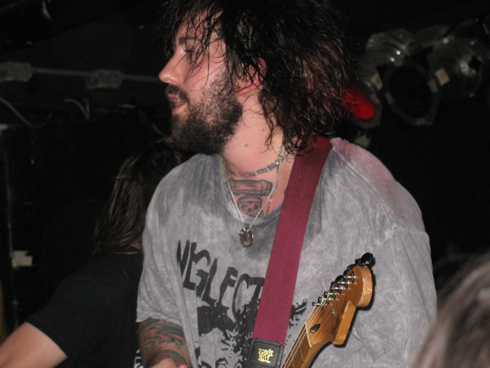 14 August 2014
Photos by Mark Suppanz
I'd been digging this Philadelphia quartet's dense, dreamy debut LP Guilty of Everything, but I didn't know much about them prior to their gig at this basement-level, 300-capacity room, tucked beneath historic Webster Hall's 128-year-old ramparts. While I went in expecting a staid, stationary, and soothing shoegaze show, what I got was more akin to a hyperactive, helter-skelter, and hellacious hardcore hootenanny. Perhaps owing to singer/guitarist Dominic Palermo's previous stint in hardcore punk band Horror Show, or his two-year jail term resulting from a stabbing during a fight, his performance was injected with a devil-may-care, danger-defying disposition not present among today's prototypical pretty pop practitioners.
Brandon Setta, Nick Bassett, Domenic Palermo

Kyle Kimball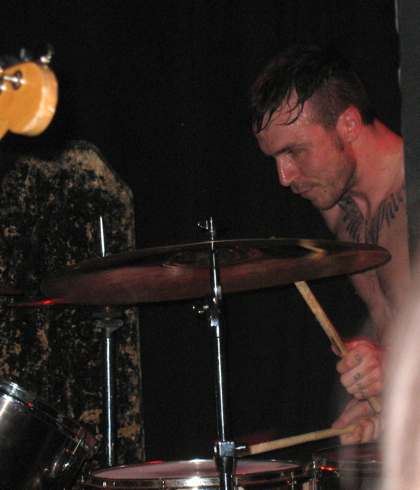 Within seconds of the peppy, propelling opener "Bent Nail," the heaving, heavily tattooed Palermo had ditched his bulky sweater and was drenched in a pool of perspiration. Not content to stand scarecrow-still staring down at effects pedals, he relentlessly ricocheted around the stage, along with equally energized bandmates Brandon Setta and Nick Bassett (also of San Francisco's Whirr). Before long, Palermo was swinging from the club's low-slung rafters like a belligerent baboon, his body flailing above the amped-up audience. (But he should be careful; after an ill-advised stage dive during the encore caused him to crash to the floor, he was noticeably limping after the show!)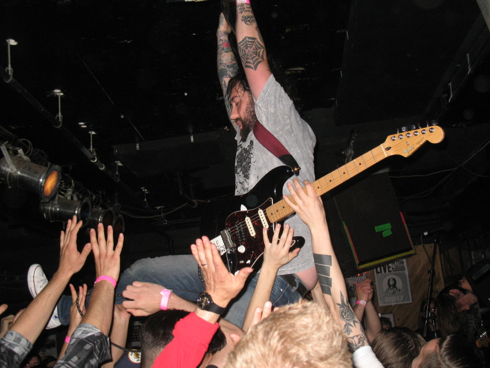 Fueled by guitarist Setta and bassist Bassett, Guilty songs like the volcanic "Dig" and volatile "Get Well" were overflowing with My Bloody Valentine-esque walls of noise and blistering feedback. And on the pulverizing main set closer ("B&E," I believe), drummer Kyle Kimball's rapid fills sounded so much like rounds of machine gun fire, I wanted to take cover behind the bar. The onslaught continued through eight explosive tunes, which often flew by in a tumultuous blur. Don't be misled by the unassuming moniker; on this night, Nothing was really something.