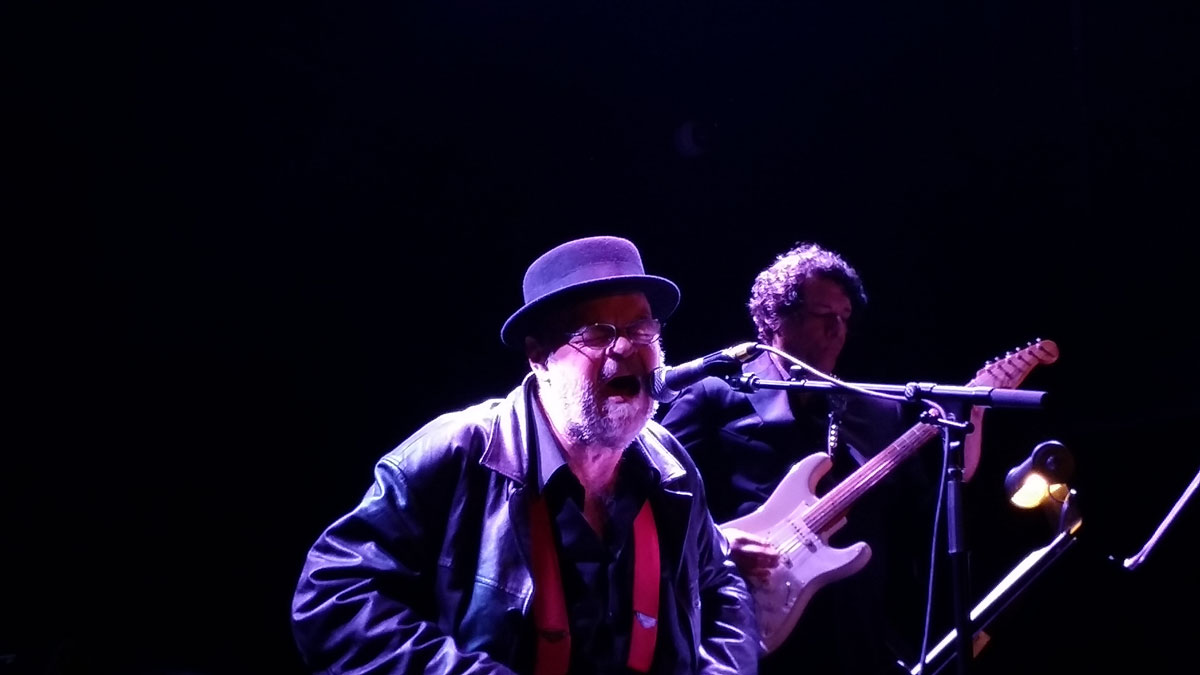 2 July 2016
"I know you're all counting on Pere Ubu coming from another universe," drawled David Thomas, settling into his chair at center stage and casting a gimlet eye at the eager audience before him. "It's a helluva lot better than the one you're stuck in."
With that crack, the band launched into "Heart Of Darkness," the stark, ominous flip-side to Ubu's first single, "30 Seconds Over Tokyo", self-released in 1975 on their own Hearthan label. It was a fitting start to a Pere Ubu concert like none before: a 23-song survey of the band's first five albums, from 1975 to 1982, culled from two recent Fire Records box sets, Architecture Of Language, 1979-1982 and Elitism For The People, 1975-1978.
The set was well balanced between relatively well-known numbers like "Final Solution" and "Dub Housing" and deep cuts including "The Vulgar Boatmen Bird" and "Sentimental Journey". And each album was well represented, with five songs each from The Modern Dance and Dub Housing (both 1978), four from Song Of The Bailing Man (1982), four Hearthan singles, three from The Art Of Walking (1980), and two from 1979's New Picnic Time, the last album recorded with original guitarist Tom Herman.
Thomas is the only remaining member of that first line-up, which included guitarists Herman and Peter Laughner, bass guitarist Tim Wright, drummer Scott Krauss and synthesist Allen Ravenstine. But the band this night are no less veterans: Robert Wheeler (EML-101 synthesizer and homemade Theremin) and Michele Temple (bass guitar) have been in Pere Ubu since 1994, and drummer Steve Mehlman joined in 1995. The only newbie was Cleveland guitarist Gary Siperko (The Mofos, Whiskey Daredevils, Rocket From The Tombs) who is playing in the band for the first time this tour.
Those who foolishly came expecting the anarchic Ubu of old — the indelible sight of Thomas, flailing his arms and hurling his large frame across the stage, pacing madly, a volcano of nervous energy — might have been let down. Hobbled by bum legs for years, Thomas remained seated throughout, slouching in a black leather jacket and slowly sipping red wine between each song. The band is very different, as well; while Temple and Mehlman rocked it, Siperko and Wheeler were studious and intently focused on faithfully executing their parts. At times the concert felt more like an academic exercise than a rock show.
And yet, Thomas remains a riveting performer, howling and yowling and twittering and jabbering like a soul possessed. The constraints imposed by his lower body concentrated all the electricity into the upper half, in particular his grizzled, rubbery face, which twisted and scowled and glowered on frantic rockers like "Real World", "Navvy" and "Misery Goats", and assumed a beatific expression for the surreal story-song "Rhapsody in Pink".
"So that's my story for tonight," intoned Thomas wearily, as "Rhapsody" faded to squeaks and gentle moans. "Sad but true. Makes you kinda wanna cry. Let this be a lesson to you."
Pere Ubu taught us several lessons this night: Resurrecting the past is an effort fraught with peril, there's beauty and power even in decline — and their universe really is a helluva lot better than the one we're stuck in.