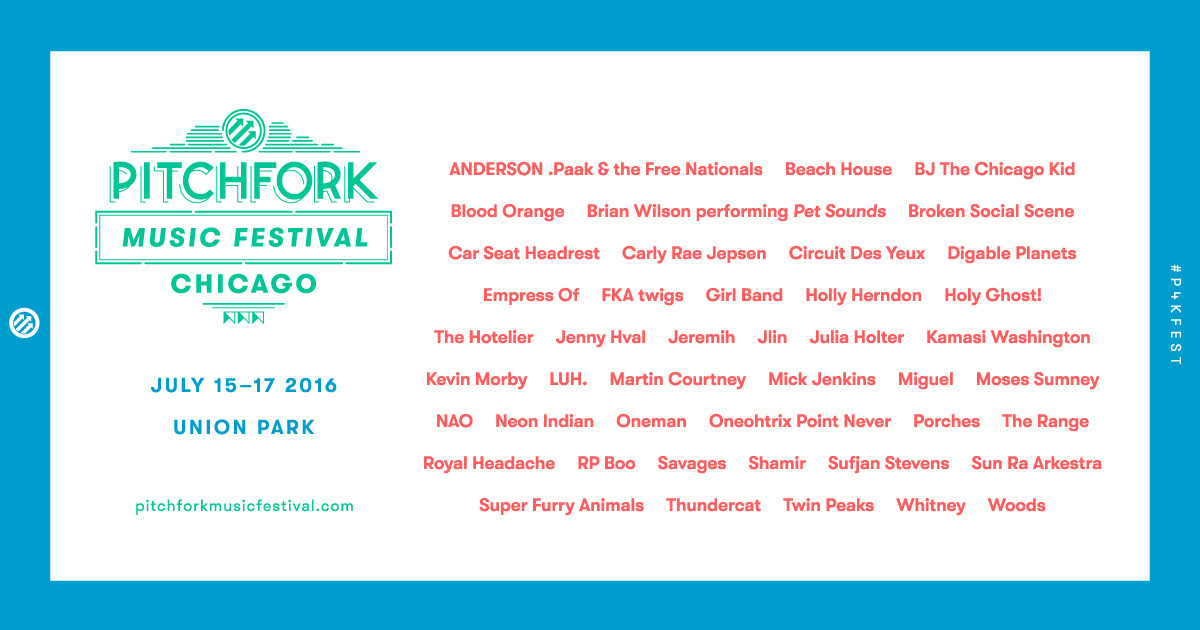 13 July 2016
Pitchfork Music Festival returns to Chicago's Grant Park on the 15th-17th, promising fantastic food, a record fair that threatens my wallet, and an absolutely stellar lineup.
Friday:
Headliners include Beach House, Carly Rae Jepson, Shamir, Car Seat Headrest, and Chicago natives Twin Peaks.
A bit on the bands-
Beach House – Delivering a whopping amount of new music this year, duo Victoria Legrand and Alex Scally have put out 2 new albums in the past year, Depression Cherry dropped in August, followed quickly by Thank Your Lucky Stars in October. It's not their first rodeo, having performed in 2010, followed by an appearance at Pitchfork Paris in 2015.
Carly Rae Jepson – She may be (infamously) known for her standout hit, "Call me Maybe", her third album, Emotion, dropped just this past year, receiving fairly positive reviews. Should be an interesting set, for sure.
Shamir – The 21 year old Las Vegas native will be making his Pitchfork debut this year, after having achieved great success with Ratchet, released last year. I had the pleasure of seeing him perform at Bonnaroo, and would advise all to attend, he puts on an excellent show.
Car Seat Headrest – The formerly one-man, low-fi project by Will Toledo is on the path to great success, having just recently signed to Matador Records, subsequently releasing both Teens of Style and Teens of Denial with the label. Described by AllMusic biographer Mark Deming as, "Moody and introspective lofi.." their set should attract quite the crowd, and with good reason.
Twin Peaks – I have the opportunity to see these Chicago natives for the second time in two months. All I can honestly say is that they put on one hell of a show. Take a glance at my interview if you want to know just what I'm talking about.
Saturday:
Sufjan Stevens – His discography, I believe, speaks for itself. I really needn't say more.
Brian Wilson – "BEACH BOYS?!" I can hear people cry, yes. Brian Wilson will be performing Pet Sounds. This is all.
Blood Orange – London-born Dev Hynes should be a wild set, with the release of Freetown Sound fresh in the minds of listeners. Another set at Bonnaroo that I had the pleasure of seeing, Dev delivers, and does so very well.
BJ the Chicago Kid – Well known for his collaborations with artists including Kendrick Lamar, Schoolboy Q, and Kanye West, the Motown signed artist will be coming back from a 2-year hiatus, having released In My Mind in February as a triumphant return.
Sunday:
FKA Twigs – After having moved to London at the age of 17 to pursue background dancing, the 28 year old producer and electronic artist has just recently unveiled Good to Love, which should indicate to the release of perhaps new material at this year's festival. One can only hope.
Kamasi Washington – The L.A.-born tenor saxophonist was among one of the nicest people that I met at Bonnaroo this past June, and can compile some of the best Jazz artists into a singular group in one incredible time. Hopefully we'll see some hints of Superjam? Don't know what that is? Do yourself a favor, and watch it. No, seriously, do it.
Of course, this is a very perfunctory preview of the weekend, as there are many other incredible artists that I haven't mentioned. For those of you who are Chicago natives, or in town for the festival, please do enjoy some of these fine musicians, and take advantage of some of the best food and wares that my fine city has to offer. This Friday is going to be a blast.